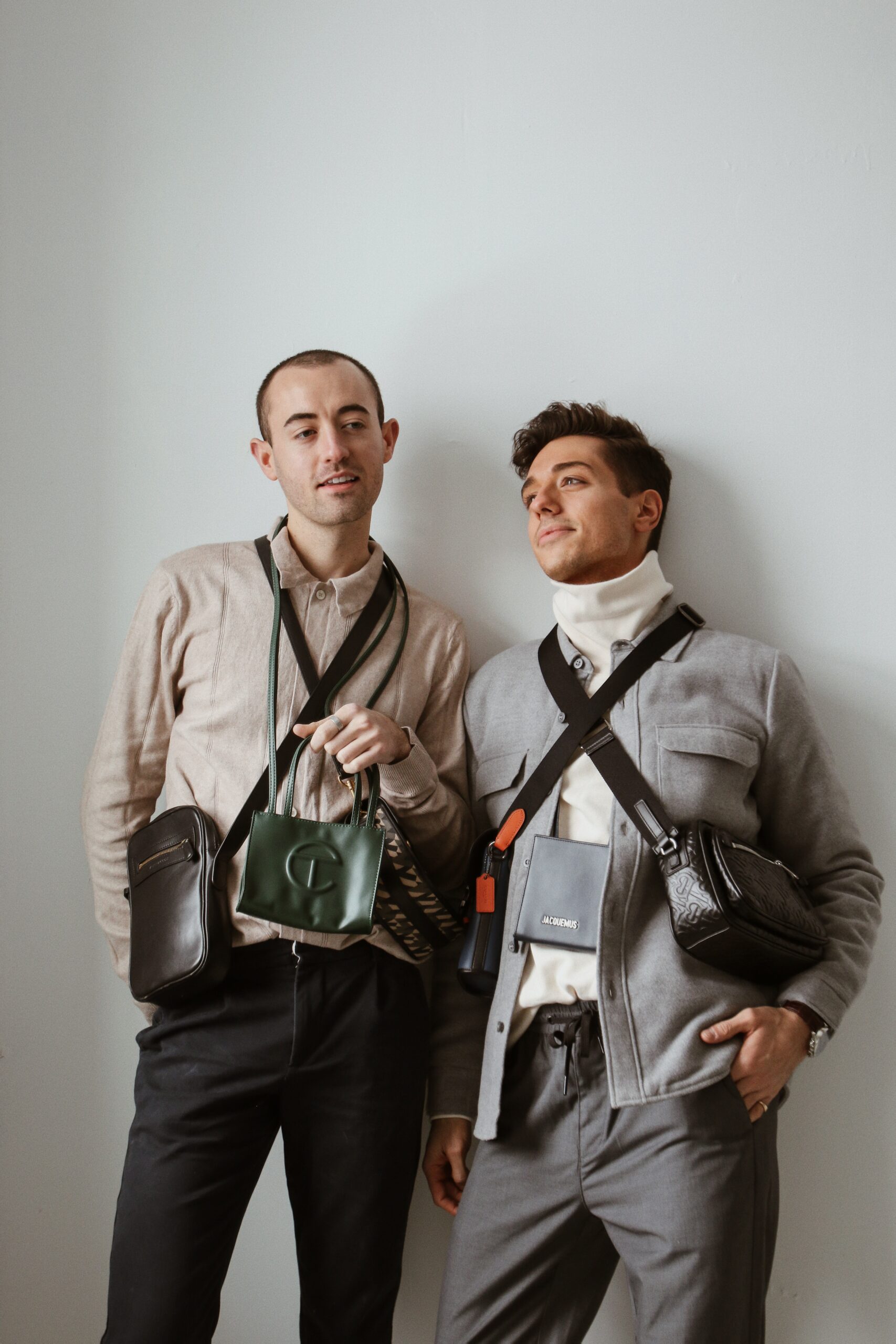 We've been working on editing our closet recently and it got us thinking. Investing in your wardrobe is something we get asked about all the time. Whether certain pieces are worth it or even where to begin. We thought this would be a great time to put it all down in a post and share our thoughts. We went through our closet and picked out a few pieces that we think are worth investing in. But let's be clear, you should never feel pressured to buy anything. This is for the person looking to take the next step in their style journey. Before we make any purchase (big or small) we budget it out. Can we actually afford this? Is it a smart choice? Will it hold its value? We talk it out with each other and make the decision. Some of these pieces we share and others we don't. It honestly just depends on what it is.
Before we talk about the actual investment pieces, we want to share some tips for shopping. We do a ton of research to try to find the best deal. Why spend more if you don't have to? We don't always purchase from the designer's store. A lot of the time we purchase on Farfetch, SSENSE, Jomashop, or other retailers. That's our biggest tip. Sometimes you won't find a deal but a lot of the time you will.
The first investment piece is something Mike had been wanting for a long time. This is one of those pieces that we don't share. To be honest, Alex doesn't really pull them off well (his words lol) but loves them from afar! However, we did talk it over together before making the purchase. Boots are one staple everyone needs, no matter the price point or brand. Though Mike wanted a chunky boot that would last for years. Bottega Veneta is a classic brand that makes the most incredible pieces that hold value for years to come. That's vital when spending this much money.
This was the first designer shoe either of us purchased. It felt like a huge accomplishment and still means so much anytime we wear these loafers. It symbolizes a lot of hard work. That's the thing about these investment pieces. Not only do we consider them staples in our wardrobe but also notches in our belt of success. We didn't grow up with anything like this so we don't take it lightly when we're able to purchase something at this price point.
We firmly believe everyone needs a black leather loafer in their closet. It's a classic shoe that will never go out of style. Whether we are heading to an event or a casual afternoon errands run, you can't go wrong with this shoe.
We have this trench coat in both colors because it's that good. We bought it online from the Coach outlet so we saved a lot compared to the traditional retail price. Another good tip to keep in mind! We love an outlet. As we write this, the trench coat is currently 60% off. WILD. This is a great time to snatch it up if you've been in the market. This coat is great for a few reasons. We absolutely love the structure and thickness. You can actually feel the quality and craftsmanship. We wanted a trench coat that would be perfect for everyday wear — something classic and durable. This checks off all the boxes.
Among all the things we could buy, bags happen to be our favorite. We love a good crossbody bag. It's been so refreshing to see the shift in society where men feel more comfortable wearing something typically labeled for women. Wear whatever you want! We happen to love how a bag has the ability to totally change up a look — elevating the outfit while also being functional. How else are we supposed to carry our gum, chapstick, keys, wallet, and now masks?! LOL. Over the past couple of years, we have been working on our bag collection. One bag that stands out as a staple for us is the Mulberry Antony Crossbody Bag. Mulberry is a classic English brand know for its craftsmanship and attention to detail when it comes to accessories.
The Antony bag is a really good starting point if you are just getting into bags. The design is approachable and functional. It has the iconic Postman's Lock, an adjustable canvas strap, and the softest leather. We truly love this bag. It feels so good to just throw on no matter what we're off to do.
Everyone needs a solid camel topcoat. We always mention this when we're asked about what staples you should invest in. No matter what outfit you are wearing, adding a topcoat like this instantly elevates the look. Probably our favorite time to wear this coat is on a casual day — a white tee, jeans, and sneakers. Adding this coat pulls the whole look together.
Even though we do like to collect watches, having one class stainless steel watch will serve you well. This one is particularly special since it's two-toned and lightweight. No matter what you are wearing, adding this watch will instantly elevate the look.
Just like watches, we love collecting sunglasses. But, having one solid pair is all you really need. Persol is a classic brand that makes solid sunglasses. This pair is timeless and looks good on everyone.
Club Monaco can do no wrong in our eyes. We absolutely love this brand. This bouclé turtleneck is one of the softest pieces we've ever owned. It's pricey but the quality is incredible and will last for a long time. We always recommend this brand when looking for quality staples for your closet.
We both love classic wallets but they need to be functional. Sometimes designer wallets don't seem to fit anything so why spend the money? This one checks off all the boxes in our eyes. We love the front envelope opening — you can easily fit cash and cards inside. There is also a zipper pocket on top and card slots on the back.
We can't mention investment pieces without talking about our ring collection. Out of all the pieces we designed, The Jon is our favorite. The gold contrasting with the Lapis stone is *chef's kiss*. If you are looking to start building your ring collection, this is a great place to start.
As much as we love a crossbody bag, a solid tote is another go-to. We love being able to throw everything we need for the day inside before running off to whatever the day holds. Article & Goods makes the most amazing leather goods at a fraction of the cost of traditional brands. This tote is timeless and the perfect size. We absolutely love it.
We bought these trousers on sale and couldn't be more obsessed. It's a classic fit with front pleats and cuffed hems. The high waisted style is classic and instantly elevates any look. This is actually our first piece by Carolina Herrera. To be honest, we had never really thought about buying anything from this brand but now we're hooked.
Biker jackets are timeless and versatile. We love the utilitarian style of the quilted suede at the shoulders. This is a staple in our wardrobe.
We wear denim jackets year-round. Over a hoodie, tee, or basically anything. We found this denim trucker jacket at the Vince outlet and fell in love with the quality. The jacket features vintage-inspired detailing and hand-sanded whiskering meant to last a long time.
---

---