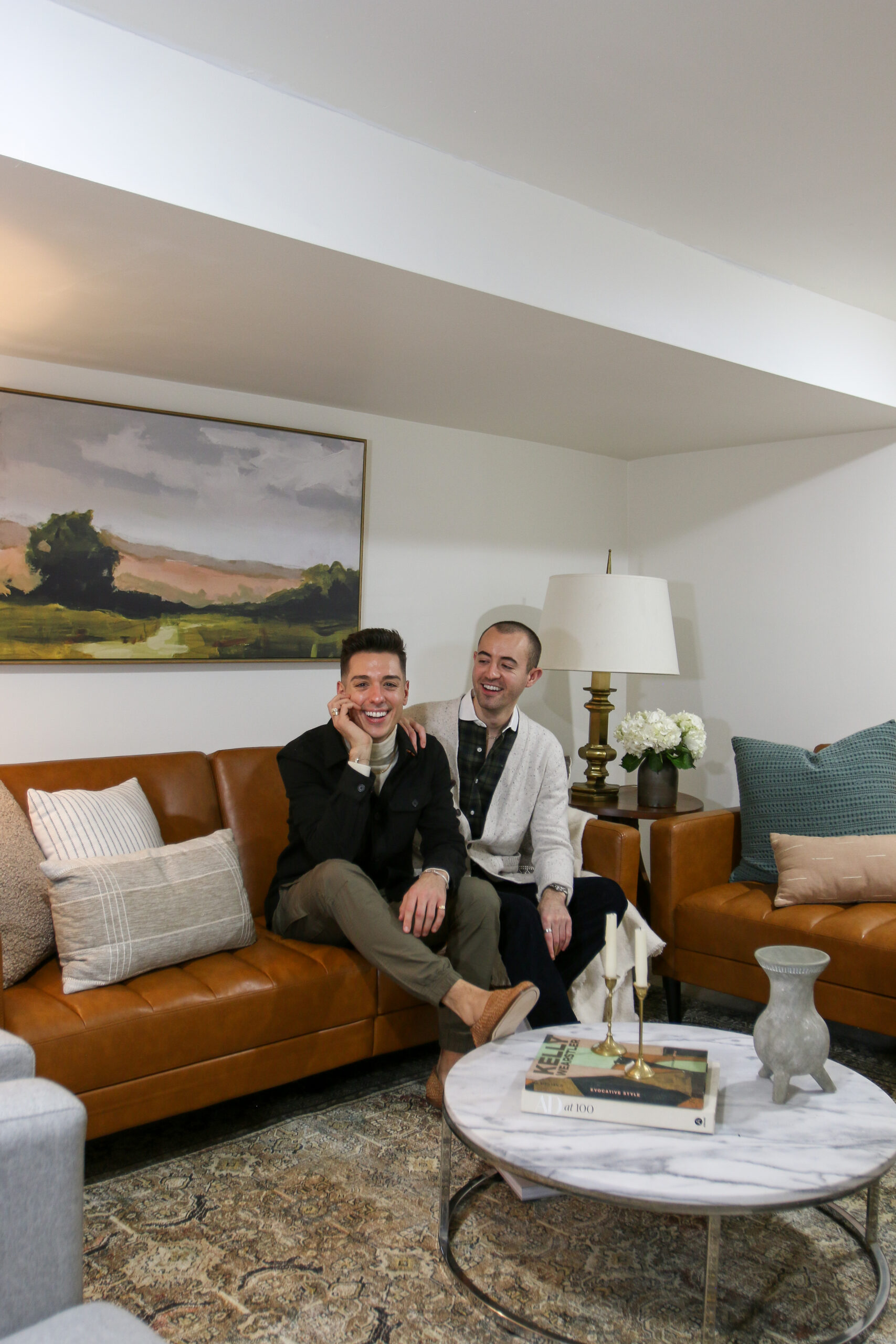 We realize we shared our basement on Instagram but never posted here on the site. What is wrong with us? lol. Well, we're fixing that today with a full breakdown of what we did to transform our basement into a cozy lounge space. If you need a refresher, the basement was a disaster. No, that's not an exaggeration. We ended up storing anything and everything down there — holiday decor, extra home decor, you name it. It was a hot mess. But we knew it had so much potential. We went back and forth with so many ideas for the space. At one point we thought it would be a gym. Another time it was going to be a studio to create. But in the end, we knew we really wanted a space to relax with friends and family. We are so lucky to have bought a home with a finished basement. It may be small but feels so intimate and cozy.
Before: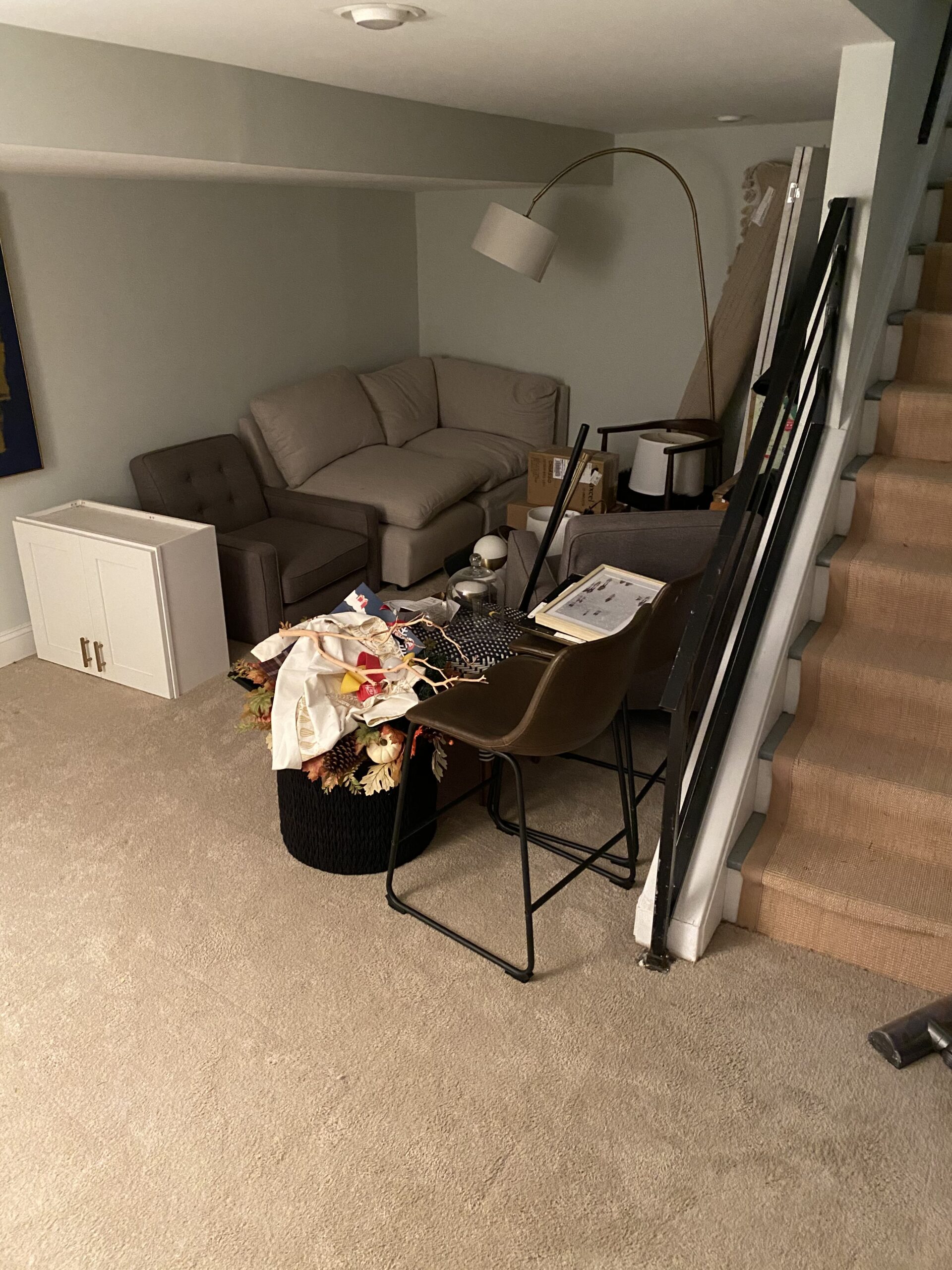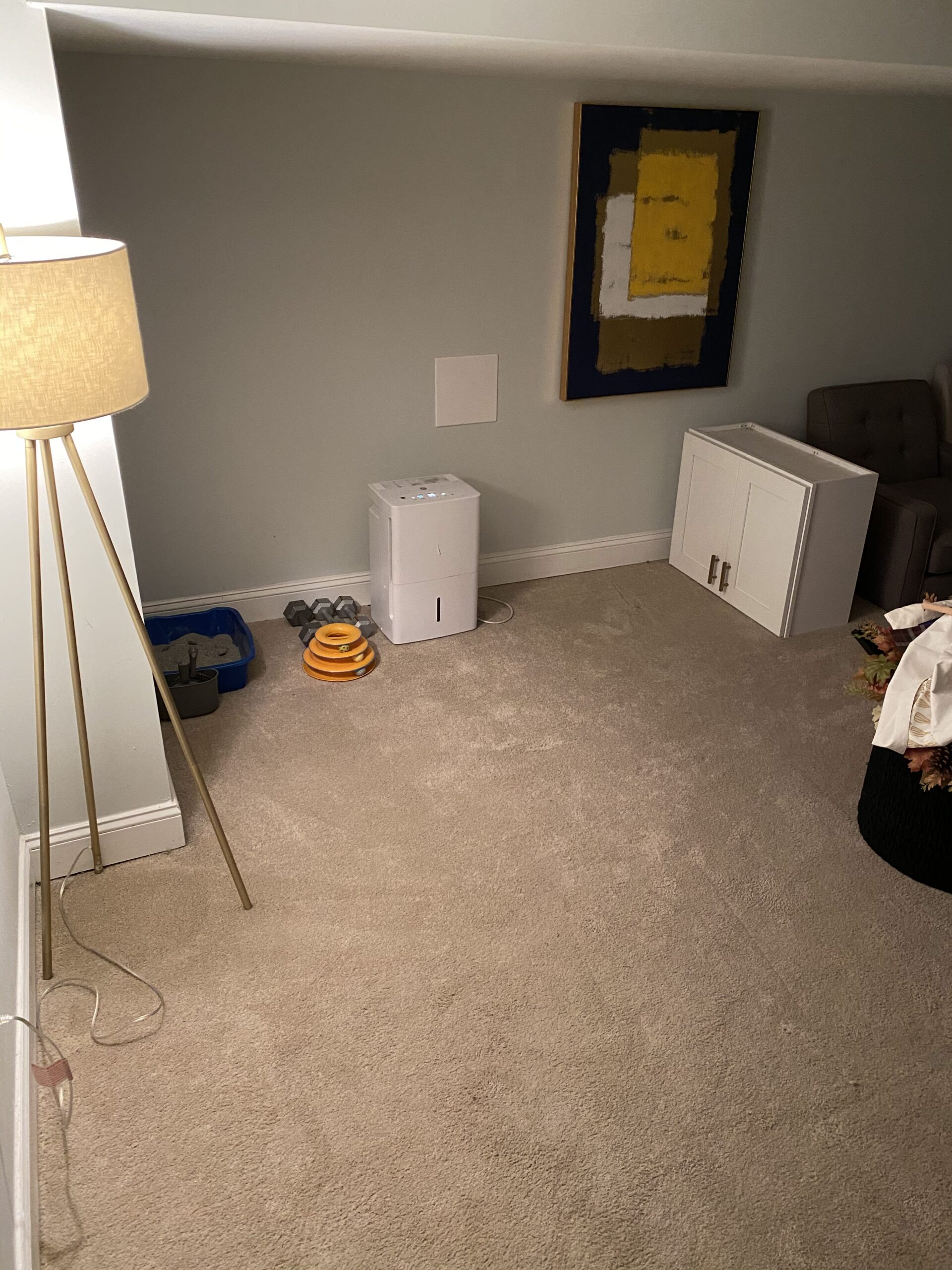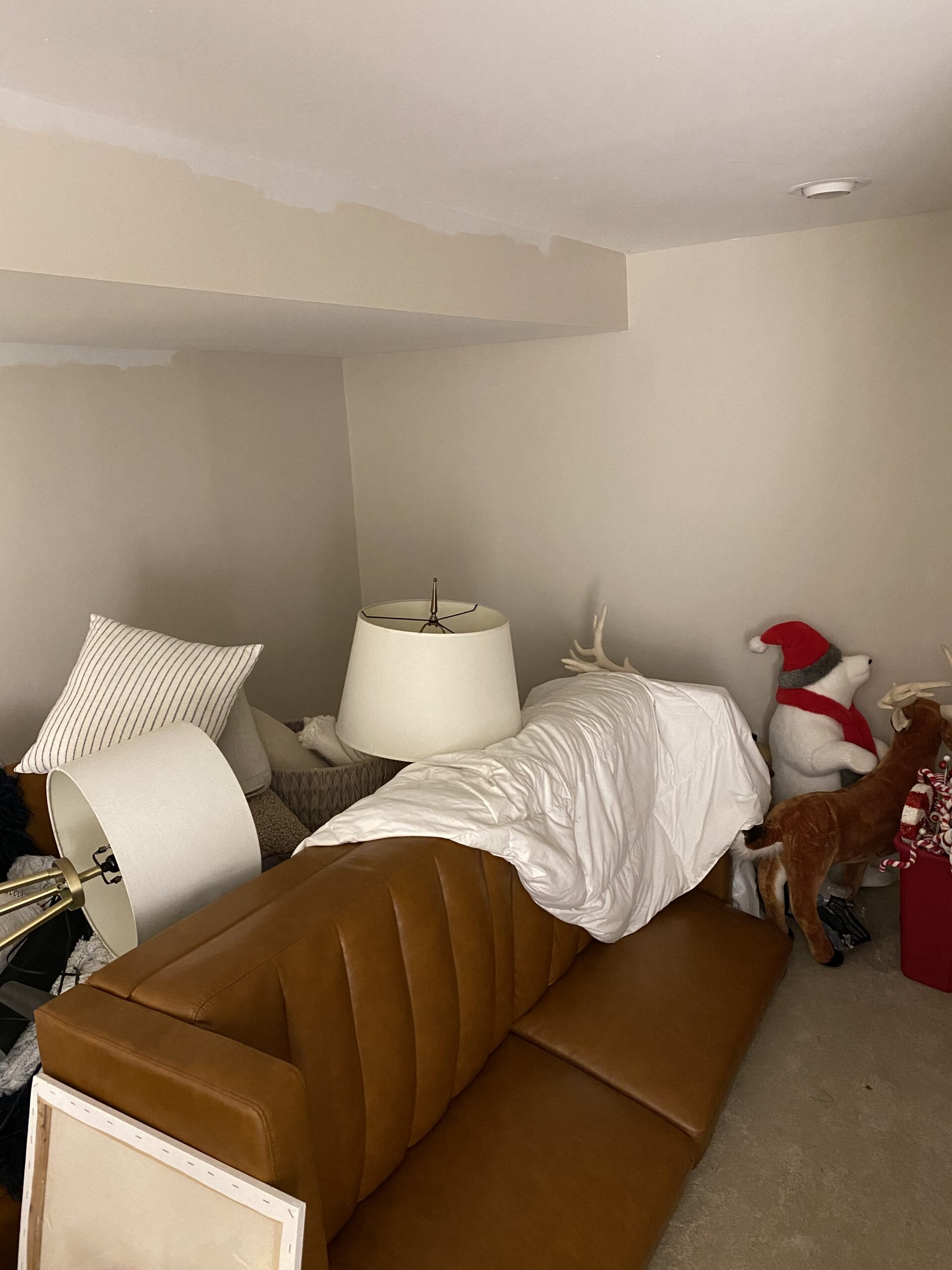 The first thing on the list was changing the paint color. It was a really boring gray (typical renovation choice) that wasn't very inspiring. At one point we thought about choosing a dark color to create a super moody space but realized it just wouldn't work. We don't subscribe to the idea that dark colors always shrink a room however it would in this case. The ceilings are so low that it would have been the wrong choice. Instead, we chose the most beautiful shade of white called 'Papier Blanc' by Behr. We love how soft it makes the room feel. We painted the ceilings this color too. It's actually a funny story about the paint color. We chose a different color first — Almond Whisp. We had high hopes for it but it ended up looking pink. That was definitely not the vision lol so we had to paint over it all with the new color. The room feels super light but still warm and inviting.
After: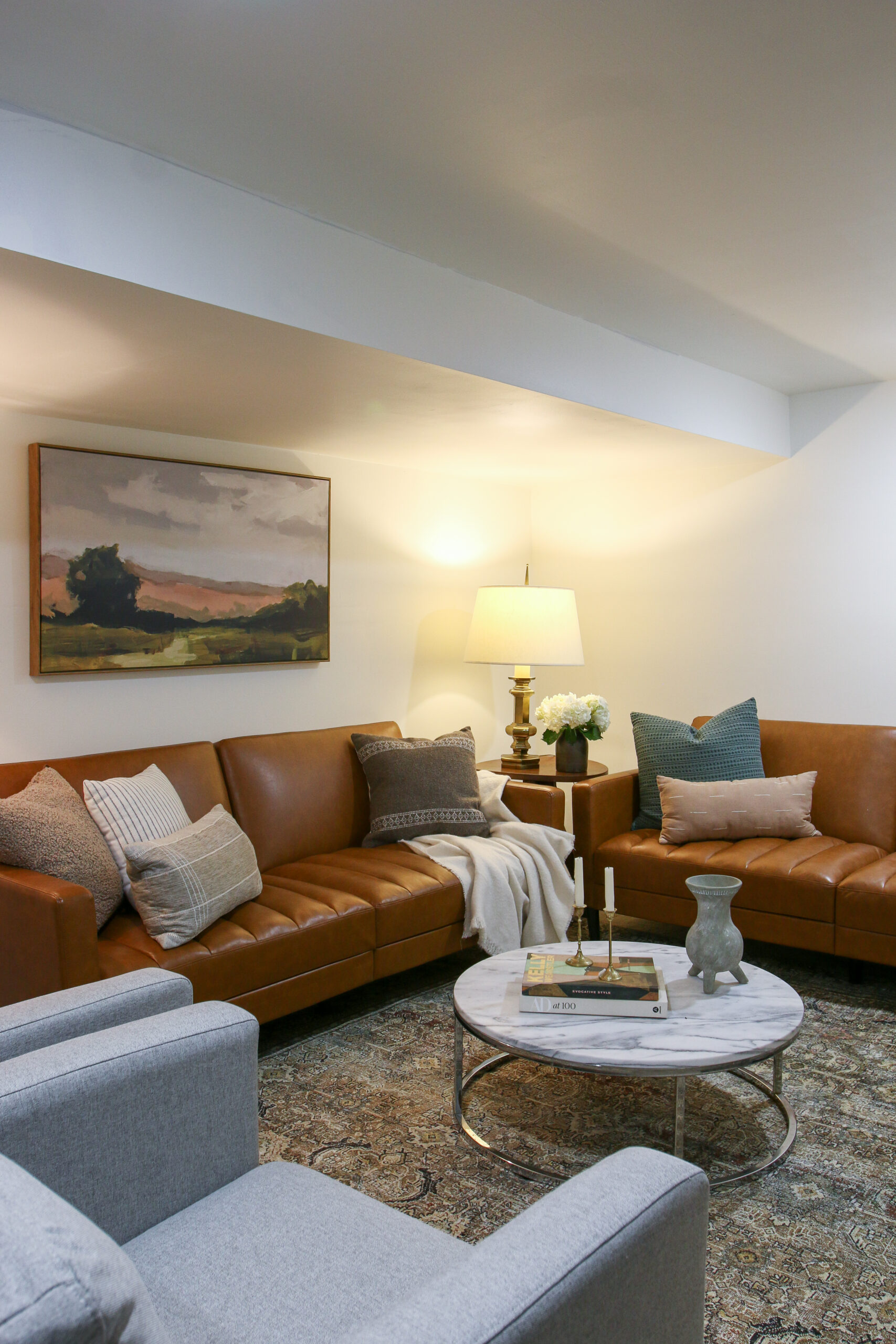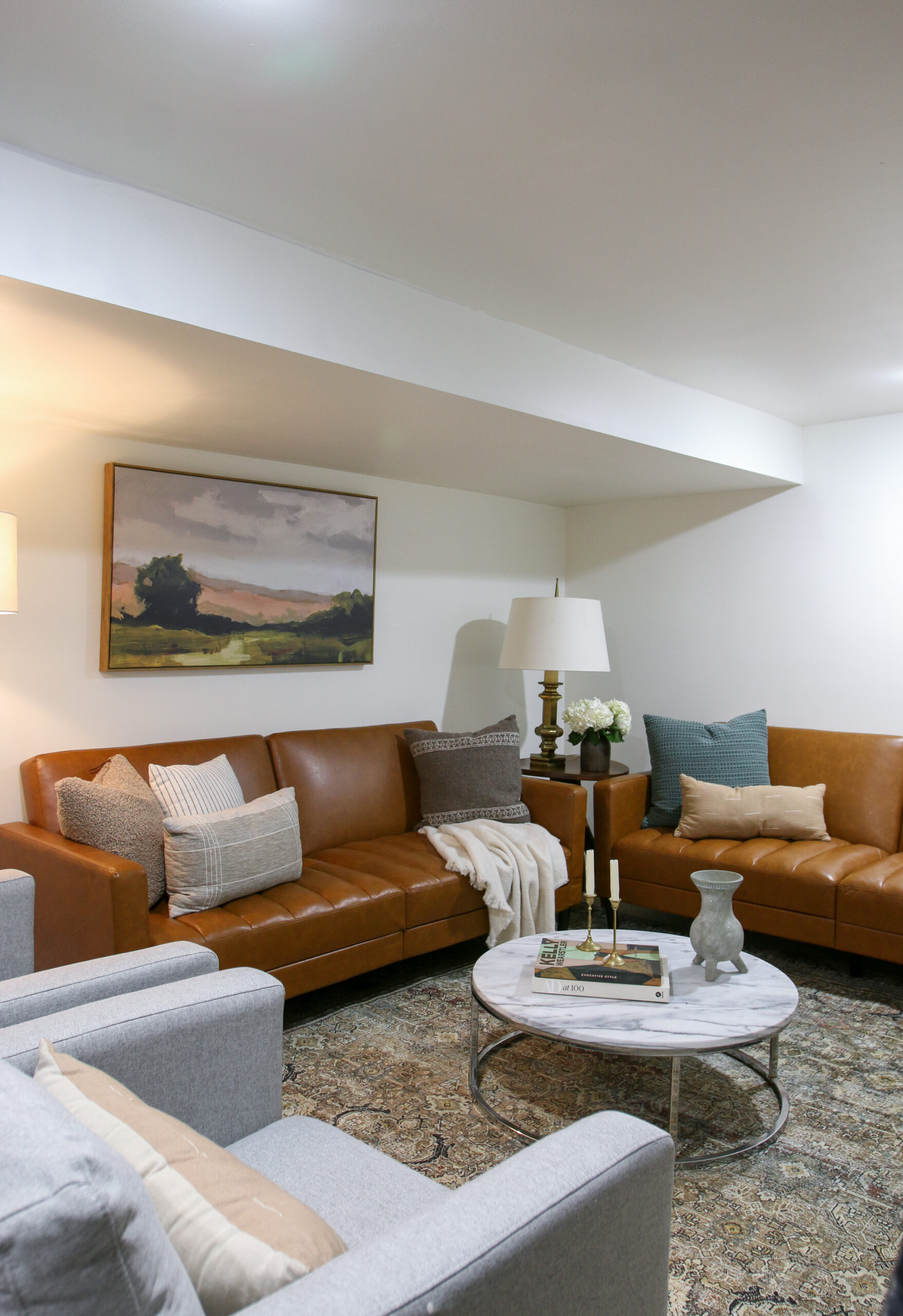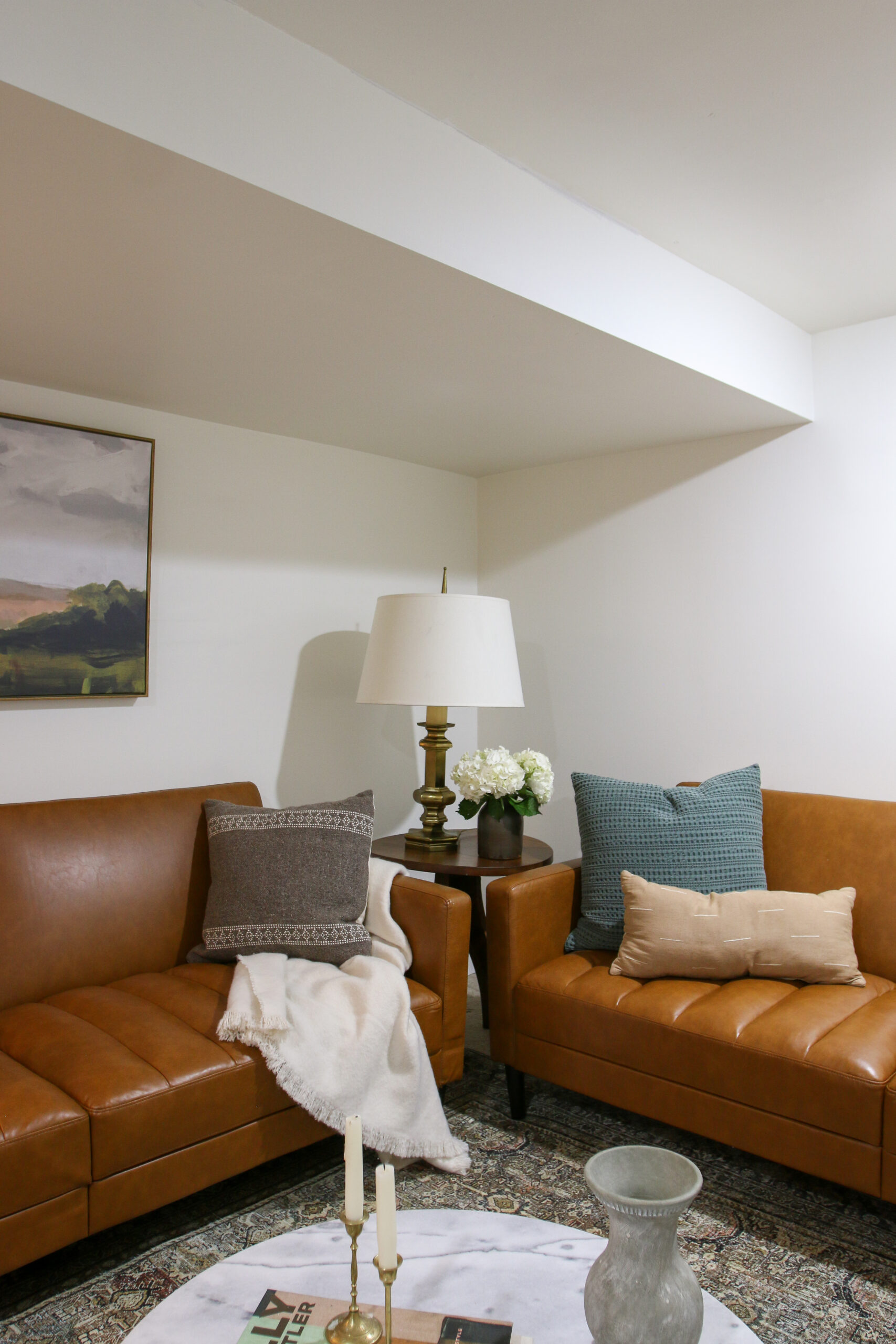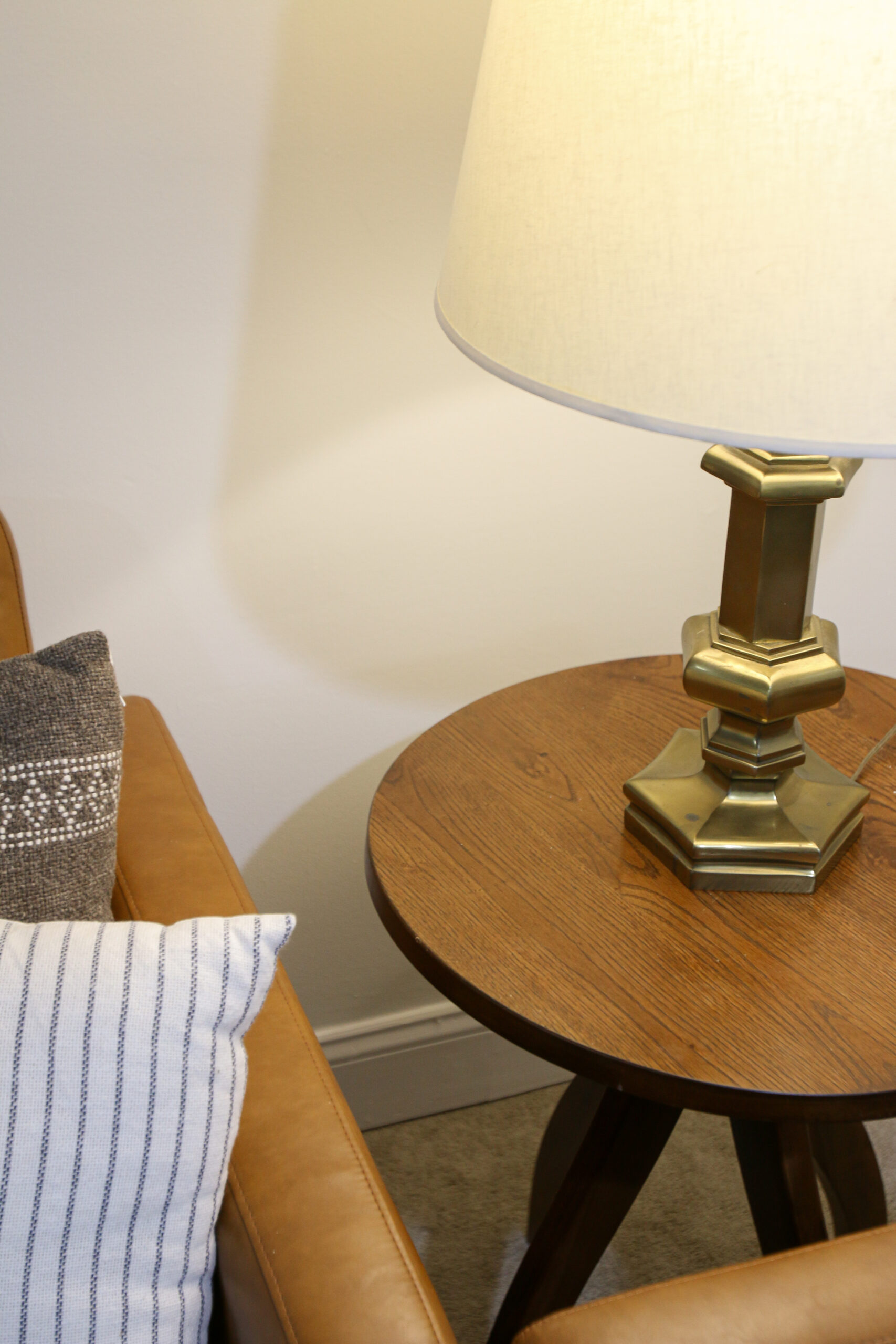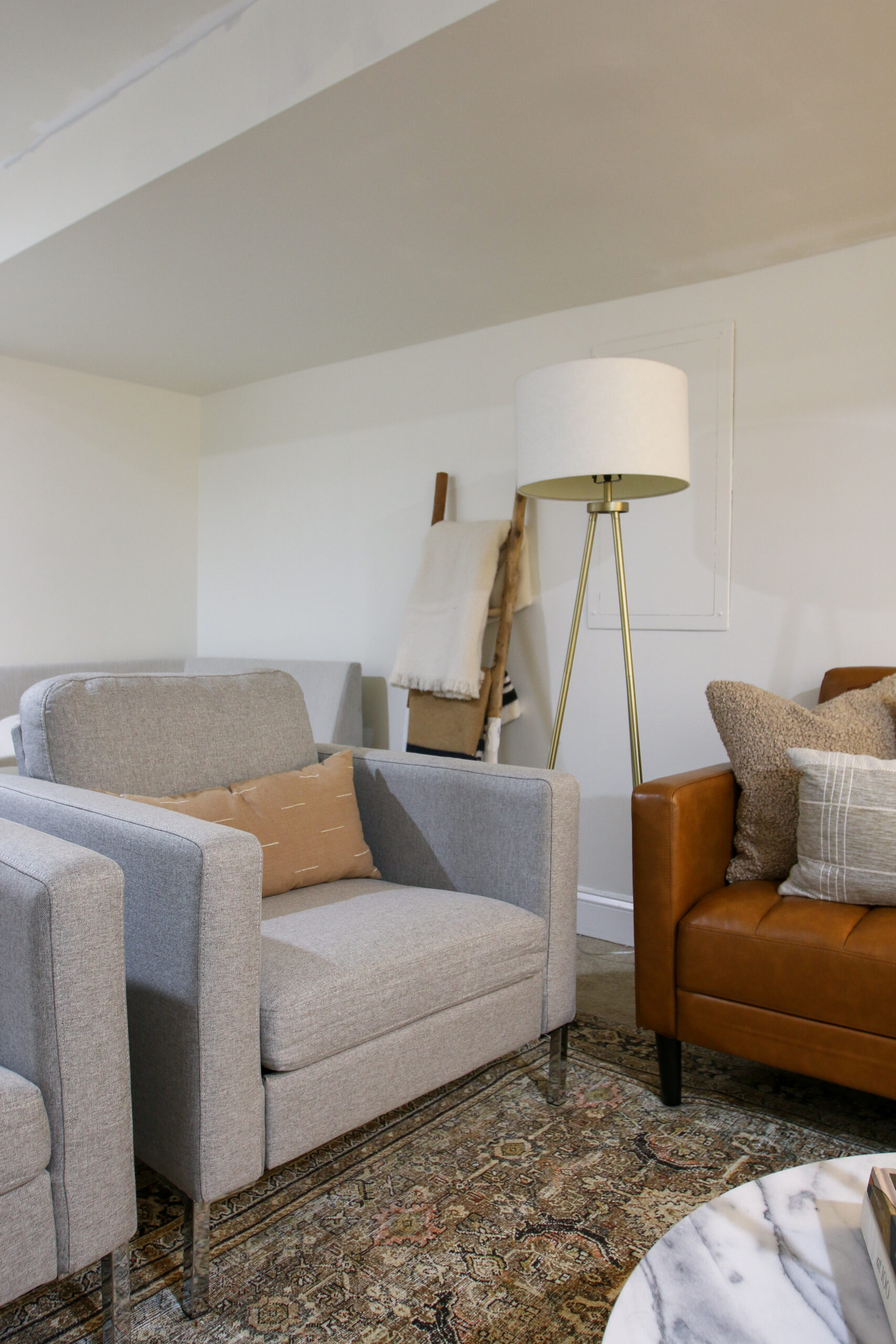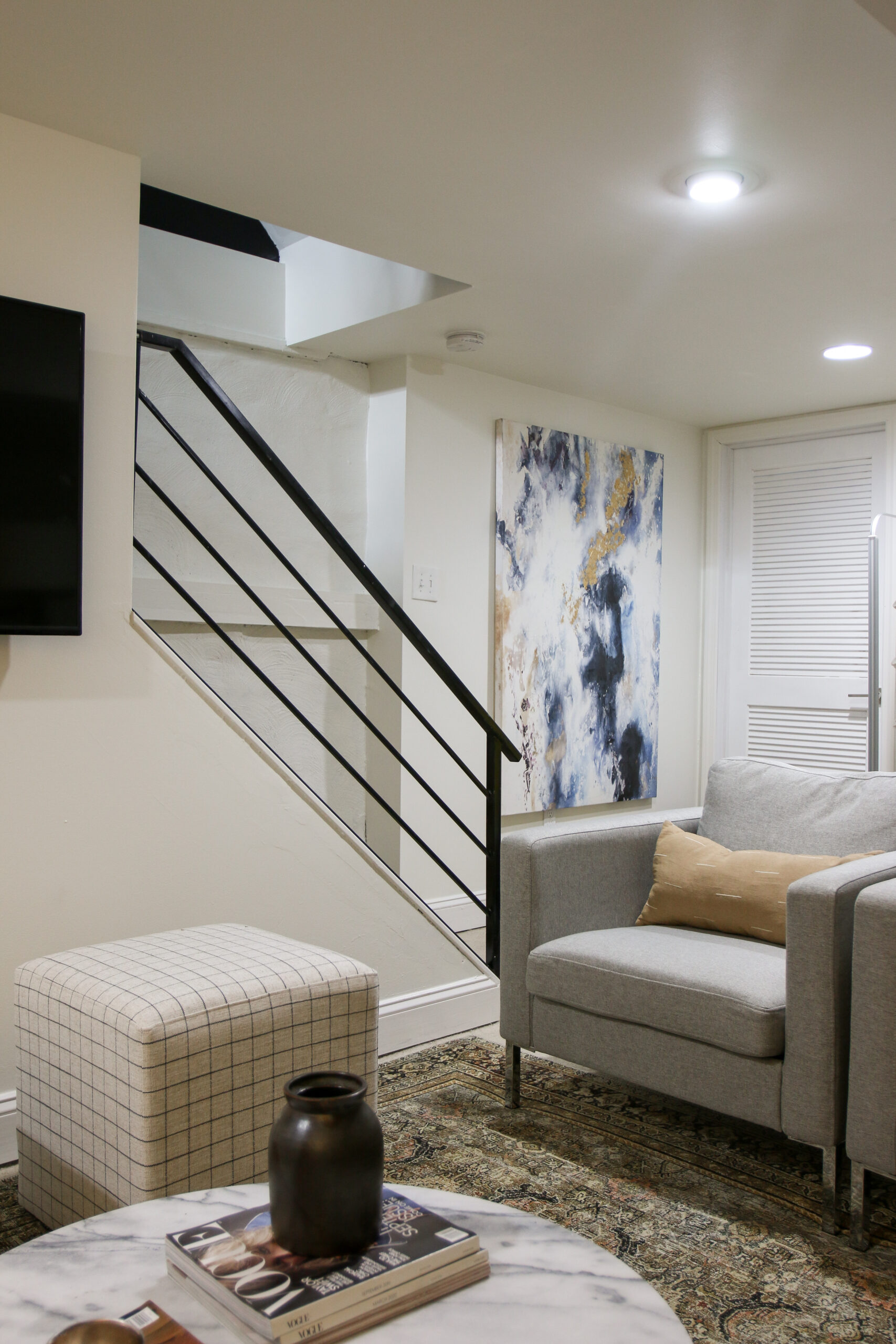 We went back and forth with the type of furniture we wanted in the space. Obviously, we wanted pieces that were comfortable but also functional. We love to entertain friends and family so extra sleeping space is also a priority. We found out Queer Eye collaborated with Walmart on a furniture line. Amazing, right?! The quality and prices are so good, too. We ended up choosing two faux leather sofas that pull out into beds. The camel leather looks great up against the light walls. It's also a material we had never used before so it was an exciting choice. We also really love the slim design. A lot of sofa beds are so large and cumbersome so it's nice how this one folds down. We also added two accent chairs to create a conversation space. Instead of buying a new coffee table, we used the table that was temporarily outside during the summer. Eventually, we want to add something different but it works for now. Maybe wood and a different shape…TBD.
Since we don't have a ton of extra room we couldn't add a console table. Instead, we mounted the TV and added two upholstered cubes underneath. It will be nice to have those when we have extra guests that need a place to sit. A few other pieces we added – a side table and lamp, artwork, and coffee table decor. The side table is from Studio McGee's line at Target. We've talked about this collection a million times with you. We truly love it so much. That's where the artwork is from too, but unfortunately, it's sold out so we can't even link it for you. But keep an eye out as we did. No joke we checked the Target website multiple times a day until it was available lol. One other piece we wanted to call out is the vintage lamp, We found it in a thrift store and just replaced the shade with one from Pottery Barn. It's always so much fun giving something a second life.
It's so wild to see the space transform. We truly didn't know if it could happen at one point. But we did it! It feels so good sitting down there on Friday nights with a pizza, glass of wine, and a good movie. Feeling so grateful. What do you think? xo
---
SHOP THIS POST

---