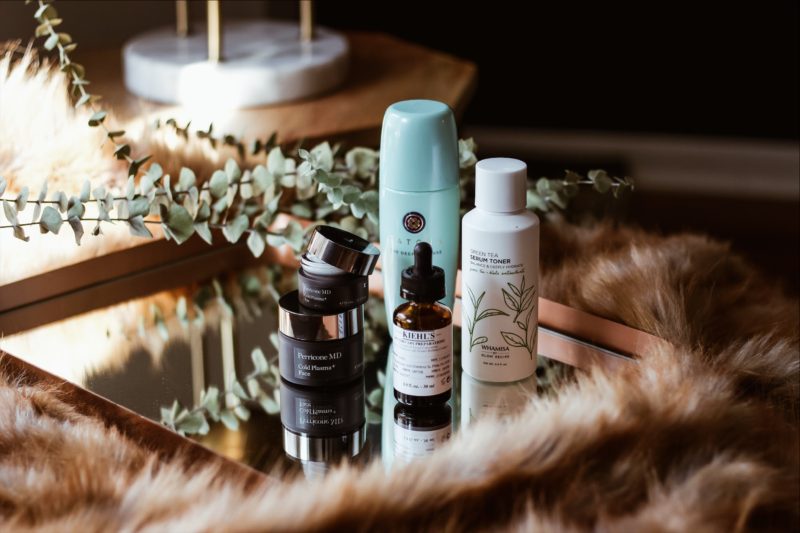 So many of you guys have asked us to share an updated morning skin care routine. Well, here it is! Now, we will say that we are constantly changing things up. We like to try new products and swap things in and out. But for the most part, this is a solid lineup of products we love.
CLEANSER:  TATCHA – The Deep Cleanse
The first step in any skin care routine is cleansing. You want to get rid of any dirt and impurities. We recently discovered this cleanser and have fallen in love. Seriously. This is a daily gel cleanser that has a natural exfoliant that helps unclog pores. It's super gentle so you don't have to worry about irritating your skin. We love how soft and smooth our skin feels. Also, a little goes a long way with this stuff.
TONER: Whamisa by Glow Recipe Green Tea Serum Toner
The next step is toning. It's so important to use a good toner. We can't say this enough. Toners balance and refine your skin. We especially love this toner because it's not your average product. This is a serum toner — almost like a 2 in 1 product. This makes for a really interesting consistency. It's full of green tea — a natural anti-inflammatory — and Hyaluronic Acid. This ensures your skin is super hydrated. We like to apply this with our hands rather than a cotton pad. This really helps massage the product into our skin.
EYE CREAM – Perricone MD Cold Plasma+ Eye
Eye cream is the next step in our morning routine. We've been using the Perricone MD Cold Plasma+ Eye Cream. Now, this is definitely on the high-end of products. But this really does work wonders. This eye cream targets 5 signs of aging. You guys know we are all about preventative skin care. This product helps with dark circles, puffiness, crow's feet — basically all signs of aging. You don't need a ton of product when applying. We use a few dabs on our finger and lightly tap into our skin. We love how awake our eyes feel. This is so good for those mornings when you just can't seem to get it in gear.
SERUM – Kiehl's Custom Serum 
Alright guys, we're close to the end! Now it's time for a serum. Kiehl's recently started doing custom apothecary preparations. That means you can go to the store and, depending on your specific concerns, have a custom serum created just for you. So cool, right?! We actually both have the same concerns — large pores and texture. We use 2-3 drops of this serum in the morning. We really have seen a huge improvement in our skin since we started using this serum. It also smells so good! It's light enough that it absorbs quickly and doesn't leave your skin feeling clogged or heavy.
MOISTURIZER – Perricone MD Cold Plasma+ Face
Last but not least, it's time for a moisturizer. This is the same line as the eye cream we mentioned. Again, it is on the higher end but it's definitely worth it. To go along with what we just said about the serum, we both have large pores. This moisturizer does a really good job at minimizing pore size and evening out skin texture. Our skin feels super smooth and soft. We also love that it's fragrance-free and lightweight. That means it absorbs quickly and doesn't feel heavy throughout the day. You won't need a lot of this moisturizer — a little goes a long way! Which is a good thing since it isn't super cheap.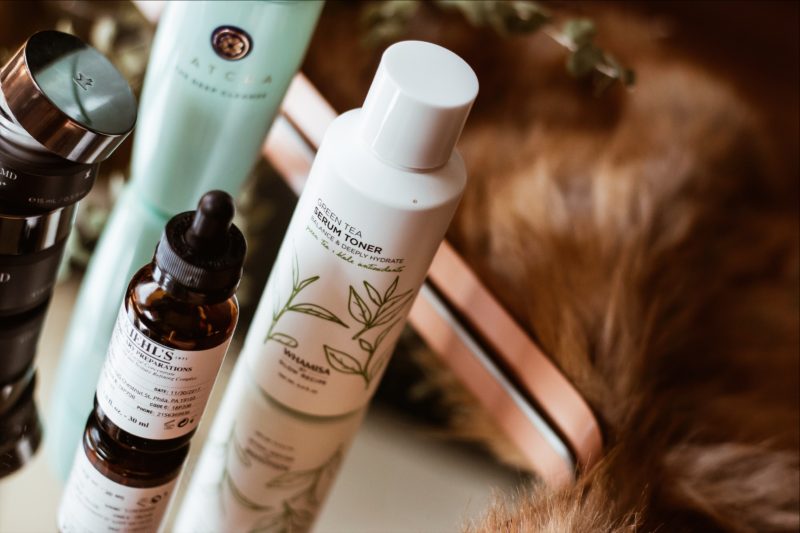 ---
SHOP THIS POST

What do you guys think of this morning skin care routine? Let us know in the comments below! Until next time…