We're still coming down from the high of watching one of our best friends get married last weekend. It was truly a magical experience. Hopefully, you followed along over on Instagram. We were lucky enough to both be in the bridal party. Alex was the man of honor and Mike was a bridesman. So cute, right?! Oh, and we both walked down the aisle together!! It was all such an amazing experience and the wedding couldn't have been more beautiful. We love you, Sam and Dave!!
It was a black-tie wedding. All of the groomsmen wore tuxedos but Sam wanted the bridal party to be a little different. The bridesmaids each wore some version of black-tie but no one matched. It was all about complimenting one another. As for us, she didn't want us in tuxedos. She wanted to differentiate us from the groomsmen since we were on her side. We LOVED that idea. She basically gave us free rein to come up with full black looks.
We're going to break down both of the looks we chose and why. So here we go! We stopped by LR2 in the city to pull together the looks. Side note: Anthony and Les are both amazing. We had the absolute best time working with them. Anthony is one of the most dapper people we've ever met!
For starters, we knew we didn't want to match each other. We both wanted to find suits that were versatile and could easily be incorporated into our closet. Mike actually already wore his jacket again to a holiday party last week so it was a success.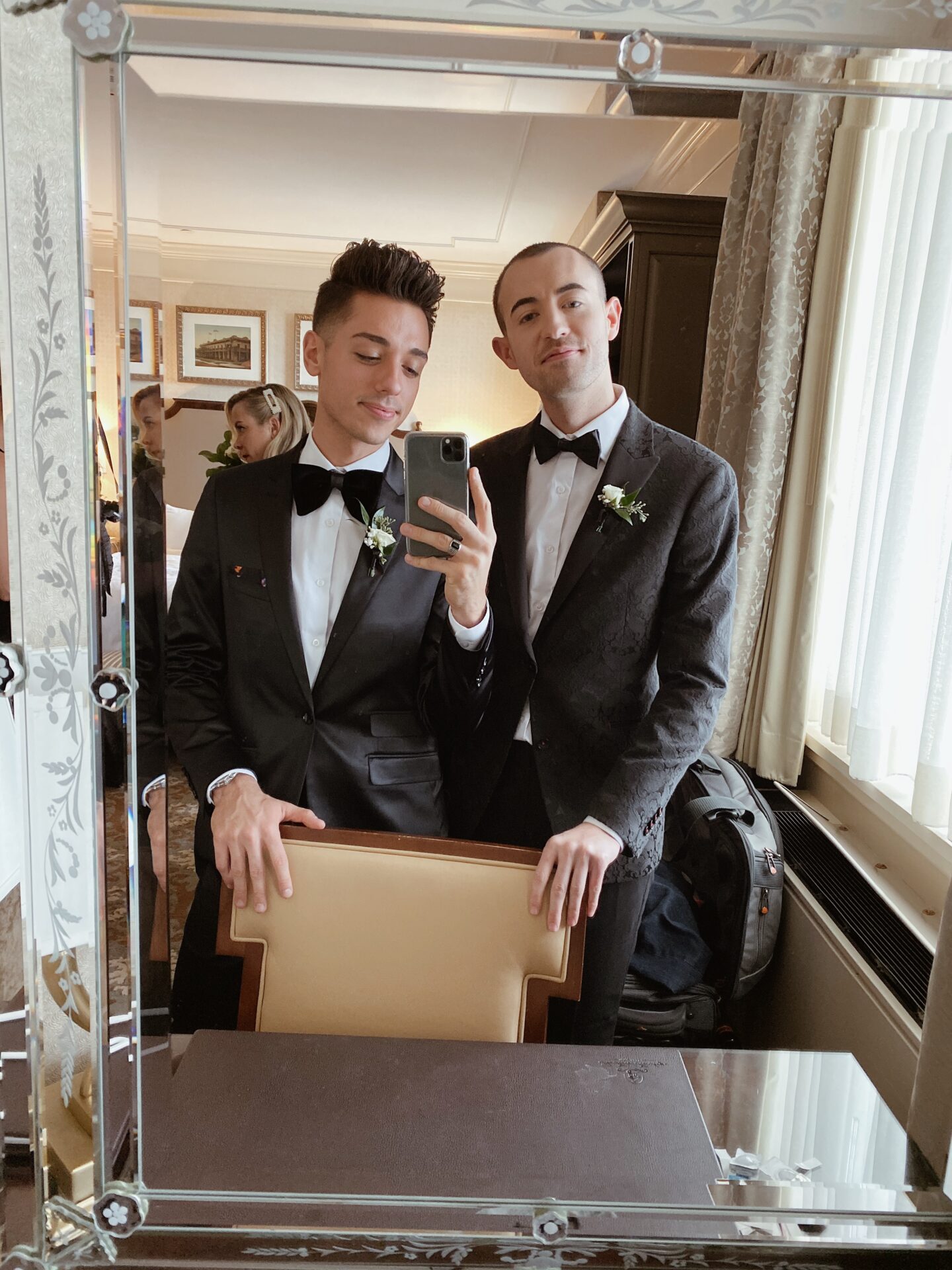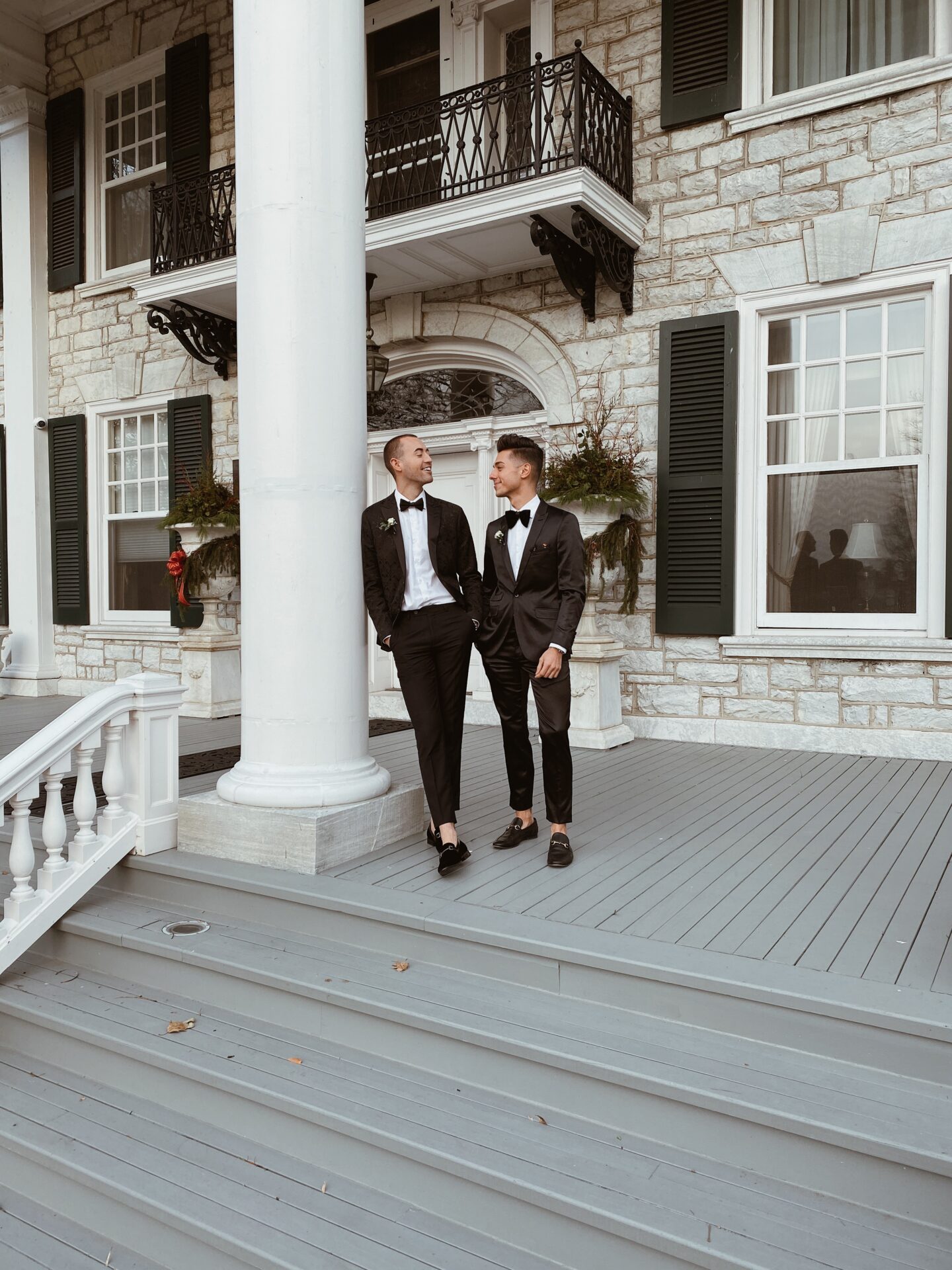 ---
Mike's Look
I knew I wanted a matching set. After looking through all of the textures and materials, I fell in love with the black satin. I literally gasped when I saw it lol. My eyes were immediately drawn to it. I had initially wanted to wear velvet but the groom's jacket was velvet so that was a no-no. Instead, I decided to incorporate it in another way. I chose an oversized velvet bowtie — very Tom Ford-esque. The piece of fabric that sinched the bowtie together was satin so it complimented the jacket and paints really well. For my shirt, I kept it simple by going with crisp white.
When it came to the alterations, I had some work done on my pants. If you don't already know this, I hate the length of my legs. I'm so serious lol. I feel like they are two inches long so I always struggle with pants. Luckily, Anthony brought the pants up to my ankle. This helped make my legs look so much longer — especially since I wore loafers without socks.
Alex's Look
I wanted to wear something with texture. I really did love Mike's satin look and wanted to find a way to incorporate that material too. After looking through everything, I fell in love with this textured black paisley jacket with satin lapels. Since the jacket had texture, the pants had to be much more simple. The star of the look is definitly the jacket. I went with a crisp white shirt just like Mike. As for my bowtie, I didn't want to do anything over the top. The jacket really had enough texture and dimension for the entire look. I decided on a basic black bowtie — simple and chic. For my alterations, I had my pants taken up a bit too. We both love it when our ankles show with a suit. It's more fashion-forward and stylish. Just like Mike, I went with loafers.
---
So what do you think?? Would you wear these looks? Let us know in the comments below! Until next time…