We finally feel like it's a good time to give you an update on what's been going on with our new house. It has truly been a whirlwind since we moved in last month. Quick reminder: we settled on the house on Friday the 13th! Spoooooky. Maybe that's why we had so many issues at first lol. You probably already know all of this if you follow us on Instagram, but we're going to break it down again. After just a few days of being in the house, we had an unexpected leak. After ripping out the ceiling in the living room twice (yay!!), we finally found the source of the entire issue. There was a piece of plywood in the pipes. A PIECE OF PLYWOOD. Like how does that even happen?! Apparently someone decided to flush some wood down the toilet?? Regardless of how it happened, it's finally fixed now. We also had an issue with the HVAC system but that's fixed too. Both issues were unexpected and didn't show up during the home inspection. We're just thankful it's all taken care of now and we can finally take a deep breath.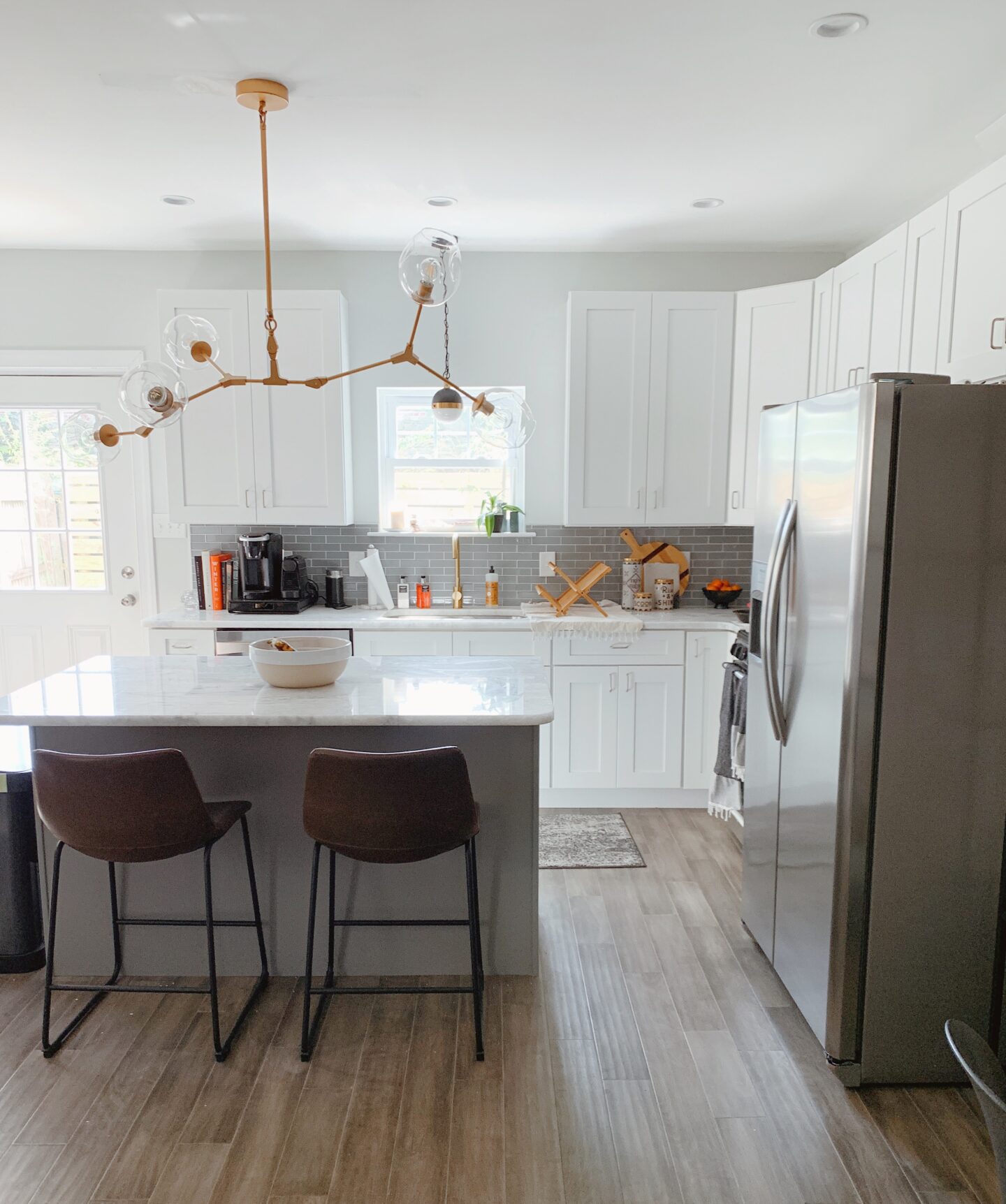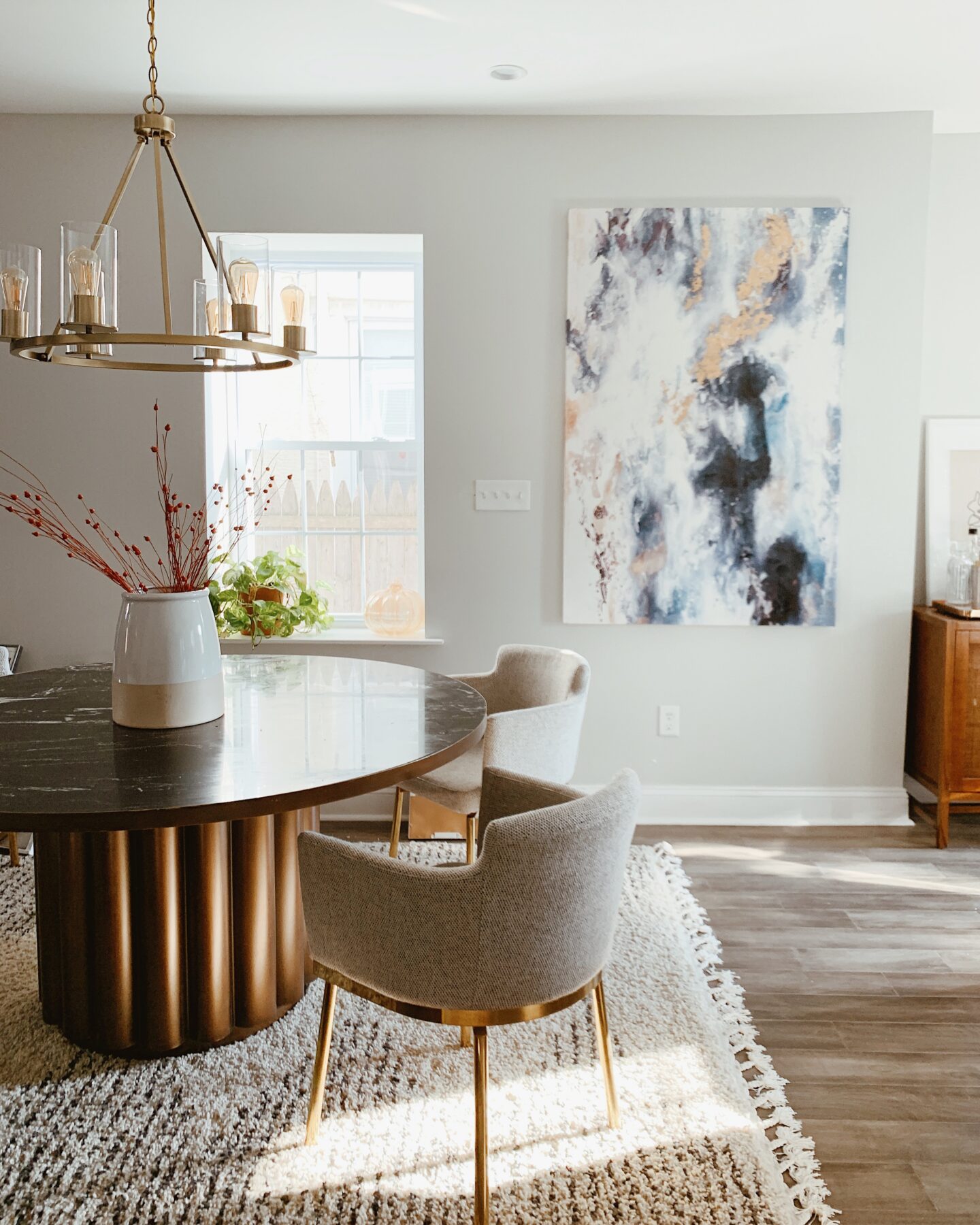 Even though we've set up a lot of the house, we still have a ways to go. But we're feeling really good about the progress we've made so far. The living room is almost totally done. We are still waiting for the new sofa to be delivered. Once that comes in, the living room will be complete. The dining room is totally done and we couldn't be happier! The new light over the marble table adds so much drama to the space. To be honest, we're just happy the table finally made it out of the stock room of CB2! (if you know the story, you get it).
The kitchen is also almost done — we just need to paint the island hunter green. We are so excited for the pop of color. It's going to add a richness to the kitchen and some much needed contrast. We're excited to see the green with the new light. We found the light on Wayfair and couldn't be more obsessed.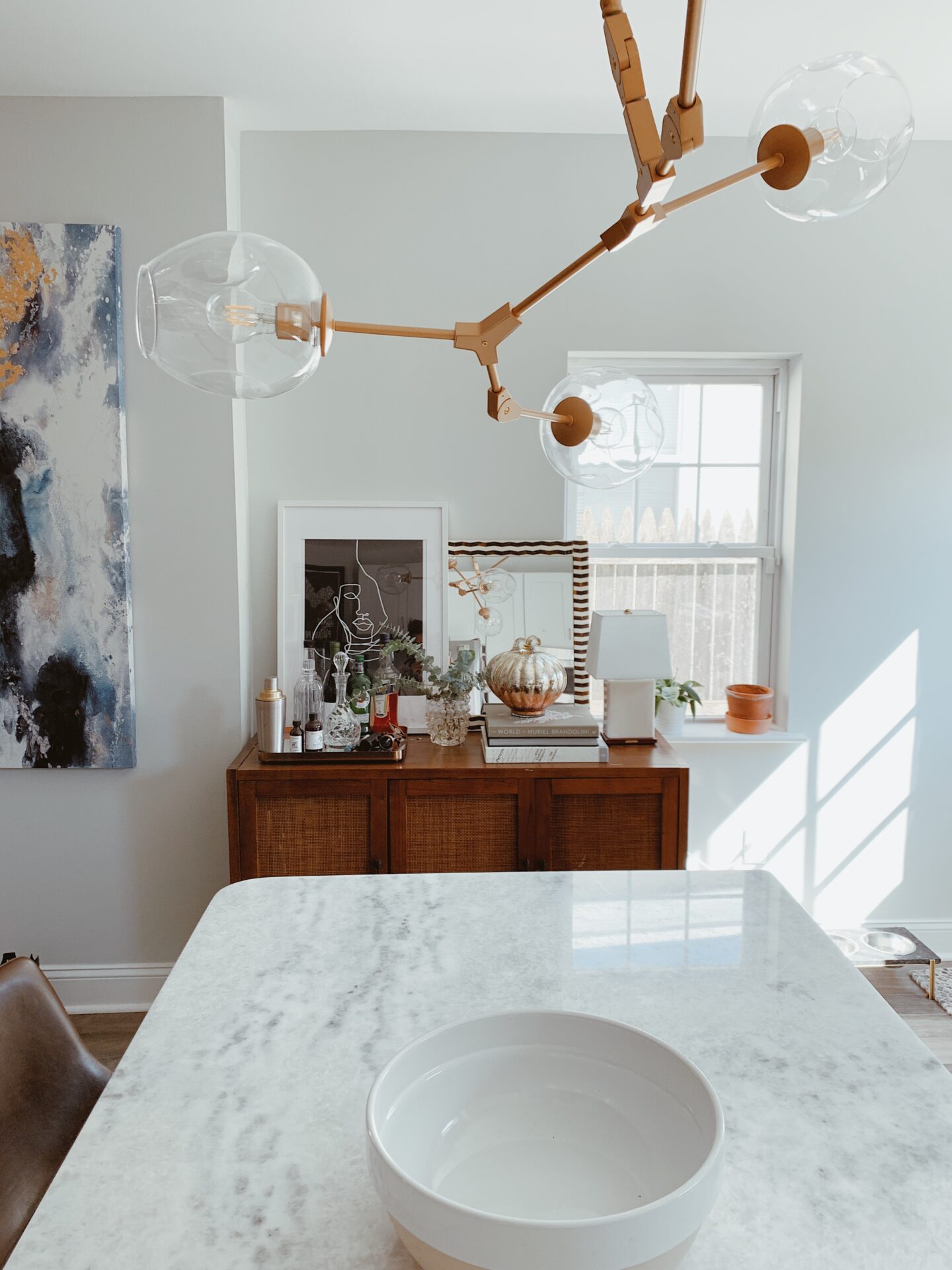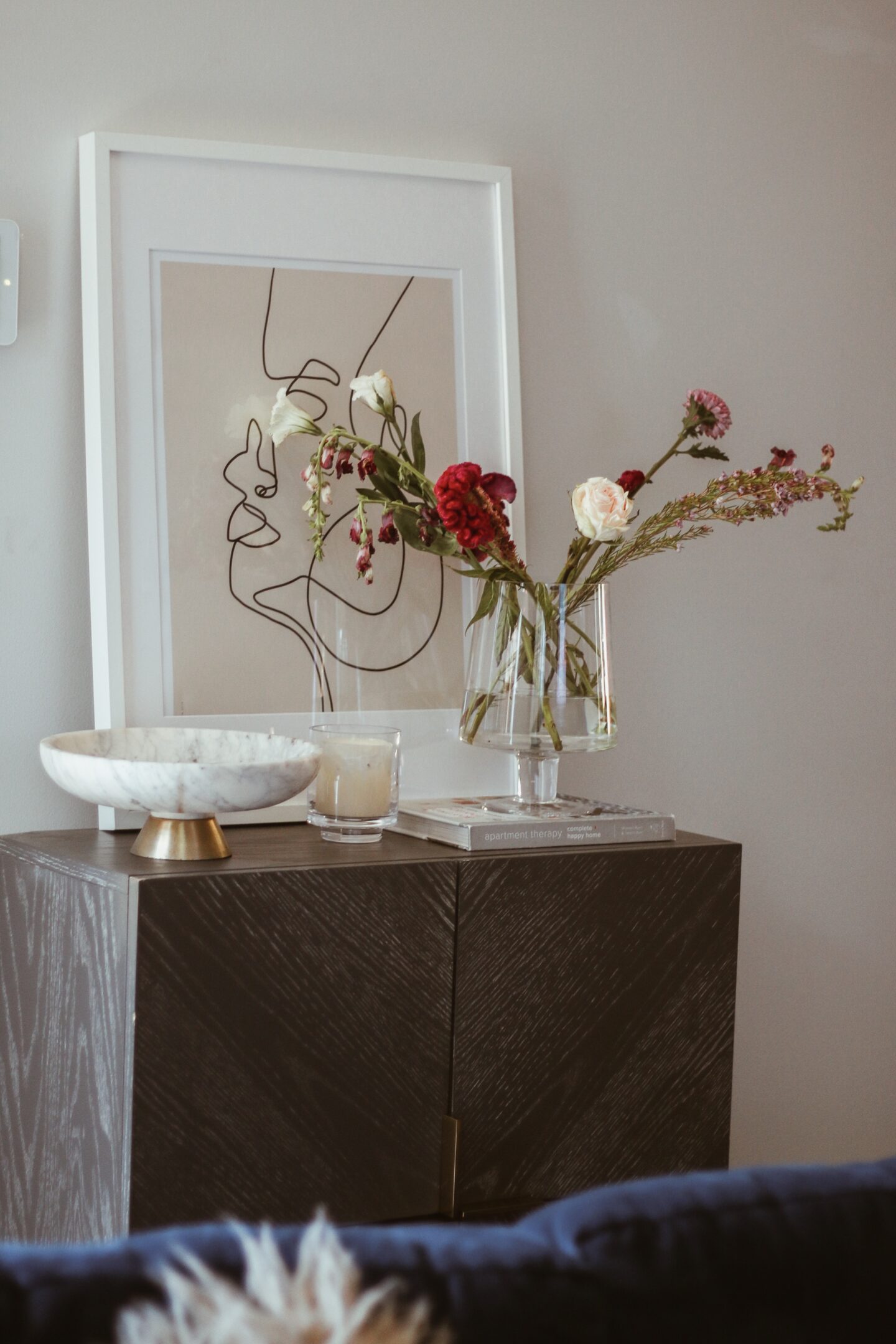 We haven't really done much at all to the guest room and office. We are finishing up the plans for those rooms now. Hopefully, we can get things situated in the next few weeks. We are turning the third bedroom into a walk-in closet. This has been a dream of ours for so long! We did use one of our bedrooms in the old house as a closet but it wasn't anything special. We just used racks from IKEA. The racks definitely did the job during that time, but now we want to go a step further. More to come soon!!
We're also going to be doing a little DIY project on the stairs. We are installing stair runners on both sets of stairs. We've been ALL over the place with choosing the type of carpet. We held a poll on Instagram last week asking you what we should do. After thinking it over, we are pretty sure we are going to go with a deep blue pattern. Hopefully, we get this done by the end of the month!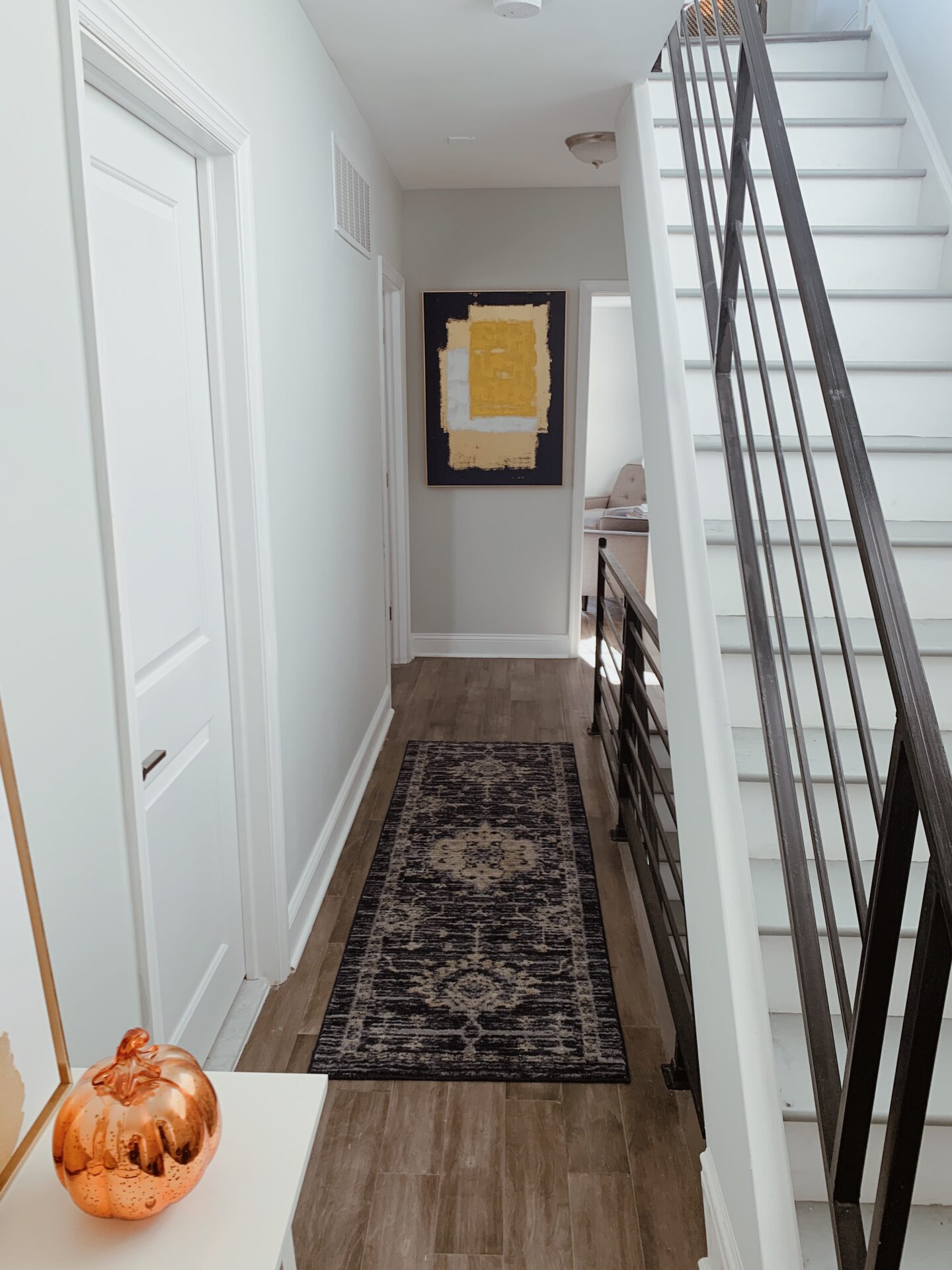 We still have a ways to go but we're feeling really good about the progress we've made so far. What do you think?? Let us know in the comments below!
---
SHOP THIS POST