Alright, it's time for a little bedroom refresh. We've been thinking about switching things up in our bedroom for the past few weeks. Nothing crazy but just enough to add some new life to the space. We did paint our bedroom a deep black a few months ago, though we didn't show you guys the final space. Because of that, we've included some photos of our bedroom pre-dark walls. This will really give you guys some perspective.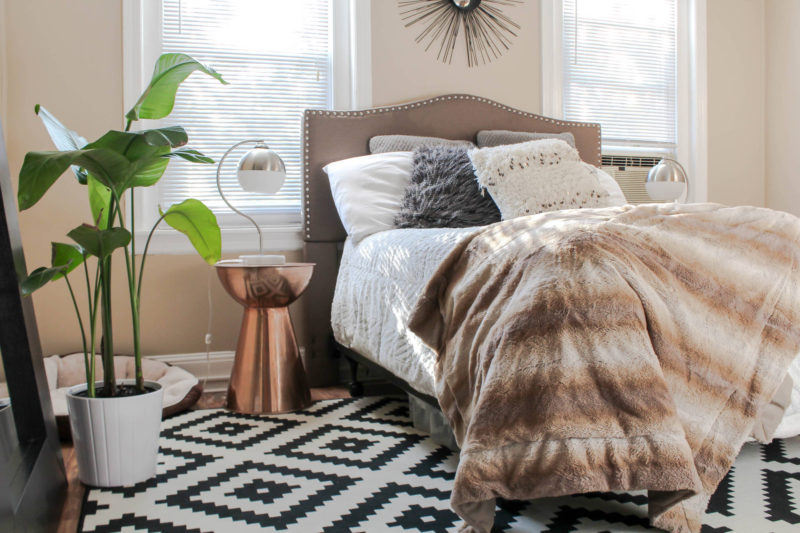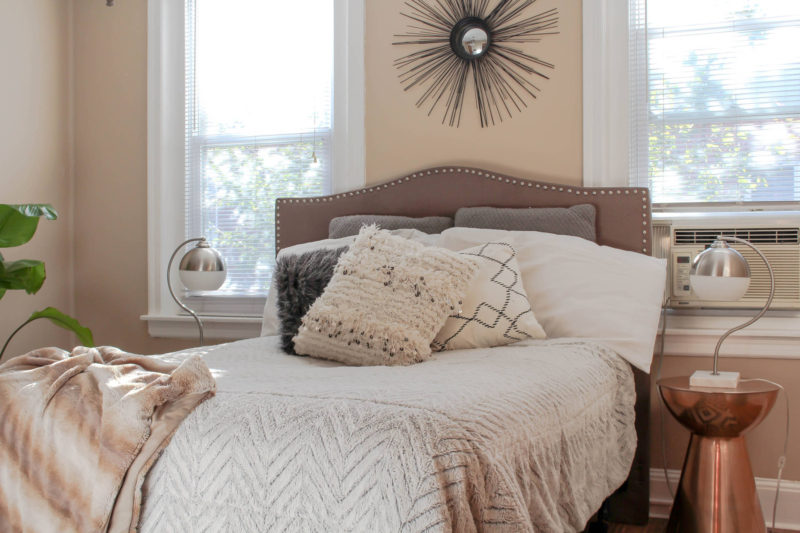 The first area that we want to address is our bedside space. We currently have two hourglass accent tables from Target on each side of our bed. We really do love them but at this point, they aren't functional anymore. We've realized we need more space. The top of the tables are so small and we are in desperate need of drawers. We've been eying up the Loren End Table from Joss & Main. It checks off all the boxes for us. We're leaning towards black — what do you guys think? The white is a bit too glam for us and the navy doesn't fit at all.
We currently have a white plush rug. This is definitely staying in the room. It's super simple and clean — exactly what we are going for. As far as the dark wall, we want to add some contrast with gold. We have a shelf that can be the new home for a ton of decor pieces. We plan on adding gold touches throughout the space.
We also have a little cubby area where we want to add some type of bookshelf with a beautiful mirror above. This will help reflect the light in the room and add another focal point. That obviously gives us another spot to add some fun decor pieces.
We're still in the final stages of planning out the space but we have a pretty good idea so far. We've linked a few pieces below that check off all the boxes. Let us know what you think! We are SO excited to show you guys the final design. Stay tuned!
Until next time…
---
HERE'S WHAT WE'RE THINKING