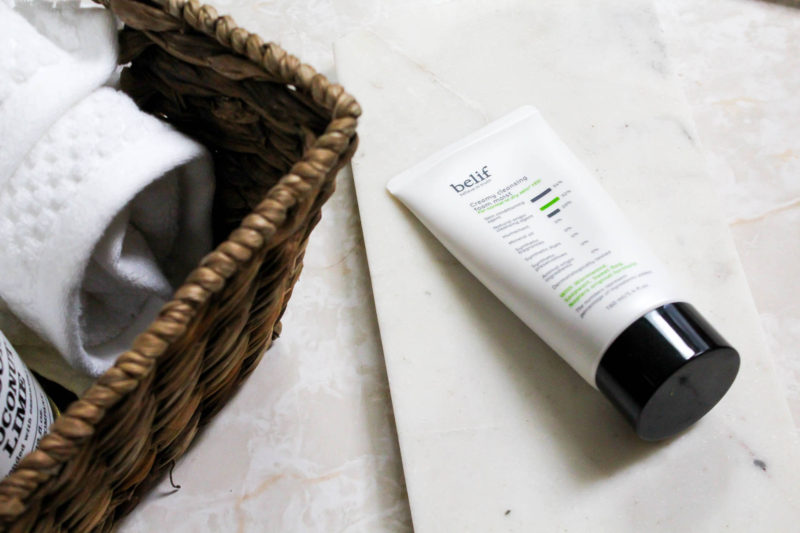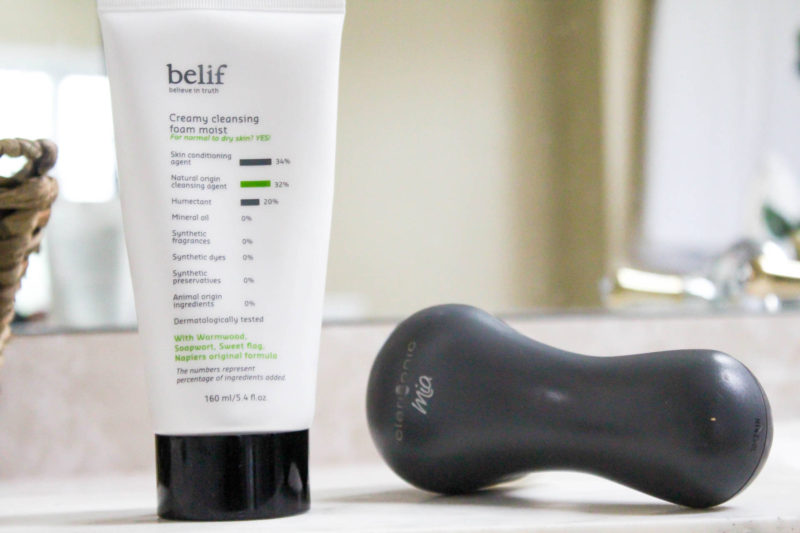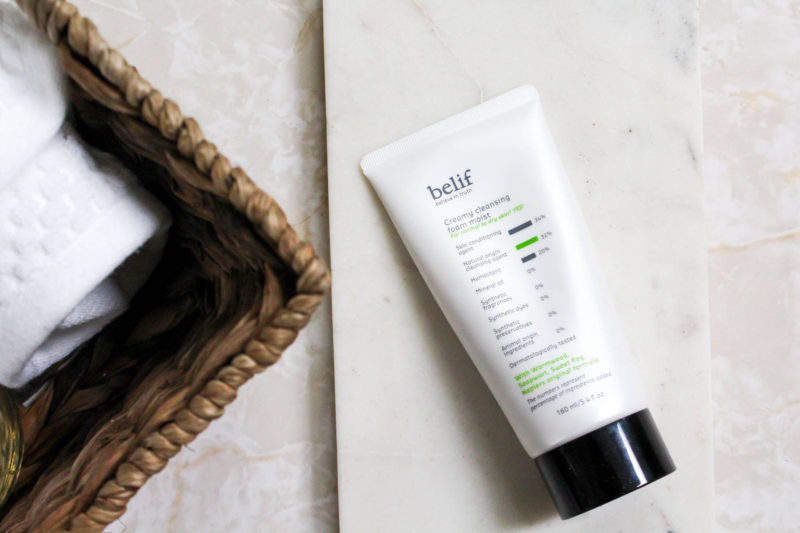 SOUND THE ALARM. We're bringing a new series to the blog starting RIGHT NOW. We are going to be sharing our favorite products with you every month. We will highlight a new product that we are totally obsessed with. As you all know, we are skin care junkies. Our happy place is the skin care aisle in any store. With that being said, we bring your our first ever monthly favorite: belif's creamy cleansing foam moist. What a mouthful. This product literally knocked our socks off. Let's start off with the fact that it is  free of sulfates, parabens, and phthalates. Music to our ears. So many companies use chemicals that are so harsh for your skin. No thanks! The front of the bottle actually shows you what this cleanser has and does NOT have inside. Thank you for the transparency belif!
A little goes a long way with this cleanser. This cleanser immediately starts to work into a creamy lather as soon as it hits your face. It's so creamy and luxurious that you feel as if you are getting a facial in your shower. Your skin feels completely conditioned and moisturized after the first use. This product is perfect for sensitive skin. You don't have to worry about breaking out with this cleanser. Without those nasty chemicals, your face feels cleansed without being stripped down. Wormwood helps prevent breakouts while soapberry detoxifies your skin. You've also got sweet flag to cleanse and soften WITHOUT damaging your skin.
We seriously cannot get enough of this cleanser. Your face feels so fresh and soft after just one use. You really can't go wrong with this one. We highly suggest trying this out. With that being said, WE ARE HAVING A GIVEAWAY. YOU GET A CAR AND YOU GET A CAR AND YOU…Okay, so we aren't Oprah BUT we are giving one lucky follower a bottle of this awesome product. Winning is super easy.
---
GIVEAWAY INSTRUCTIONS
* Follow us on Instagram: @alexandmike
* Follow us on Bloglovin: Click here!
We will be checking! This app helps keep all of your favorite bloggers in one place.
It's like Instagram for bloggers! Stay updated with the free app! 
* Comment "Giveaway" on our Instagram post highlighting this product
**Don't worry! We will include the instructions in the post as well**
---
That's it! We will pick a random winner this Saturday (5/14). We will message the winner with more details. Even if you don't win, your skin will win with this great cleanser. Always remember to give your skin some love.
Until next time…
[jetpack_subscription_form]