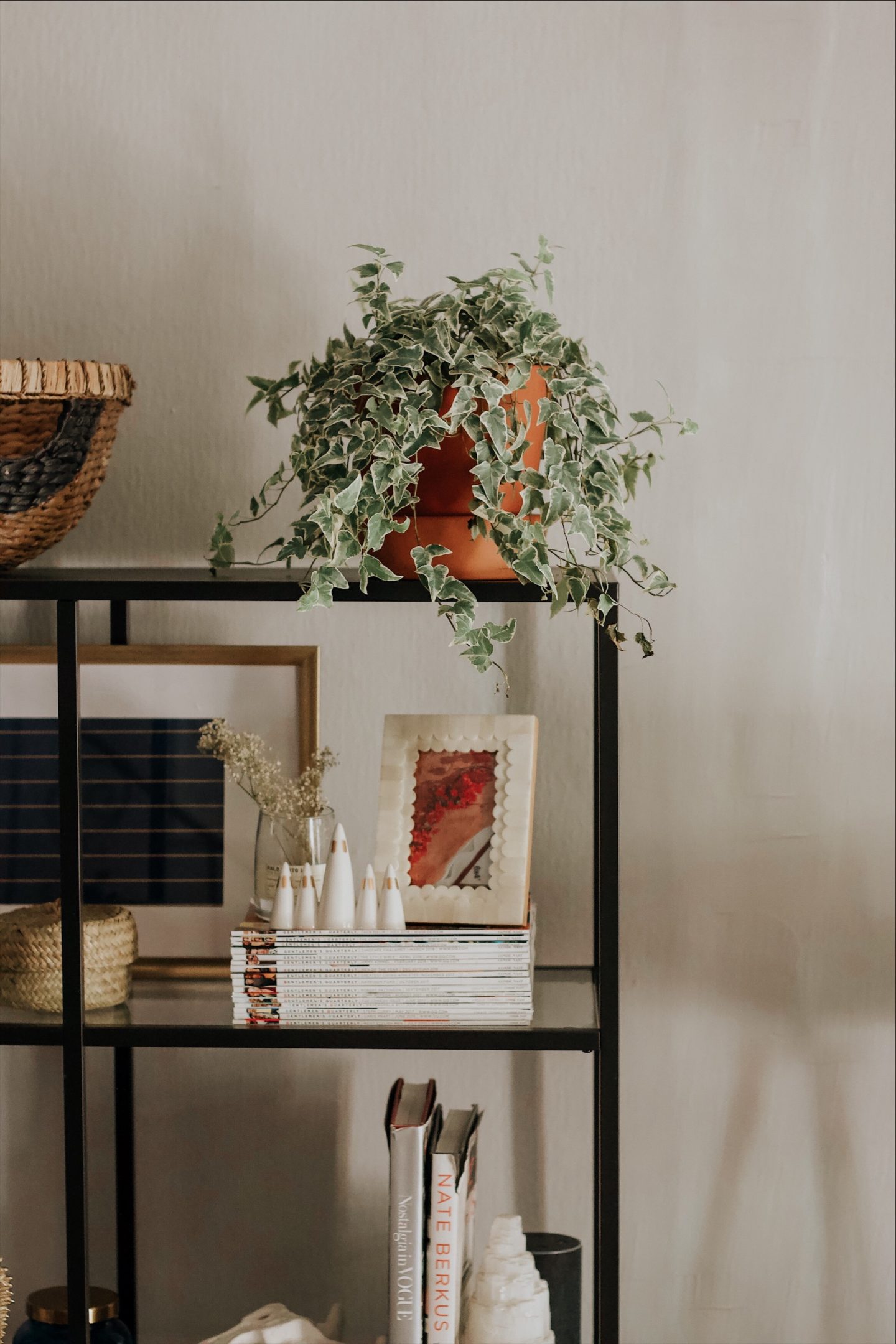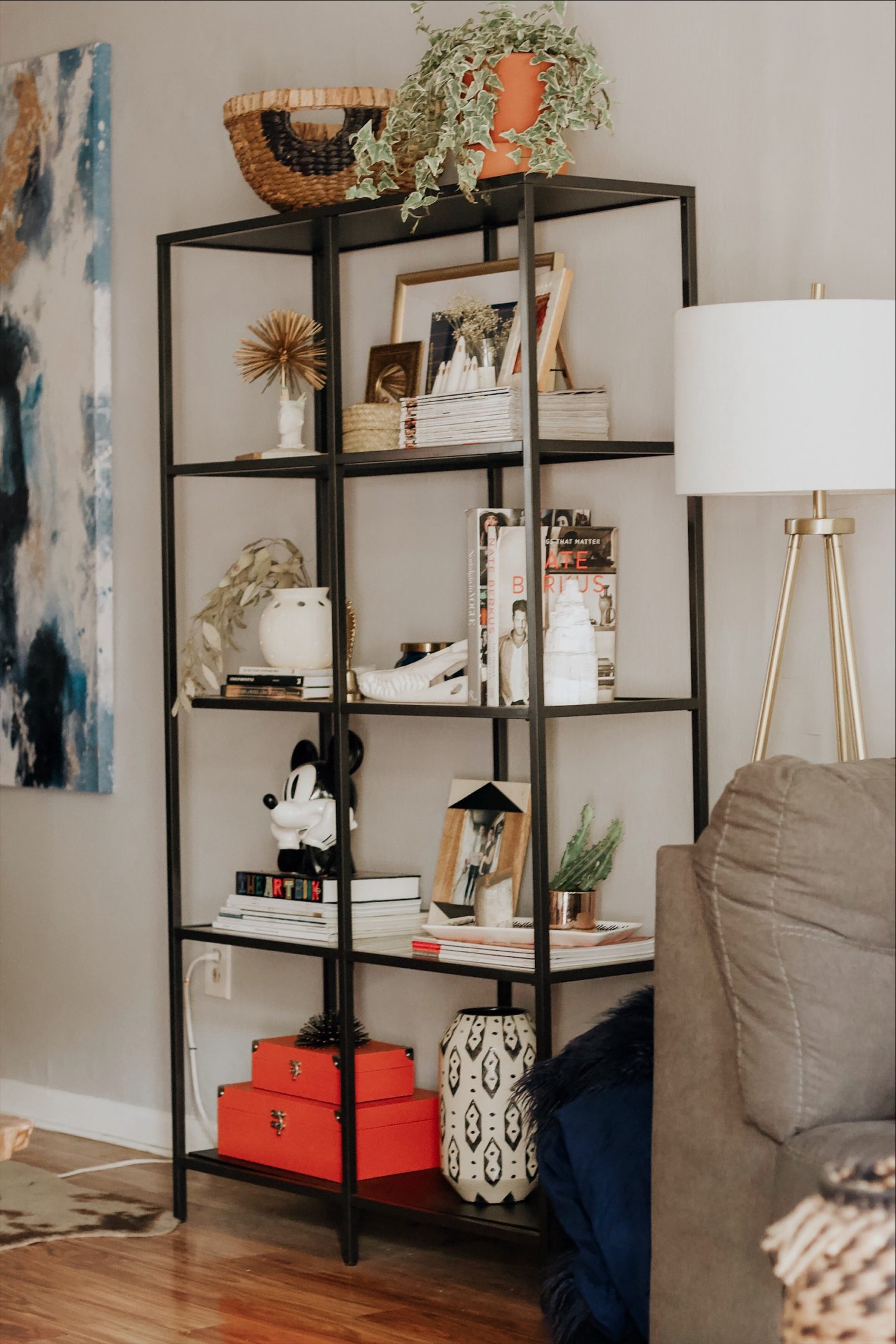 The thought of finding decor pieces for a shelf does one of two things — scares or excites you. Can you guess how we react?! For those of you who feel scared, don't worry, we've got you covered. We recently added a shelf in the space that used to house our white console table. Do you guys remember that table? We realized it just didn't work in that space. That's why we decided to switch things up. We're all about making things simple and accessible. We purchased a shelf from IKEA that would hold a ton of decor pieces. Of course, that meant we wanted simple shelf decor that would elevate the space. You've probably seen this shelf all over the 'gram. For the price, you can't beat it! We knew the space needed a statement piece rather than a small console table. We have the smaller version of this shelf in our kitchen.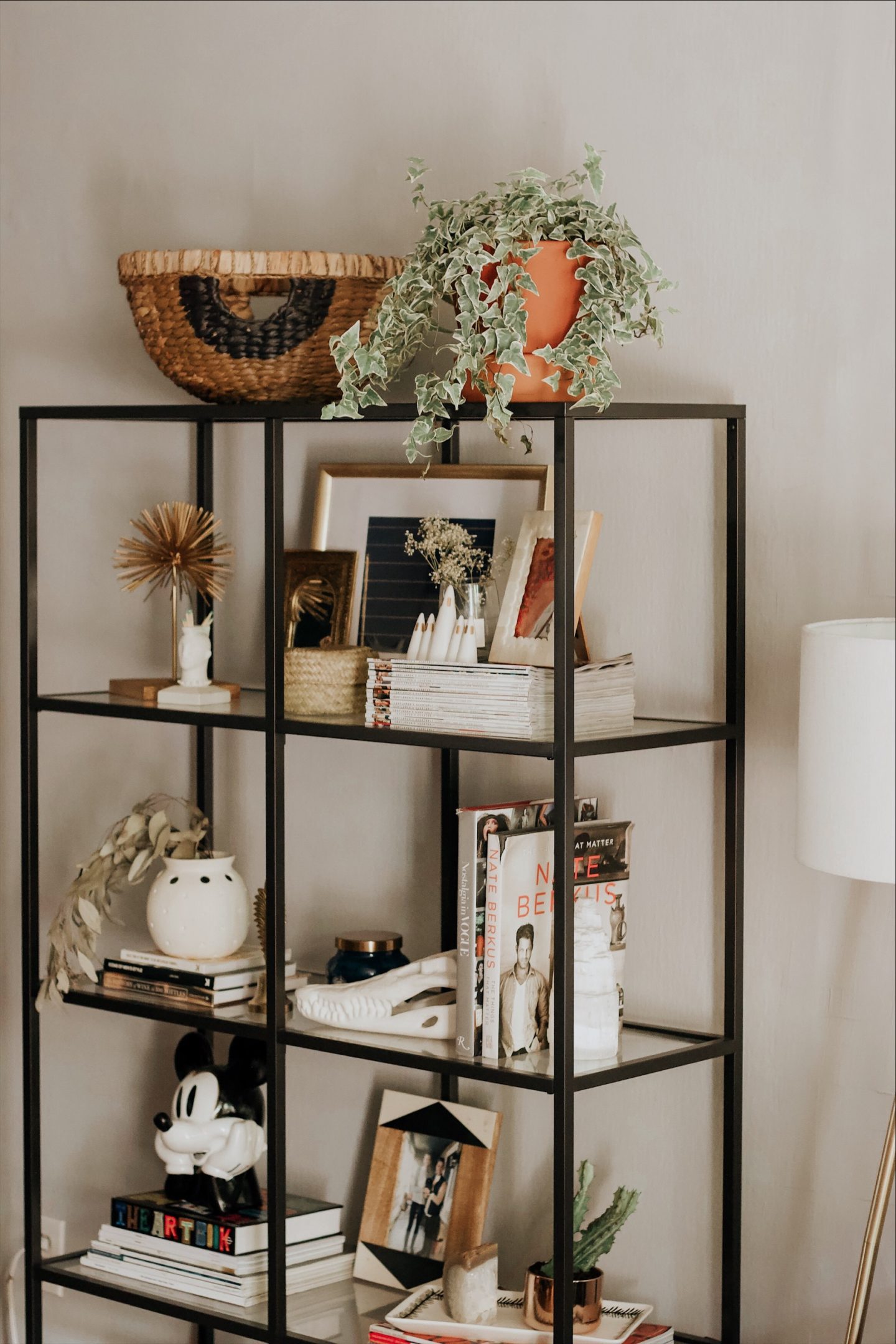 As far as the shelf decor, we already had a few pieces that we knew would fit perfectly. For the other pieces, we hit up Target and Home Goods. Are you guys shocked?! We actually feel like those stores are second homes to us. We know a lot of you feel the same way — they just suck you in! We tried to pick a few large pieces that would anchor the shelf. We found this wicker basket at Target that fits perfectly. We're all about mixing materials. By bringing in a wicker basket, it breaks up the shelf and adds texture. The books were mostly purchased at Home Goods. Guys, that is the place to go for coffee table books. We legit find the best deals on books at Home Goods. We always mix up how we use books in a space. We like to stack books both horizontally and vertically. One section of the shelf houses our monthly GQ subscription  —  and yes, we actually read the books and magazines on the shelf. We did order "The Art Book" online. We love the pop of colors against the dark shelf. All of the other pieces were found by searching the shelves of various stores.
We recently took a trip to Disney World (Alex's first time!) and found the most amazing mirror made in Morocco. We knew we needed to have it from the moment we saw it in the store. This is something to keep in mind. Collect pieces from all over. It's so fun to be able to look around your home and be reminded of your travels.
We like to go by The Rule of Three when designing. It's actually pretty simple. We like to organize decor pieces in groups of three. You'll notice we did that quite a lot on the shelf. It's a really cohesive and eye-catching way to design a space. We like to use different sized items to add height and dimension.
Our biggest piece of advice when decorating is patience. We've learned this the hard way. When we think of redecorating something, we want it done that exact second. That usually means buying things you aren't 100% sold on and regretting the purchase the next day. We've learned to wait until we find exactly what we are looking for. Also, we wait for a sale. Especially when it comes to Target. Why pay more when you don't have to?
You guys know how much we love plants. We call ourselves #PlantsDads though we aren't always lucky. RIP to all the plant lives lost. Nonetheless, we keep trying! We like adding small touches of greenery to a shelf. It breaks up things and literally adds some life to the space.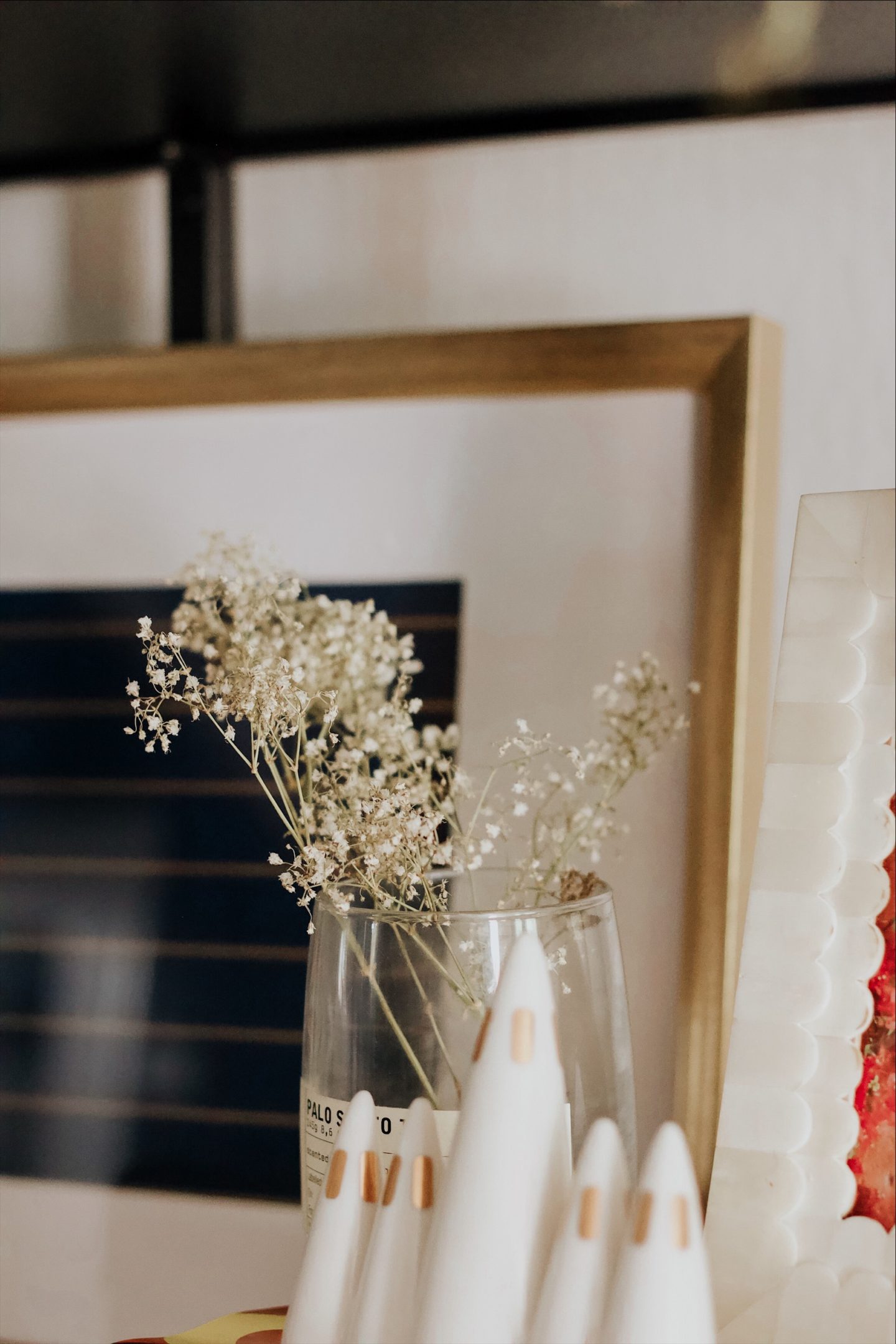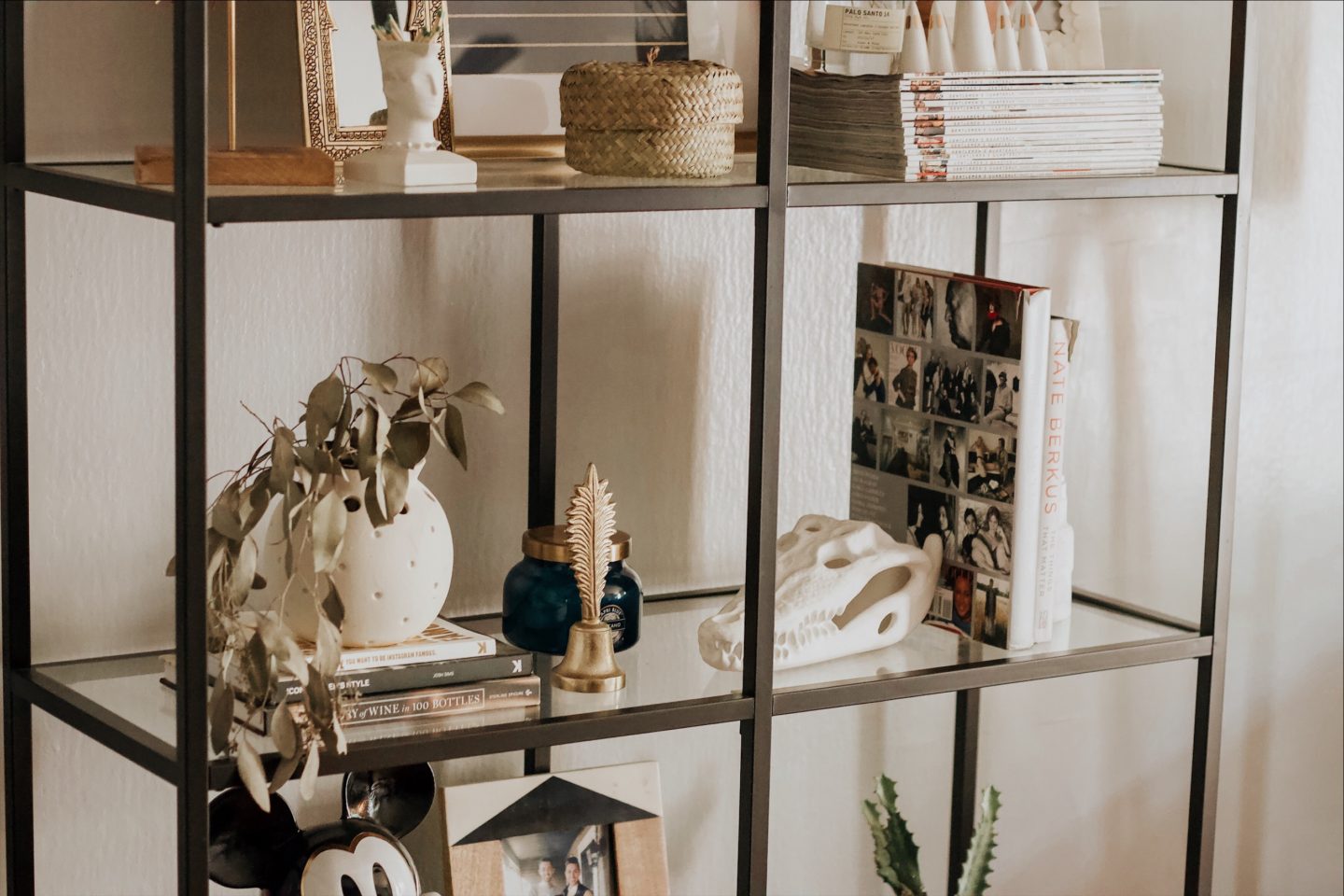 Looking at the shelf now, we are really happy with how it turned out. Of course, we are crazy and will most likely swap things out soon but at least we have the foundation. Hopefully, this gives you guys some inspo for your home! Let us know what you think in the comments below.
Until next time…
---
SHOP THIS POST + OTHER SHELF DECOR