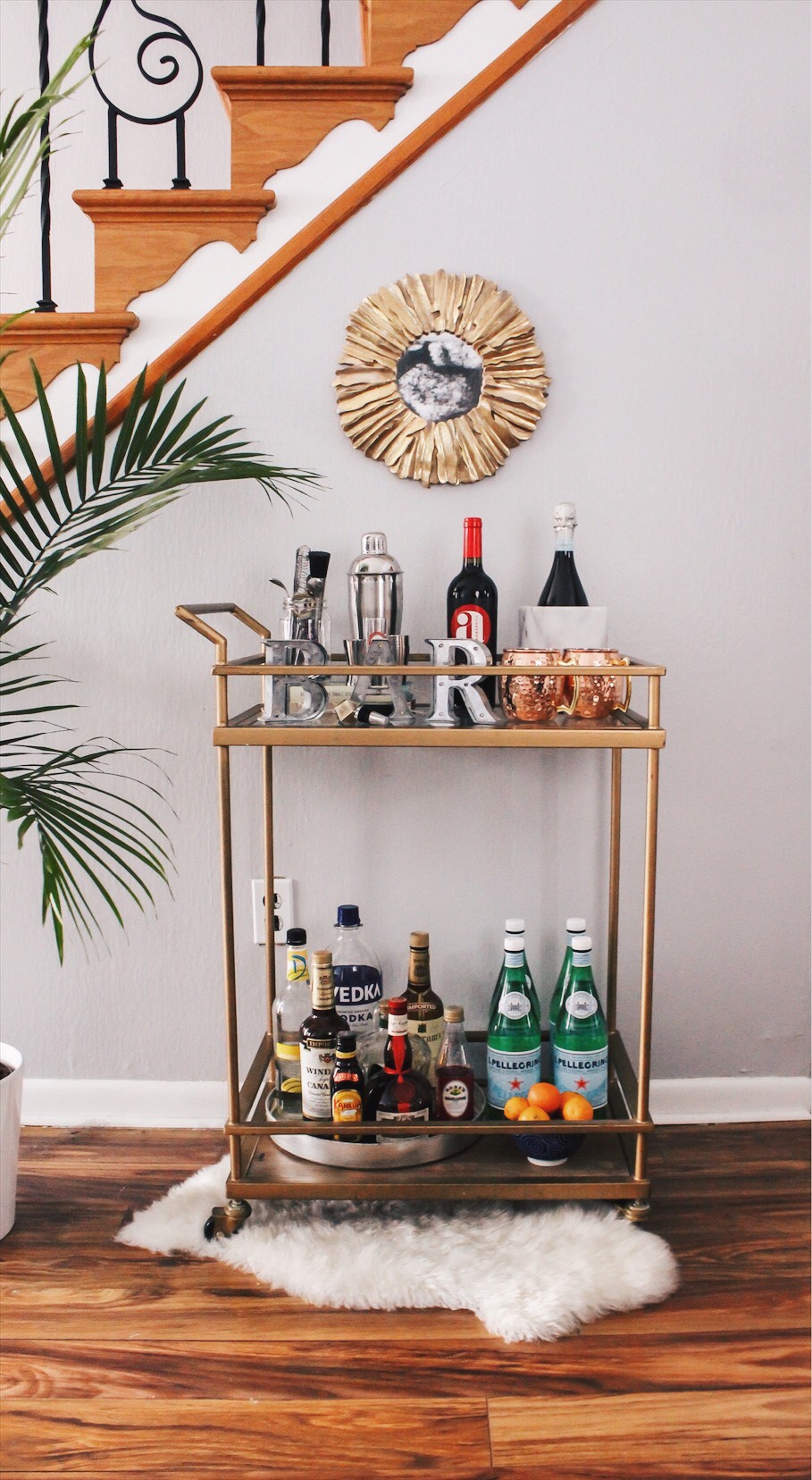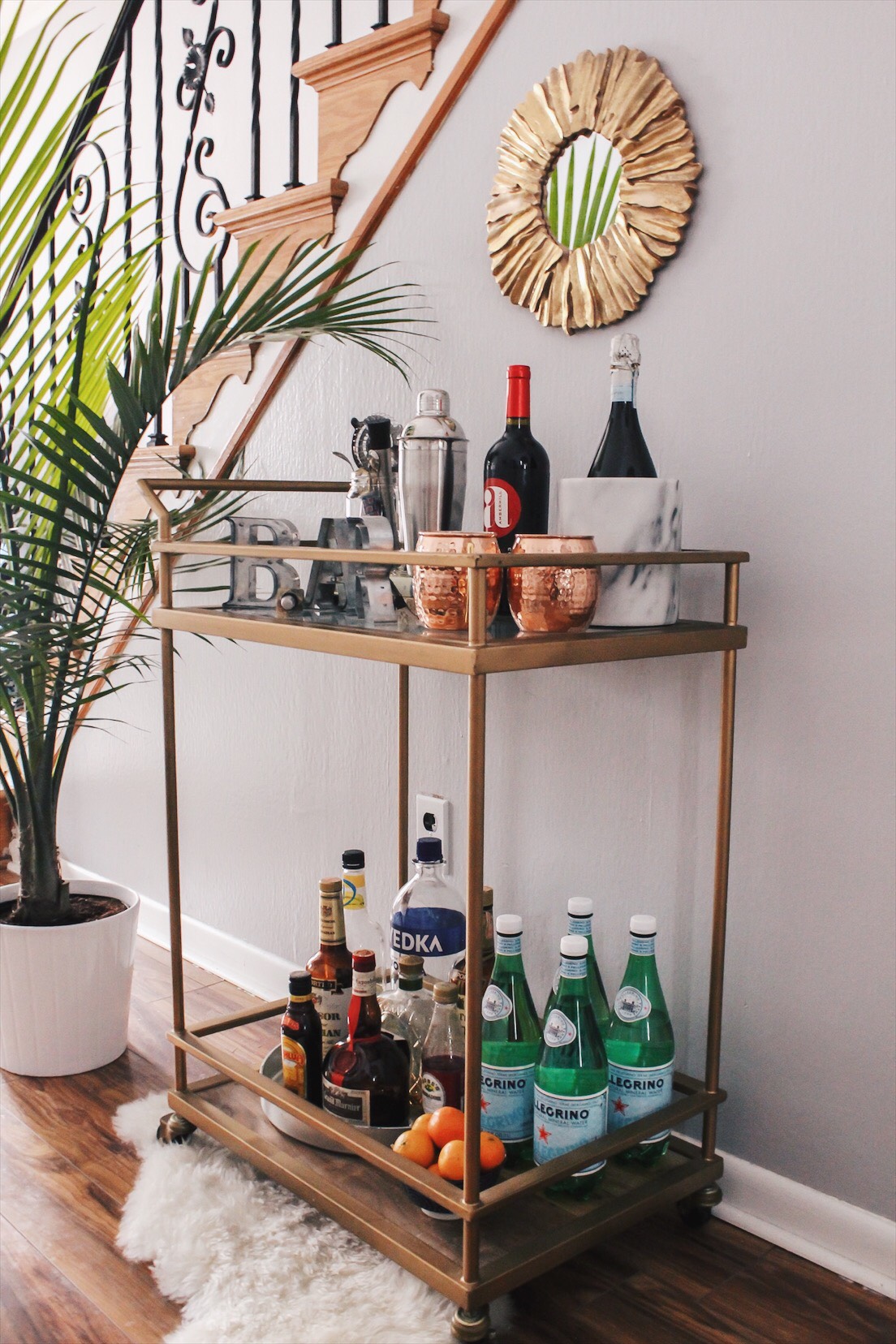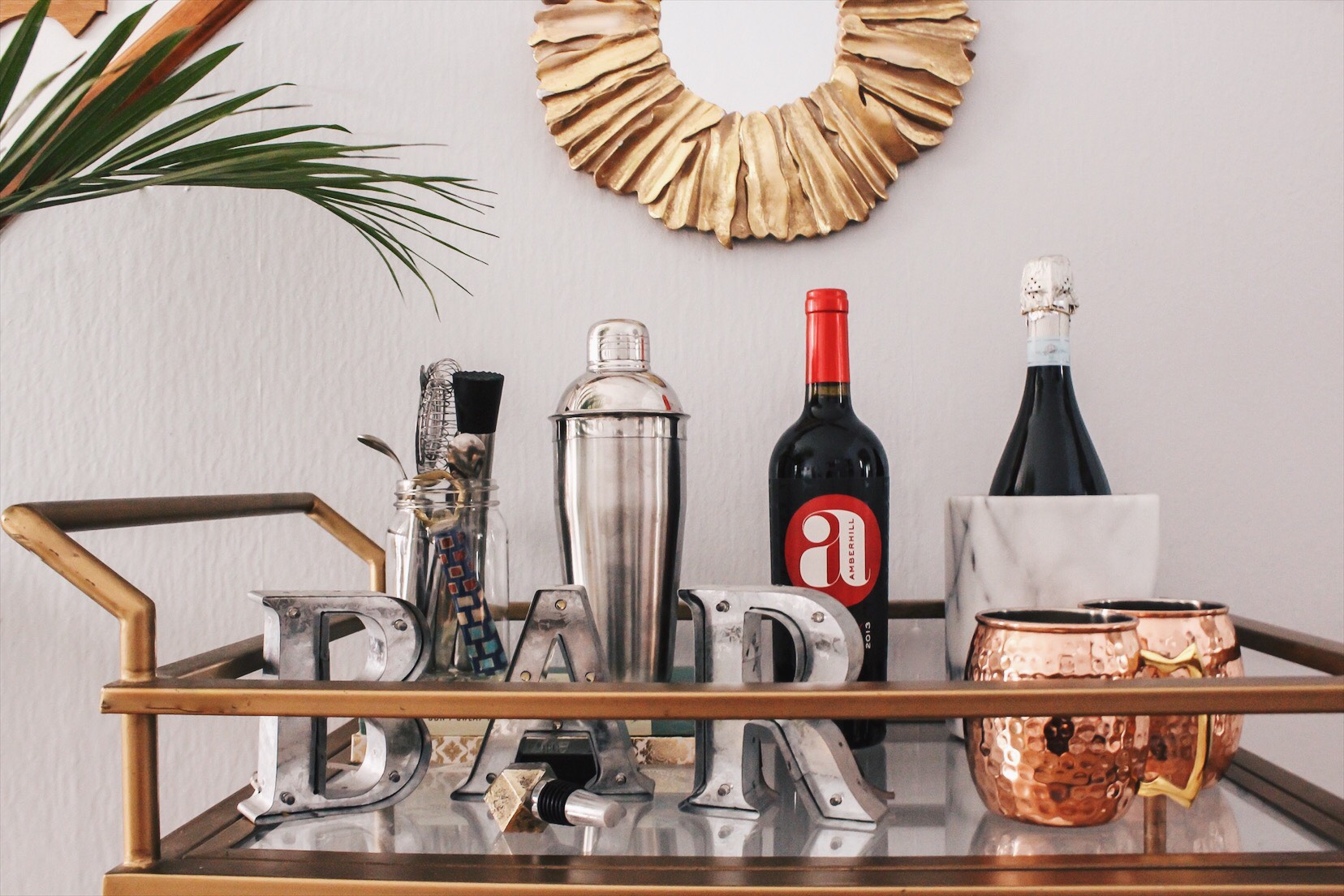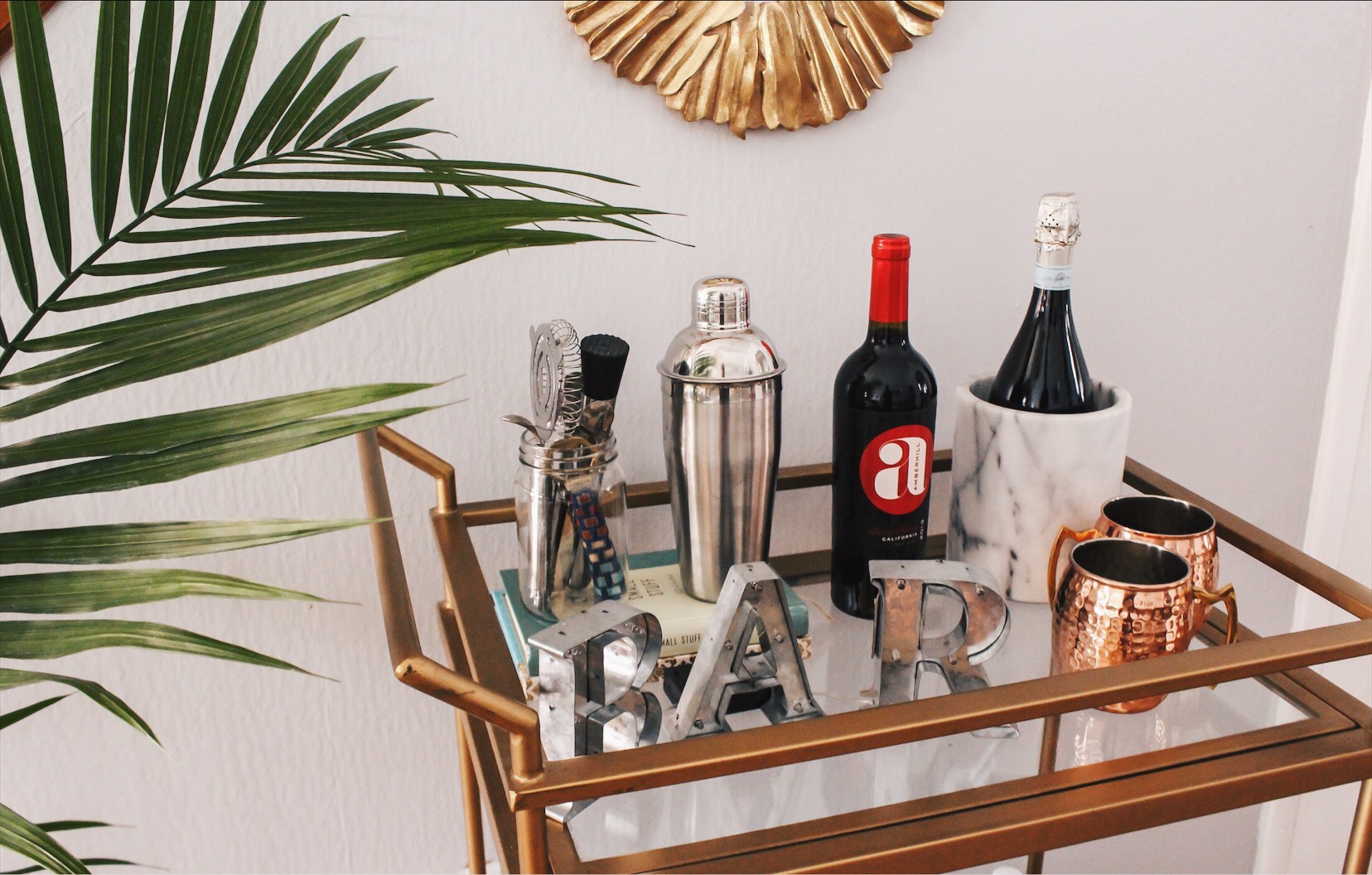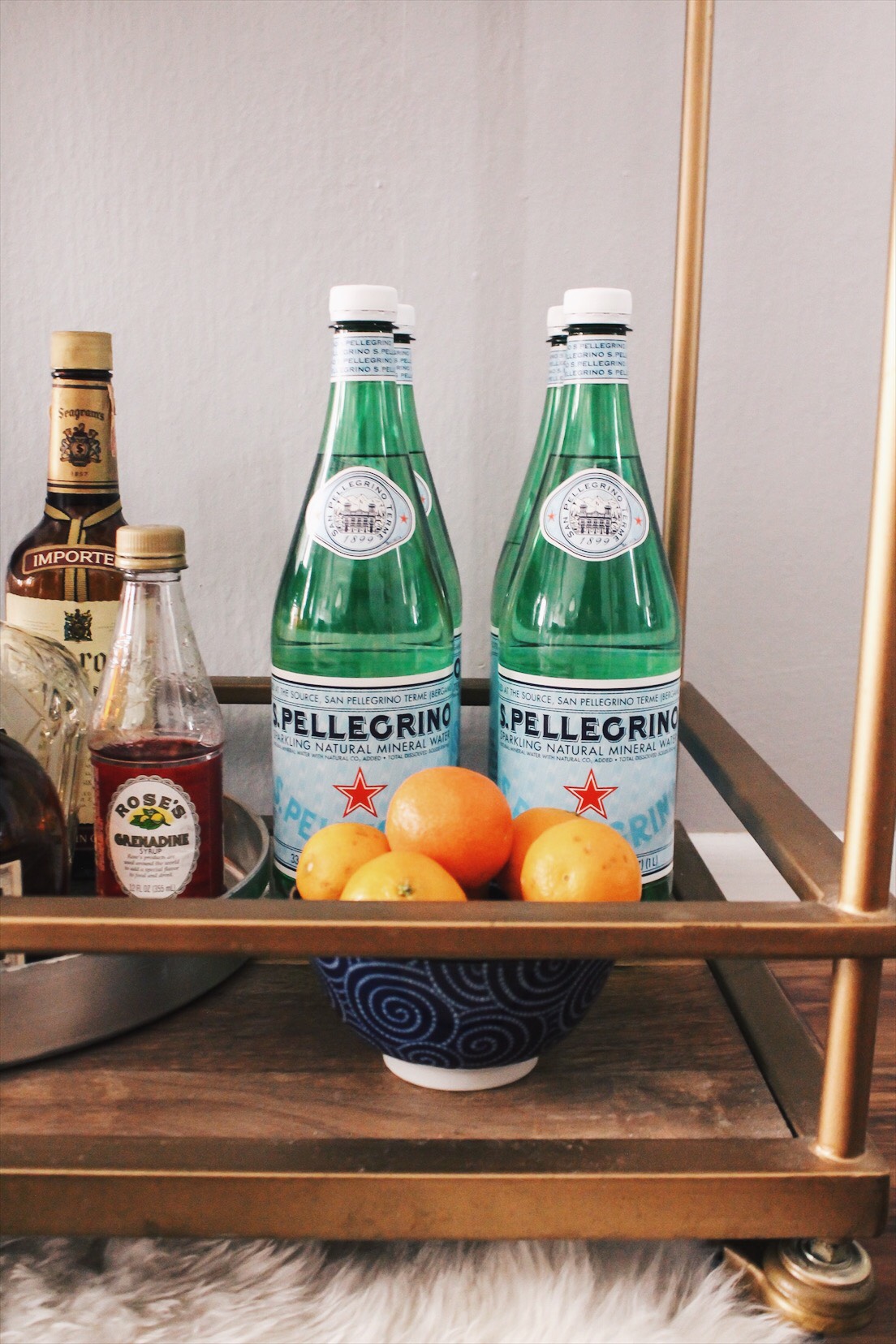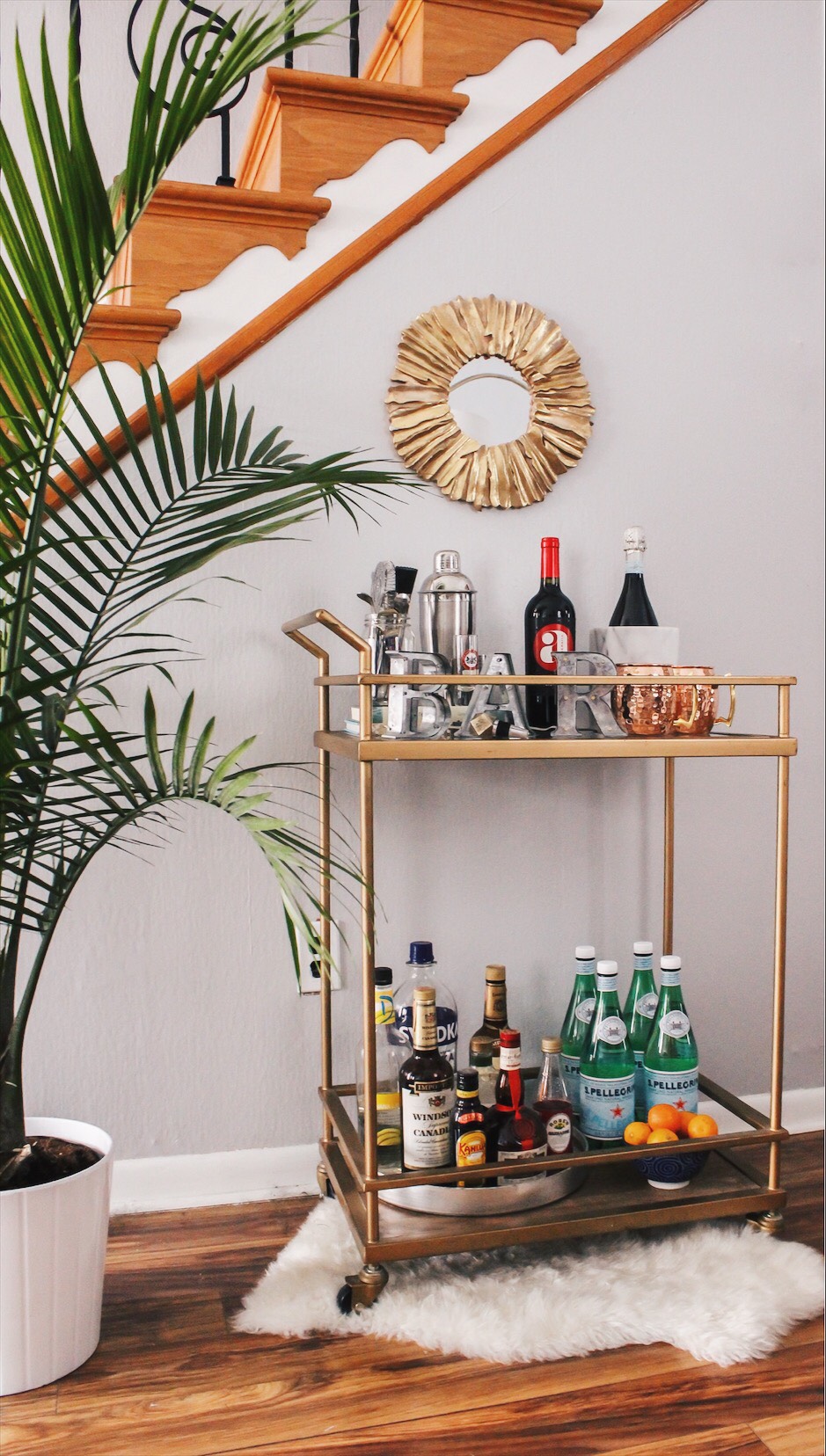 Our bar cart is one of the staple pieces in our home. For the obvious reason, it's a place where people can whip up a tasty cocktail. But it's more than that. It's a space in our home where people gather to talk, laugh, and enjoy the company of others. We love inviting friends over for dinner, movies, and a drink. Okay, two-ish drinks. But seriously, spending time with friends and family is so important to us. Our bar cart area is an extension of that feeling. We want a space where people can not only make a yummy drink but also chat with friends.With that being said, it's important to make that space inviting. That's why we're giving you guys the lowdown on how to style a bar cart. The first step is finding the perfect bar cart. Now, this most definitely depends on your space. There are literally so many options out there. You may want something tall, short, round, or square. No matter what your space looks like, the right size and shape is out there. We found our bar cart at Target. C'mon, are you really surprised?? This bar cart is great! For starters, it incorporates wood, glass and gold—three of our favorite design elements. The contrast helps give the area a bit more dimension, rather than the standard cart. We've had this one for a while and have no intentions of replacing it anytime soon.  
Alright, so you've picked your bar cart. Now what? Well, it's time to find the perfect spot. We chose the wall between our living room and kitchen, parallel to our dining room. This area was craving something to help keep the room flowing. We added a white, fur rug to help define the area. It also adds a bit of luxe to the space. We also added a gold mirror above the bar cart. We did this for a few reasons. We love that the gold colors play off each other. It also adds a bit more height to the space. In reality, you can't go wrong with a mirror. This is the perfect spot for friends to check themselves out. Seriously, everyone does it. Oh, and we can't forget about the greenery. We picked up this plant from IKEA and are obsessed. The only problem is trying to keep it alive. We've already gone through one…two…who's counting? We love plants so much but it doesn't seem like the love is mutual. Can you guys relate?
For the actual content of the bar cart, we stuck with the essentials. We could tell you about all of the different types of liquors and mixers you need, but that's not our job. Everyone has their own preferences and we want to keep it simple. For us, we have the basics on our bar cart. If you need help getting started, don't worry. You'll want to pick up vodka, gin, rum, tequila, and whiskey to start out. We don't alway have these because we find ourselves drinking wine instead (as seen on Instagram stories). But those are the essentials for any bar cart so be sure to stock up. We can't forget about the sparkling water. S.Pellogrino is one of our go-to drinks and is a requirement for our bar cart. Sometimes that is our cocktail! Now, you will need to pick up your basic bar tools. This includes a cocktail shaker, spoons, shot glasses, and a bottle opener. How can you make the perfect drink without the right tools?!
As you can see, we have a few other pieces scattered throughout. We found this cute "bar" sign that adds a bit of light to the area. We also have a few books with drink recipes, two Moscow Mule mugs (yum!), and fresh fruit for cocktails. All of these items come together to make one cohesive area. The one thing to keep in mind is that none of this is set in stone. Your options are endless when styling a bar cart. We are always thinking of ways to spice things up. Keep your eyes peeled while perusing the store aisles. You'll be surprised what you can find that will help give your bar cart that "wow" factor.
We are really happy with how our bar cart turned out. It does a great job at representing our style and fits perfectly in our home. Do you guys have a bar cart? We want to hear how you styled it! Let us know in the comments below.
Until next time…