We always say how important it is to mix things up. Whether we're talking about fashion, design, or anything else, it's important to get creative. When it comes to style, it can be so easy to get stuck in a rut. Always gravitating towards the same jeans or pants. Why not mix it up? This is something we're guilty of too. But we're trying to make more of an effort this year.
It's so easy to throw on something super casual for a day of errands. Obviously, there is nothing wrong with that. We love a comfy moment just as much as the next person. But sometimes it's fun to turn things up a bit. Not only for the look but also for the feeling it gives you. When we pull together a look that's a bit more chic and styled, we feel so much better. It's an instant confidence booster. We literally carry ourselves differently when we walk down the street. Not in an arrogant way — more so in an "I feel really good right now" kind of way.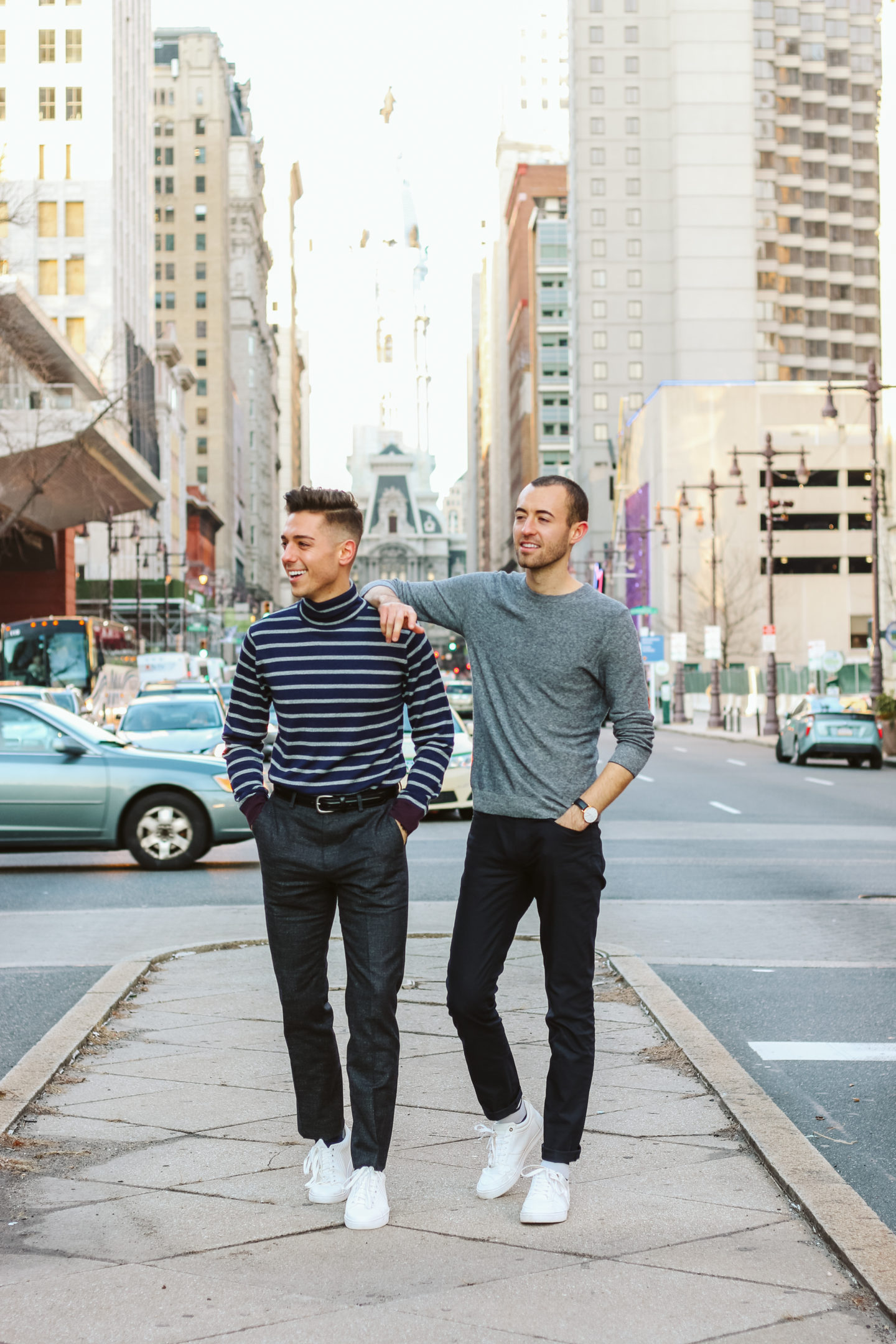 One way to do this is with your pants. It's so easy to throw on some distressed denim or joggers for the day and run out the door. Don't get us wrong, those are both great choices and we do that all the time. But it's good to take a different path here and there. Why not throw on some tailored chino pants or classic wool trousers? You don't have to be headed to a special occasion to wear these pieces.
Mike is wearing a classic wool pant from Bonobos. You truly can't go wrong with this piece. Everyone should have these in their closet. No matter what you wear on top, your look is instantly elevated with a pant like this. This pant, in particular, is a slim cut. Mike always has the worst luck with pant sizes. He jokes that he has "stump legs" *cue eye roll*. But these fit so well! He's wearing a size 31/30. They are fitted without being super tight. That's usually the biggest problem he has with slim pants. They can be so tight around his calves. But not with these! To complete the look, he added a merino turtleneck sweater and white sneakers.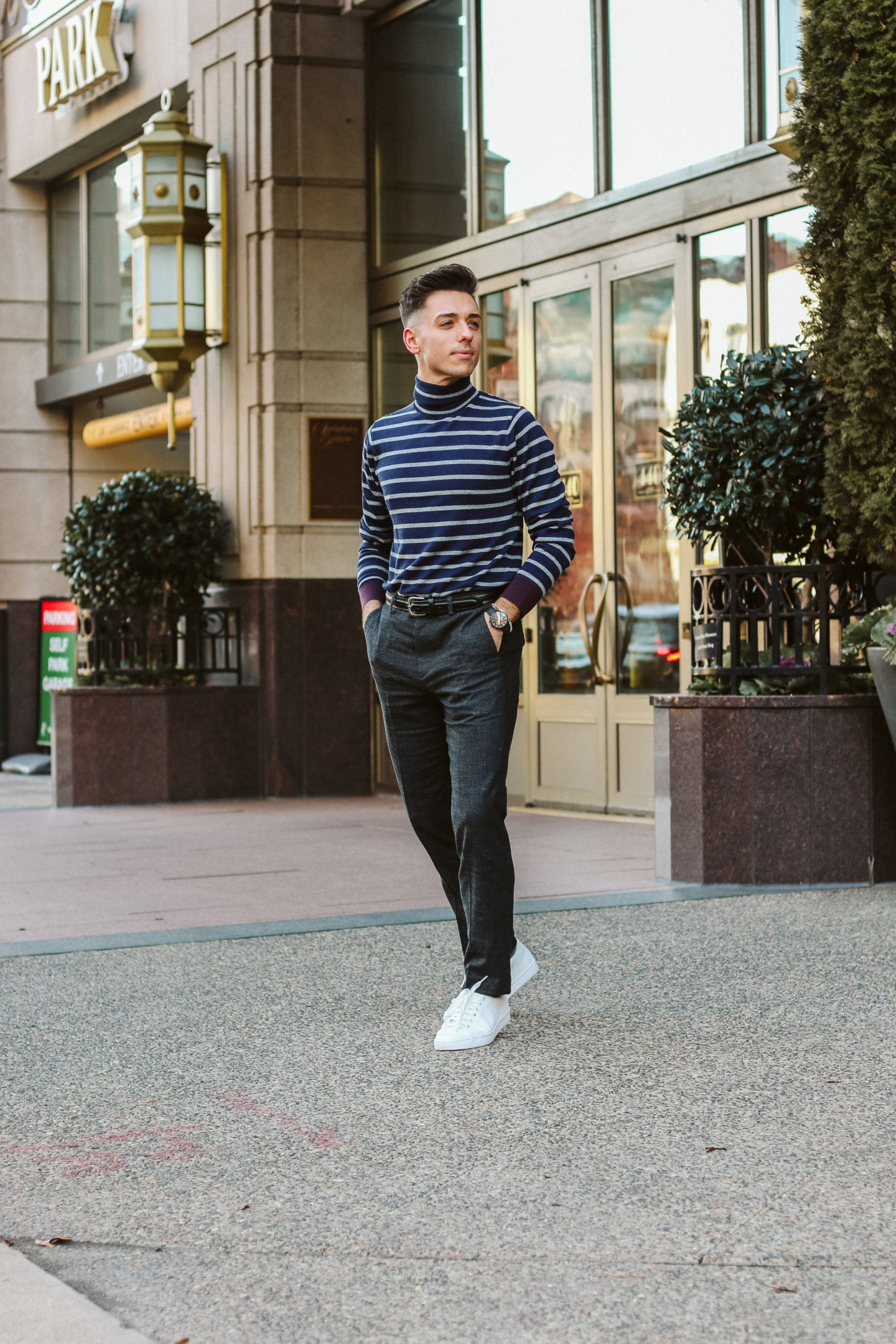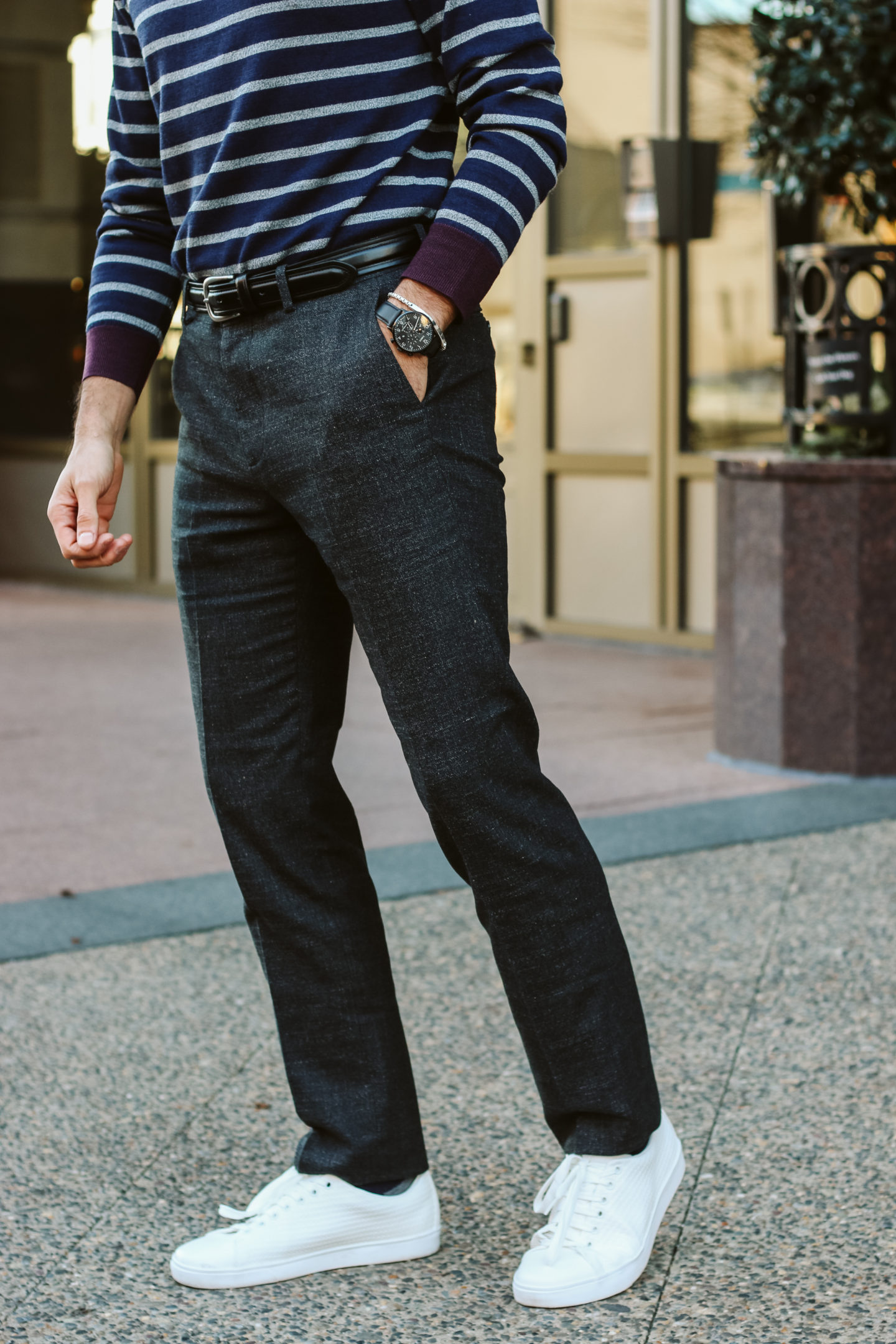 Alex is wearing black chinos — his go-to pant. These are also from Bonobos. They are super breathable and go with everything. They are size 29/32 and tailored. Since Alex has long legs, going with a tailored fit works best — not too loose and not too tight. It's a solid pant that can be dressed up or dressed down. To complete the look, Alex went with a cotton crew neck and white sneakers. 
Another thing we love doing is adding a statement sock — especially if we're wearing a solid colored pant. Alex has on white tall socks with black stripes. The contrast really helps break things up. Also, it's freezing outside and we're not trying to have cold ankles!
Both of these looks can be worn in just about any occasion. Whether you're headed to the office, running errands or off to dinner, you're all set. That's why we love both of these looks so much — the perfect combination of casual and chic.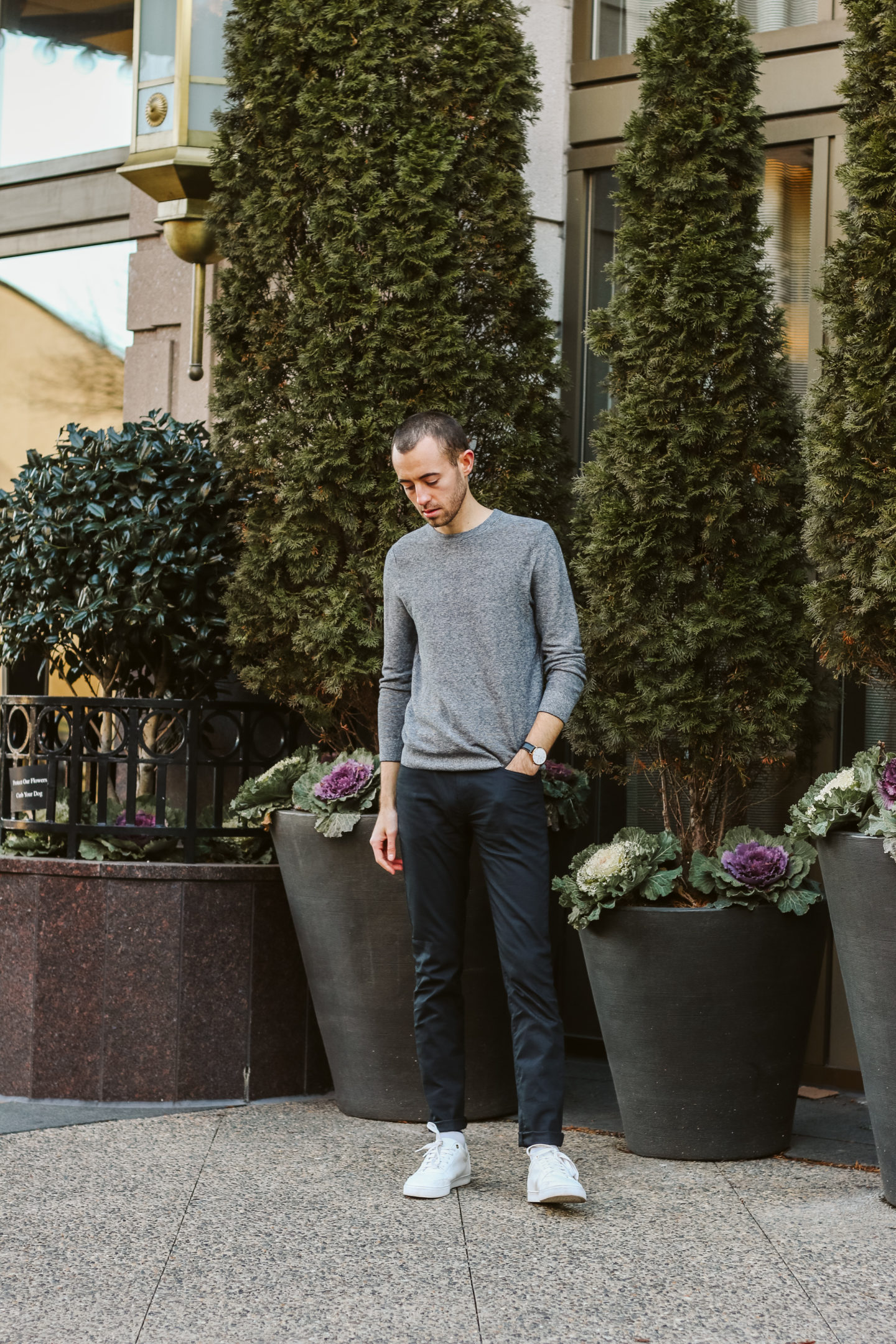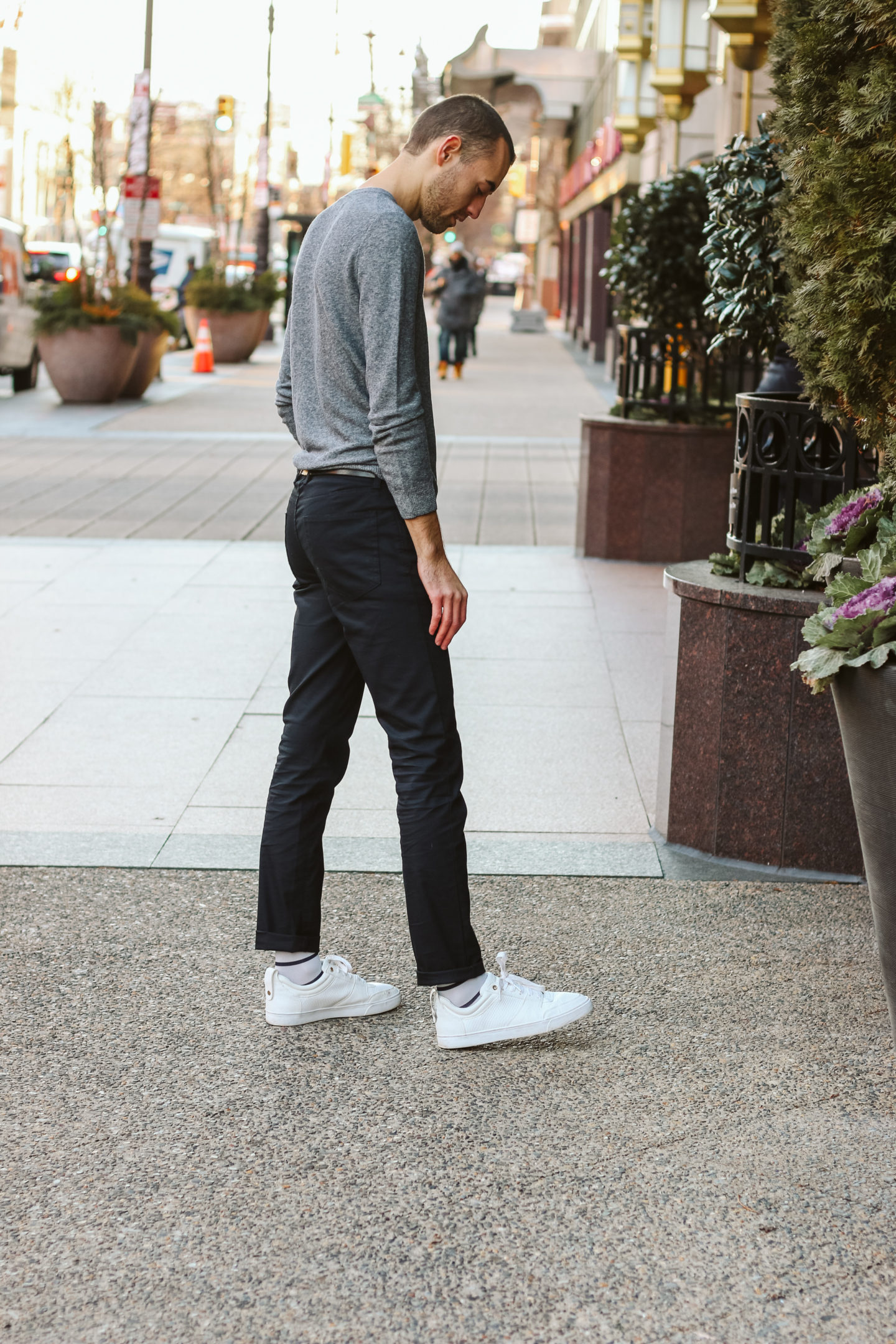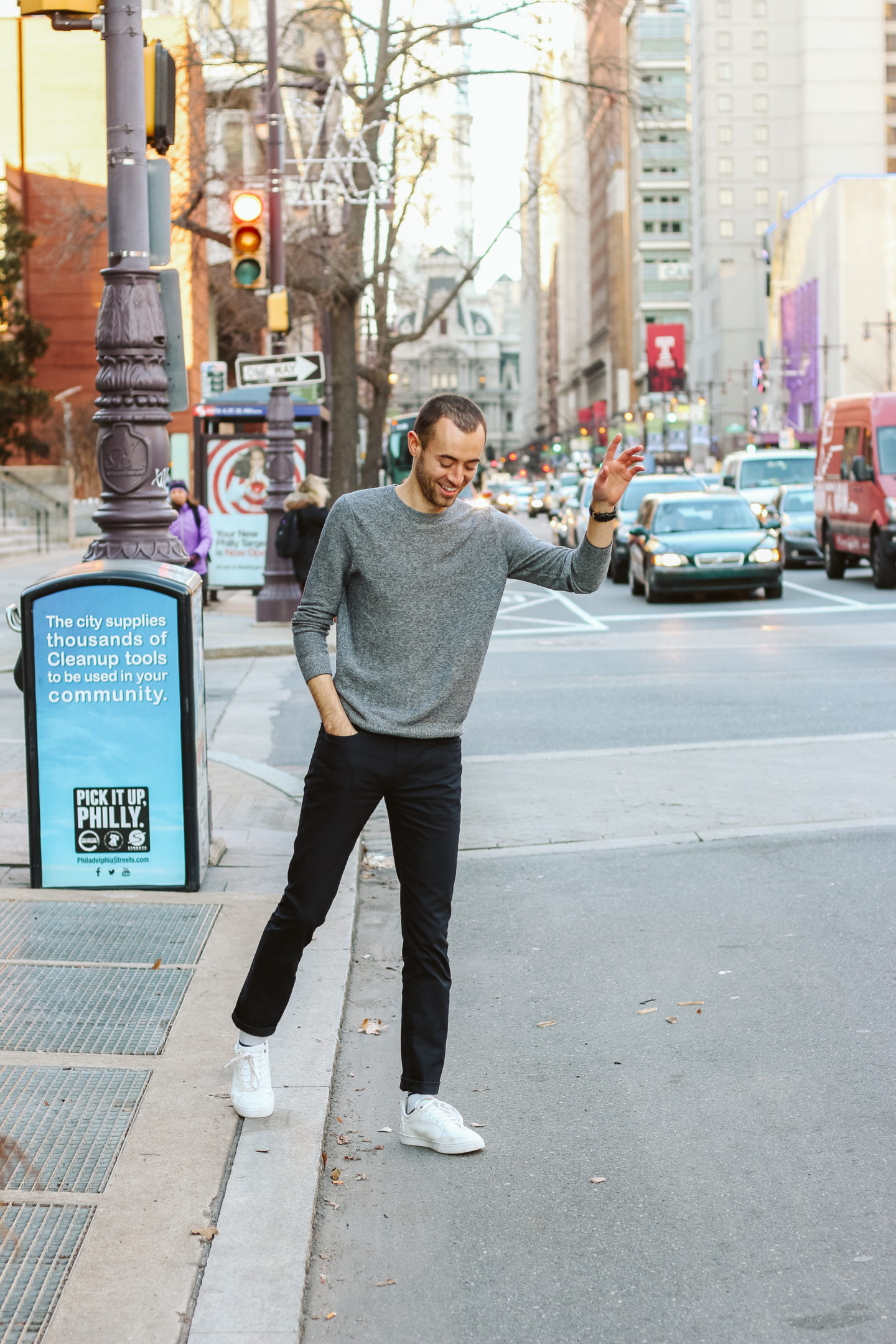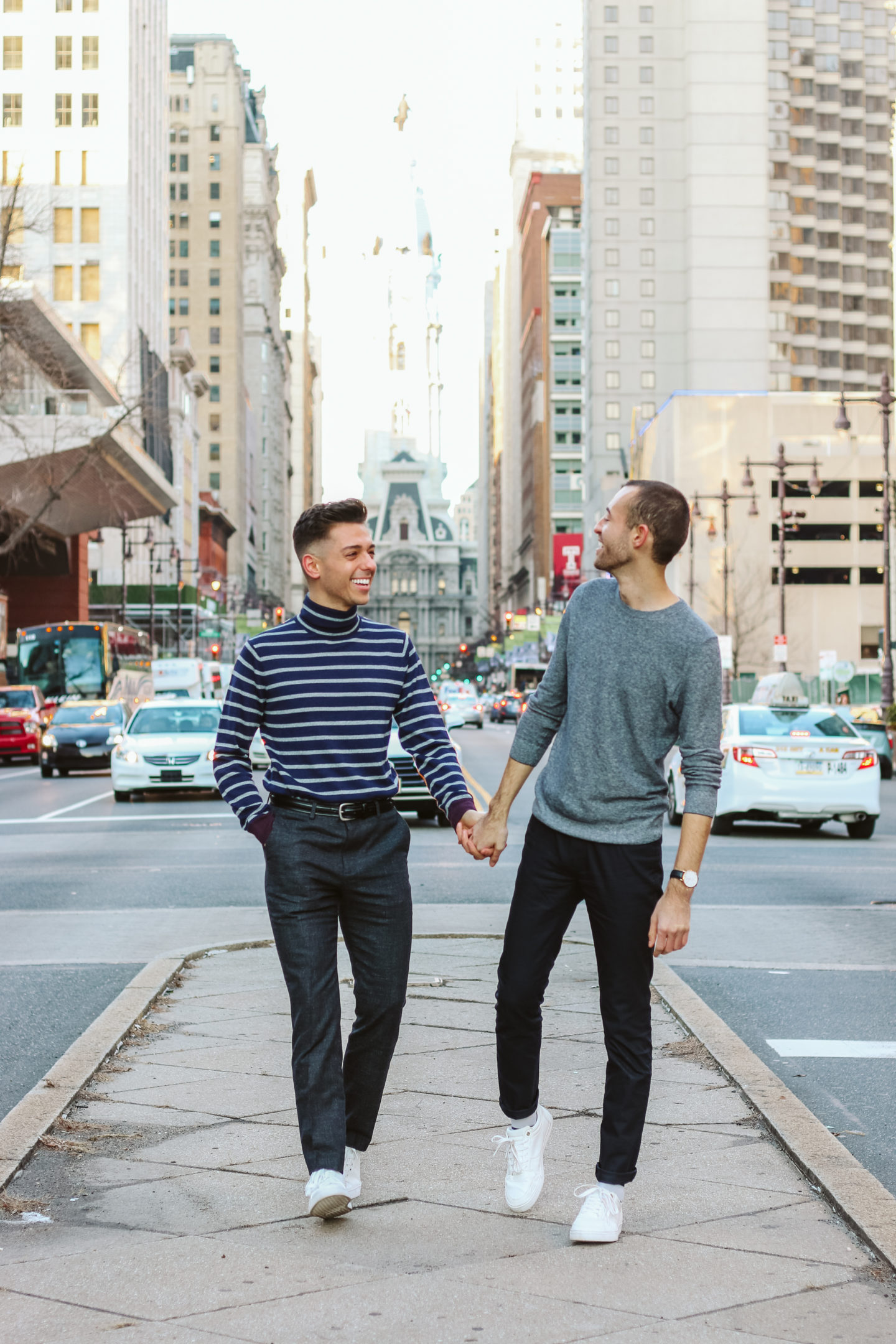 What do you guys think? Would you wear these looks? Let us know in the comments below!
Until next time…
---
SHOP THIS POST

---
IN PARTNERSHIP WITH BONOBOS
AS ALWAYS, ALL OPINIONS AND THOUGHTS ARE OUR OWN.