We've been thinking a lot about what's next for the kitchen. Over the past few weeks, we've talked about painting the lower cabinets. After going back and forth on the color, we've landed on a muted sage. SO many of you voted on that color so we feel really good about the decision. The current plan is to paint the cabinets in the next week or two. We're going to use a paint sprayer for the job. We did a TON of research and found out that this is definitely the right decision. Also, we talked to a few of you about your own experiences with paint sprayers. Fingers crossed we can do it!
In the meantime of painting the cabinets, we've made some decisions on what's next. You already know (from Instagram) that we replaced the fridge and range. This was always the plan since we first moved in we just weren't sure when it would happen. It seemed like now was a good time for us to start working on everything since we have this time at home. We sold the current appliances and replaced them with a fridge and range that fit our design aesthetic. You know you are getting older when appliances make you happy lol. We went with a backless range because we want to add a hood. If you remember, we had two cabinets and a microwave above the previous range. So we removed them and bought a sleek stainless steel hood to go in its place. During the removal, we realized the backsplash wasn't going to meet the hood. This gave us another push towards the plan we had in the back of our mind since moving in — new counters and backsplash. Are you honestly surprised?? You probably knew this day was coming. It's not like we have terrible counters/backsplash right now. But it was never our style. We knew that this was something we would eventually do. All part of the original plan when we bought the house.
So here's the plan. If we could, we would replace all of the counters right now. But we need to stay within a budget so we are going to leave the island as it is (for now). Later down the road, we will tackle that. We are going to focus on the perimeter counters and backsplash. To save money, we are going to install the backsplash with the help of Mike's dad. He knows how to do tilework so he's going to teach us! We're actually really excited to do this part ourselves. It saves money and teaches us a skill we can use down the road. We plan on doing a white subway tile in a herringbone pattern. We're going to take the backsplash up the entire wall behind the hood. This will really draw your eyes up and make a dramatic statement.
Now for the counters, we pretty much always knew what we wanted to do. You know how much we love a deep and moody vibe. To add contrast to the white backsplash, we're going to replace the current counters with black soapstone. We've done a ton of research and feel really good about our decision. This stone, with the white backsplash, and the sage cabinets?? OBSESSED. Plus, the white upper cabinets will still keep it light and open. We ordered the counters so they should be ready in the next few weeks. In the meantime, we are going to work on painting the cabinets and installing the new backsplash. Below is a little inspo board we put together for the project. Can't wait to share more soon!
---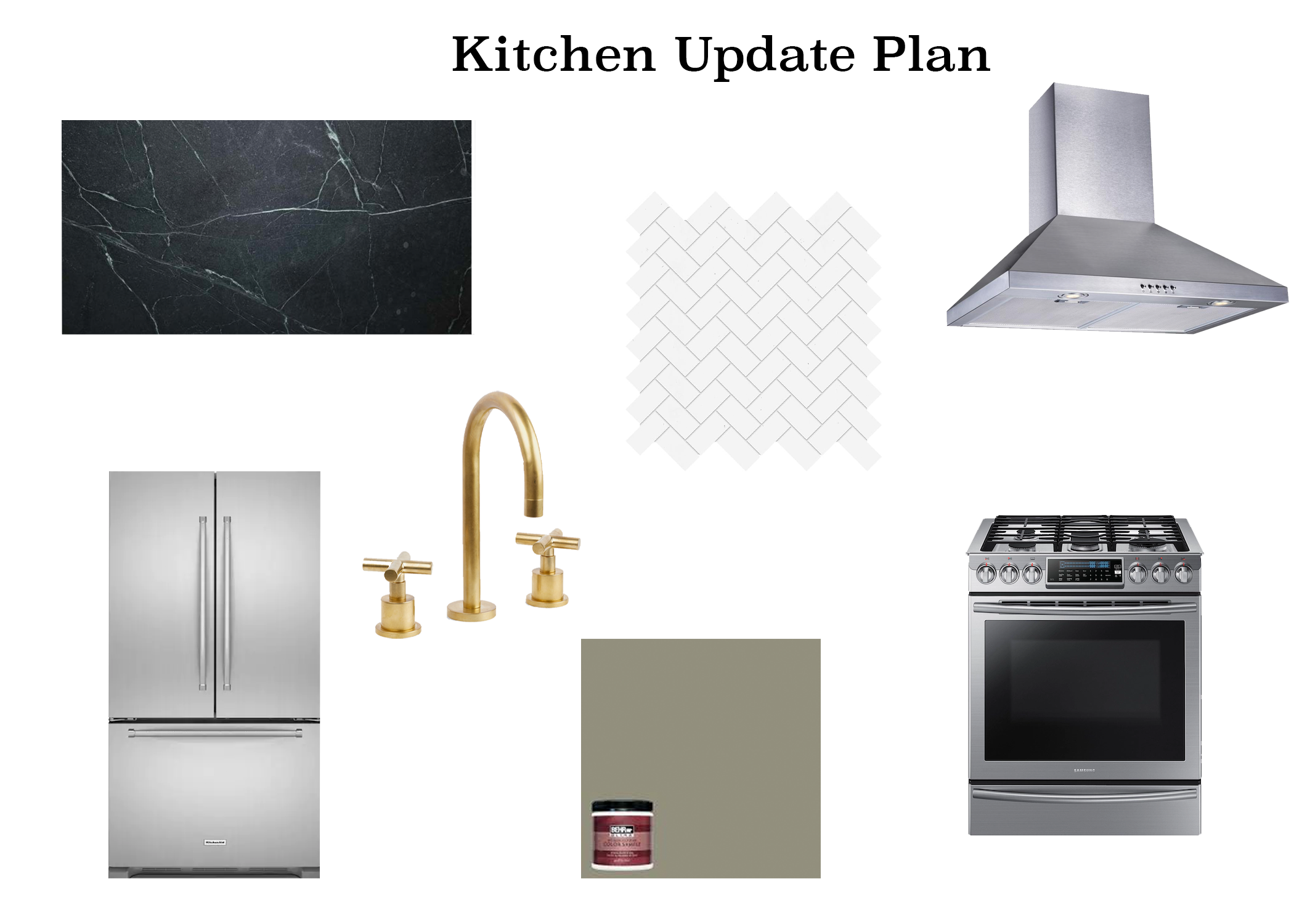 ---