We've been working on the bar for the past few weeks and it's finally complete! We are beyond excited to have a space at home that really does feel like a chic cocktail bar. We've loved how you all have been so invested throughout this DIY project. We posted on IG story each step of the way but wanted to go a step further. We spent less than $1200 creating this bar! It was honestly a lot easier than you might think.
Just a quick backstory on the space. The wall beside the fridge has been a problem for us ever since we moved in. We added a shelving unit in that space but never really felt like it served a purpose. We tried to make it work by adding a variety of bowls, plates, and decor pieces. However, we never really could find the right combination. It was always so frustrating because we just weren't happy with it. We wanted that area to be an extension of the kitchen and not just a no man's land. After thinking of what to do, we found some major inspiration from our IG friend, Cash VanBuskirk. He designed an at-home bar that was incredible. That's when we knew we wanted to create something just like that in our home.
---
What We Bought
3 CB2 Marble Wall-Mounted Shelves  – $99.95 each
Slate Countertop – $380.00
2 Unfinished Wood Cabinets – Ready to paint – $66.00 + $78.00
Wine Fridge – $275.00
1 Gallon Black Paint – $45.00
Total Cost: $1143.85
---
The Steps
The first step was painting the wall black because we wanted to create a super moody space. The kitchen is white so we wanted the bar to have its own dark moment. It's not a huge area so it still flows well with the other walls but does add some contrast. After we painted the wall, we measured the space to determine how many cabinets we needed. We wanted to leave enough room to get down the stairs to the basement. That meant we had to fit the cabinets and wine fridge within 45 inches of space. We decided to sandwich the wine fridge between two cabinets. We searched and searched until we found a wine fridge that wasn't very wide. We actually first found this wine fridge online at Home Depot but it was way cheaper on Amazon. You know how much we love a good deal!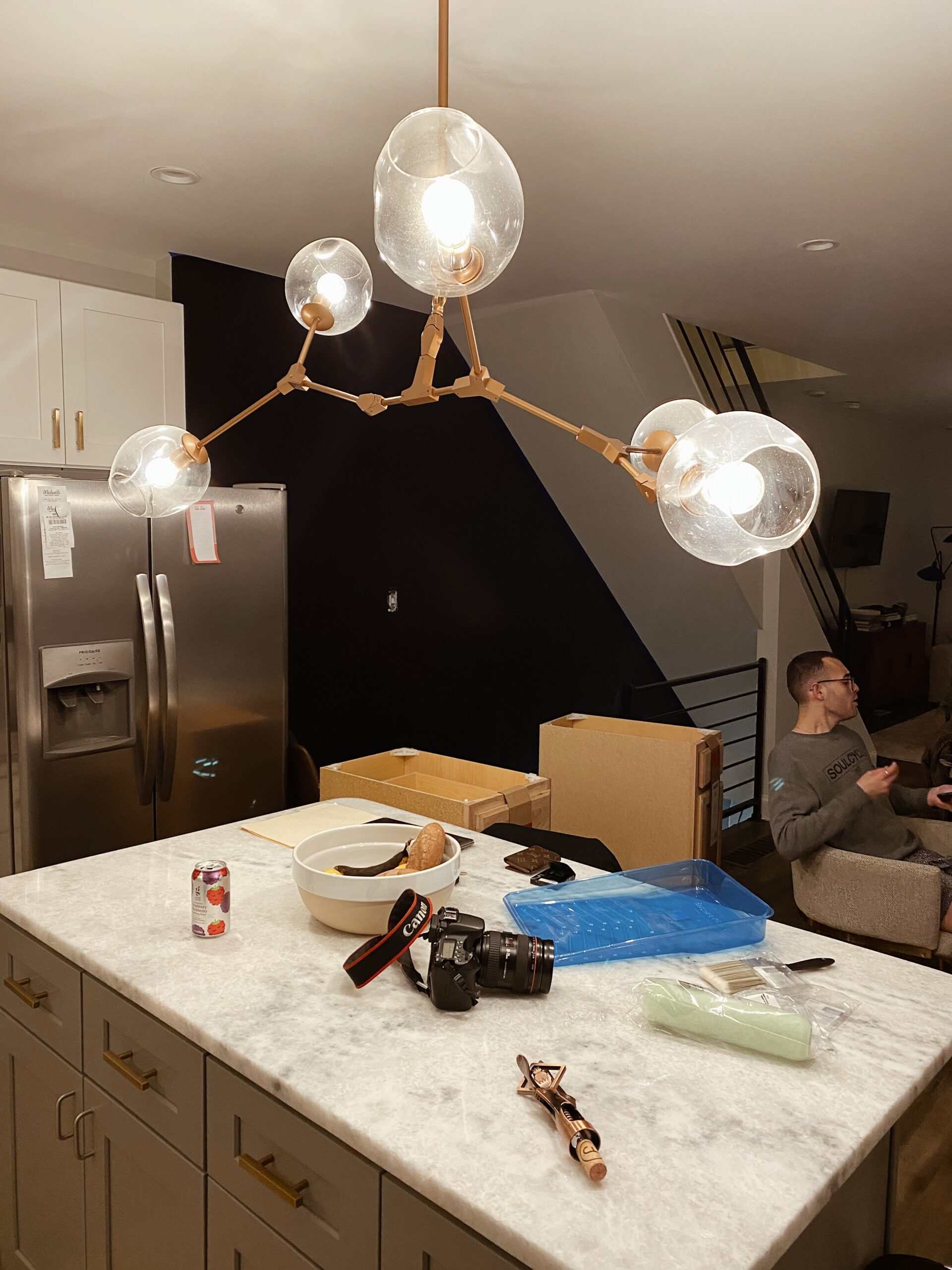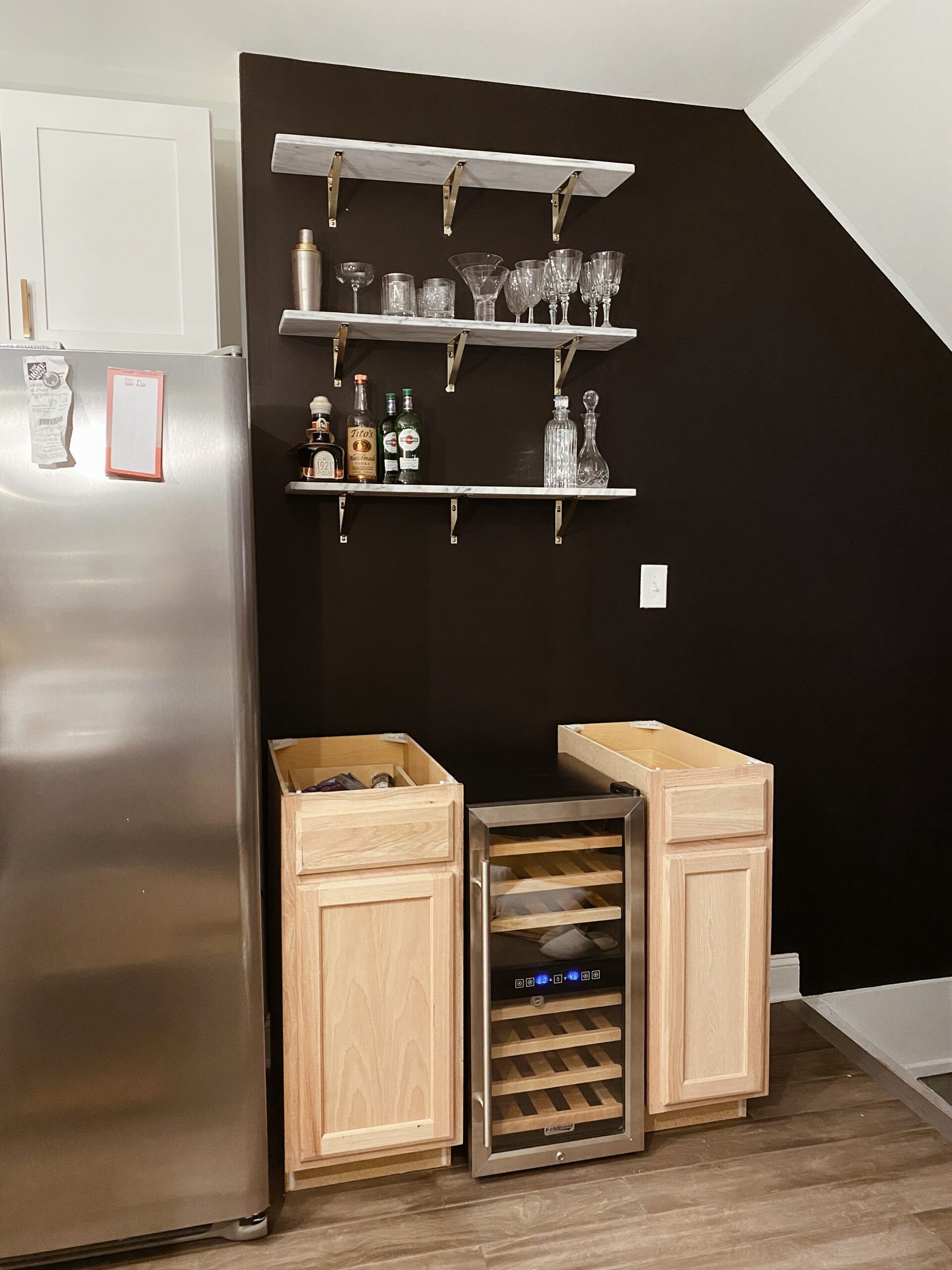 We still need to purchase a riser for the fridge since there is a small gap at the top. But this isn't a huge deal at the moment. The wine fridge is just under 16 inches so we did some math and found two cabinets that would fit in perfectly. We bought unfinished cabinets so we could paint them black. Once we had them all in place, we measured the area once again. We wanted to ensure the countertop would fit perfectly. Once we had the dimensions, we went to a local marble yard to pick out a slab. If you are part of the IG family, you'll remember us asking for your help. We were torn between black marble and slate. We ended up going with the slate because we already have a lot of black marble (coffee table and dining table). The slate adds some contrast but still compliments everything else. It has a slight teal blue hue to it depending on how the light reflects. We made sure it was sealed properly to prevent any water marks or rings.
It didn't take very long for the slate to be cut to size. Once it was ready, we picked it up and installed it ourselves. Since it's just one flat size we just had to set it in place. The only hard part of this whole process was installing the shelves. They are super heavy so it took a while to make sure we had it right. But it was so worth it because we are in love with the shelves. Even though we wanted the bar to be super dark and moody, we needed to have some contrast. That's why we went with the white marble shelves. This still keeps the area bright and helps draw your eyes up. Plus, the brass hardware compliments everything else in the kitchen.
That's it! We added some decor pieces on top and filled the shelves with a mixture of glassware and alcohol. What do you think?? Let us know in the comments below. Sending you all love ❤️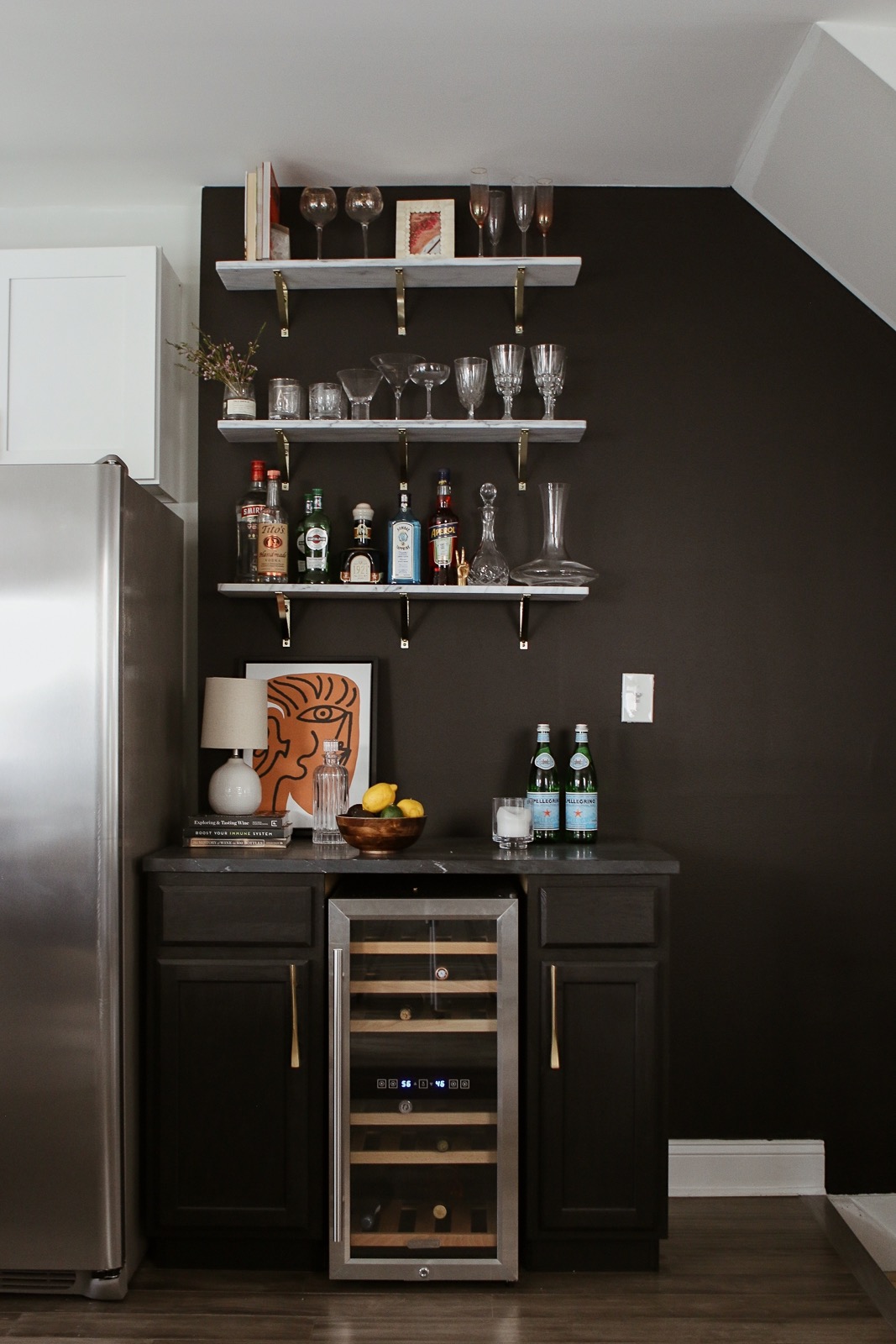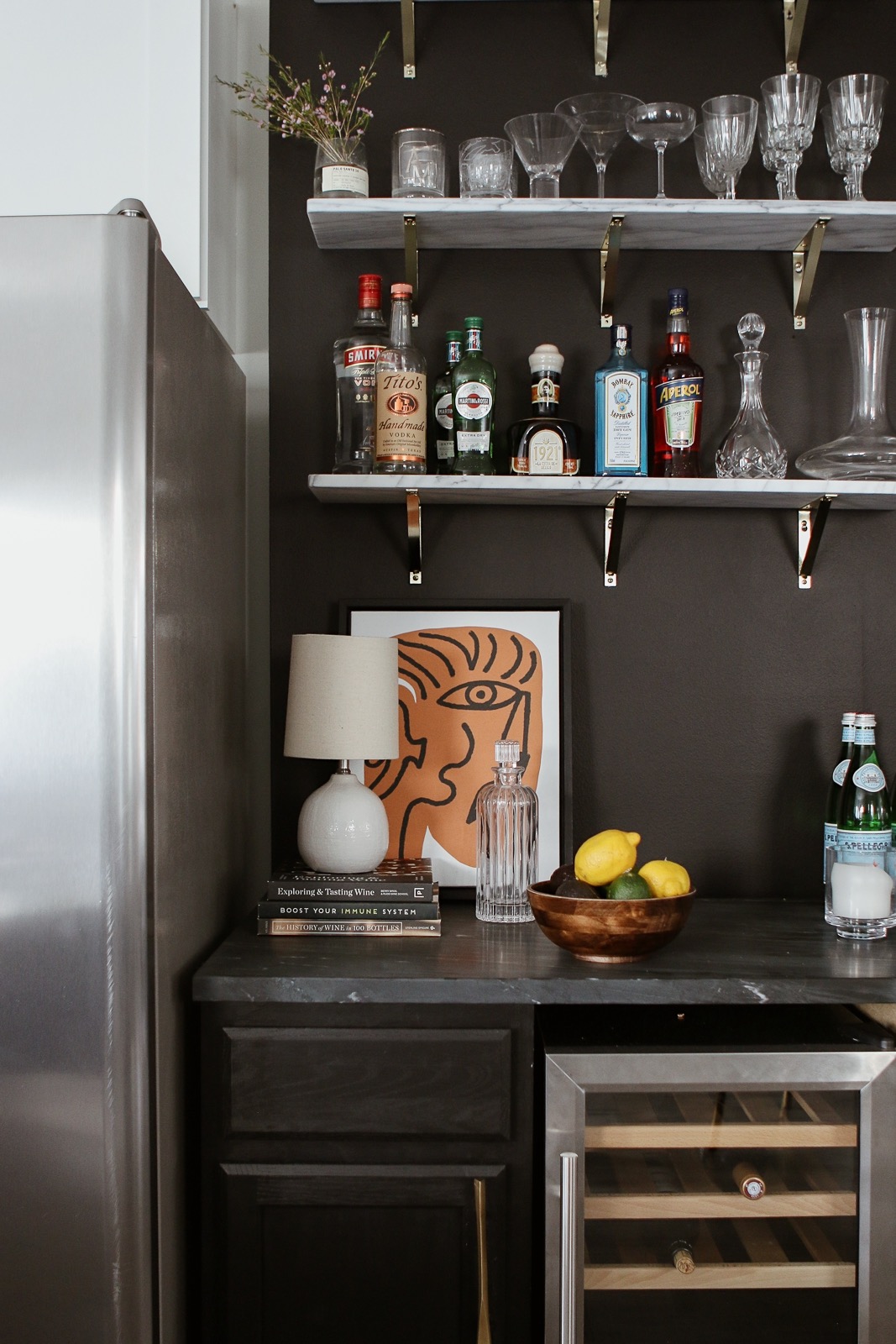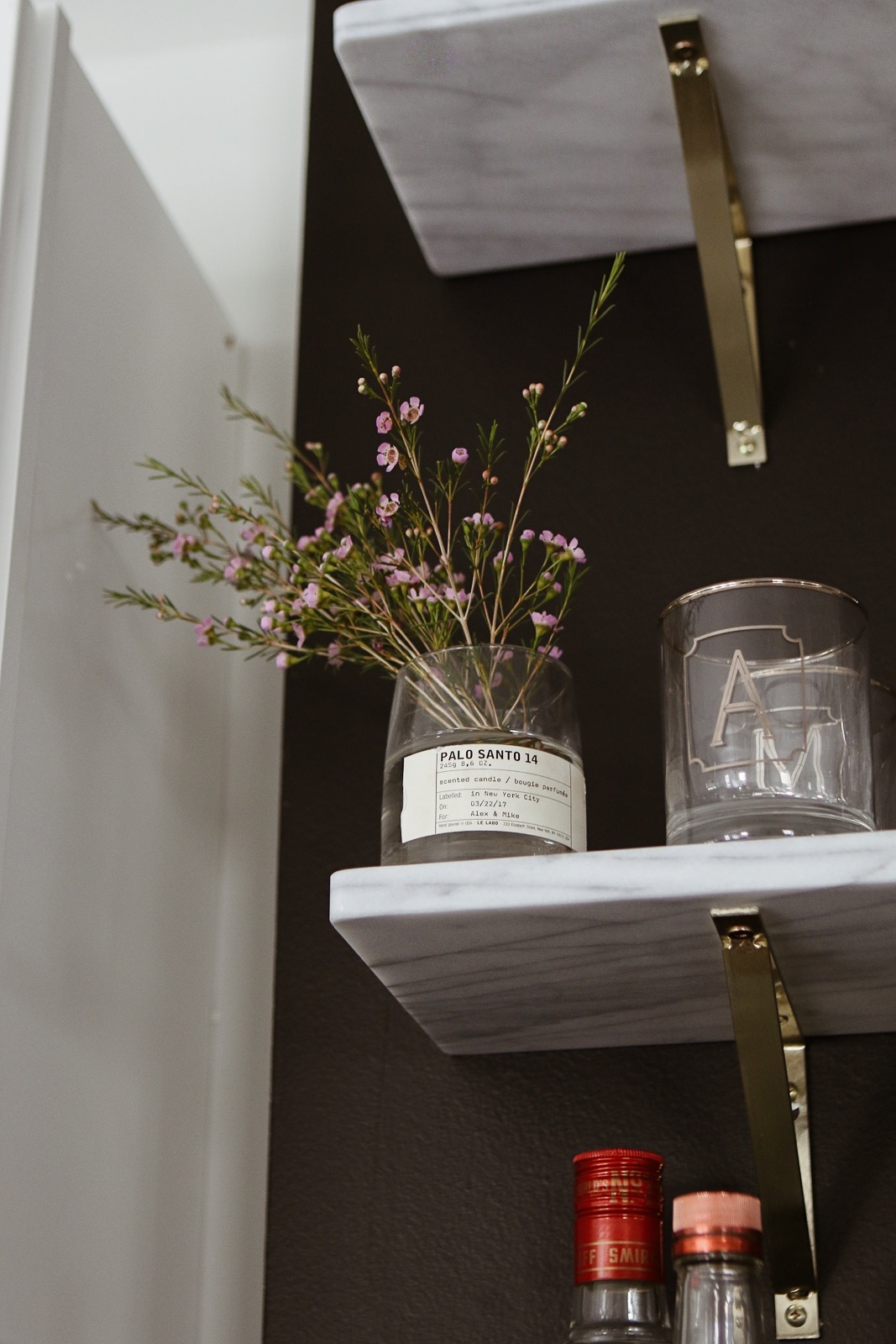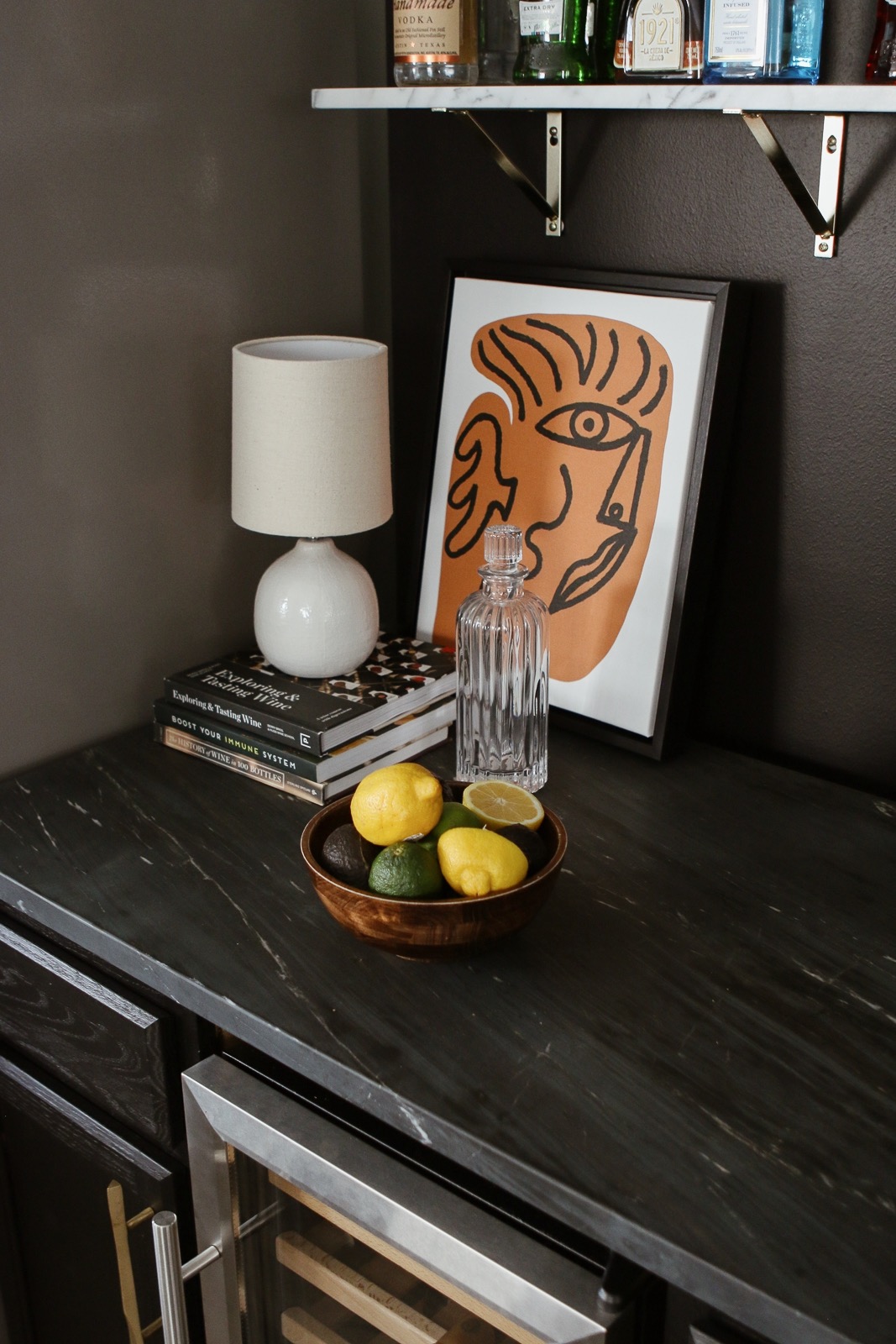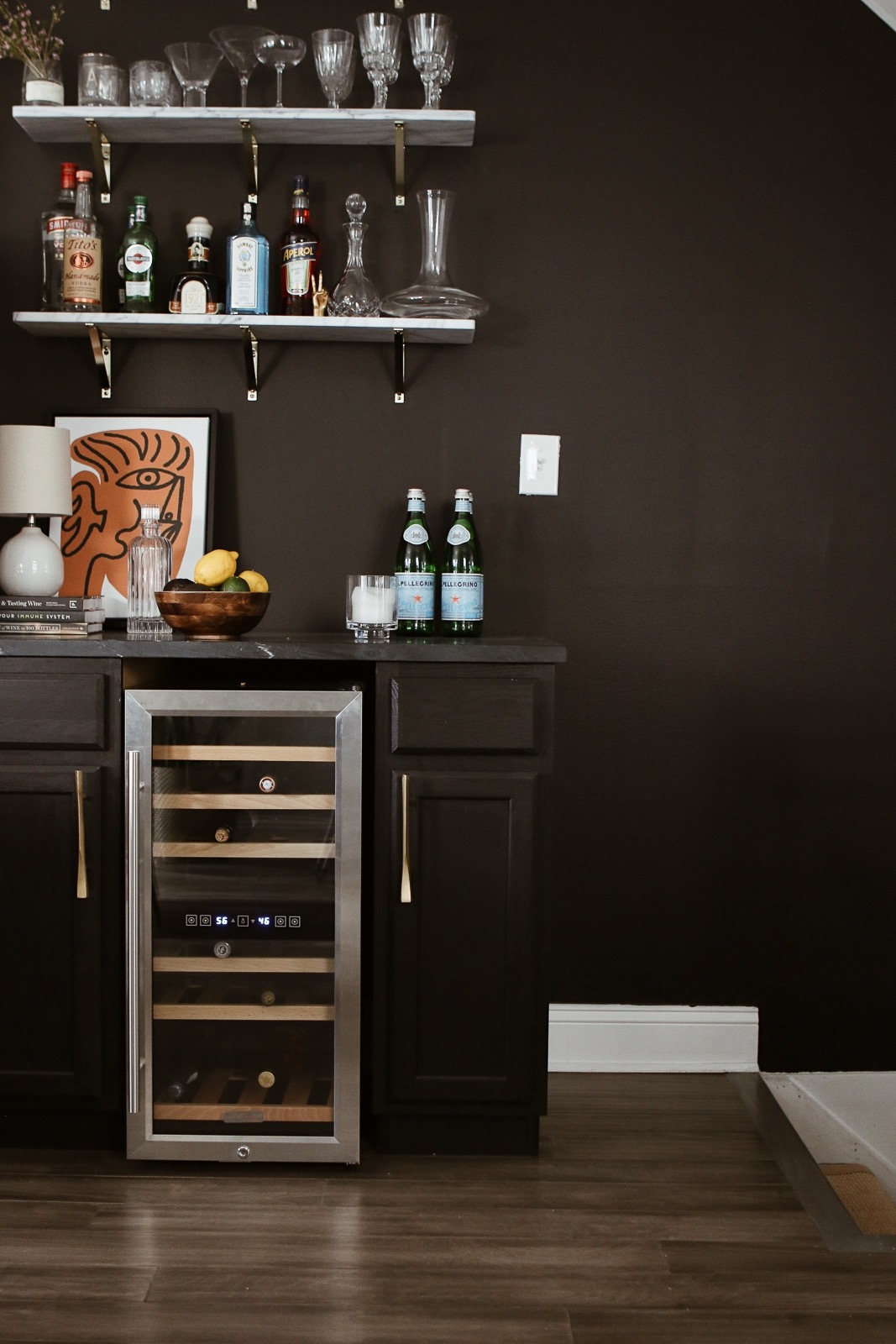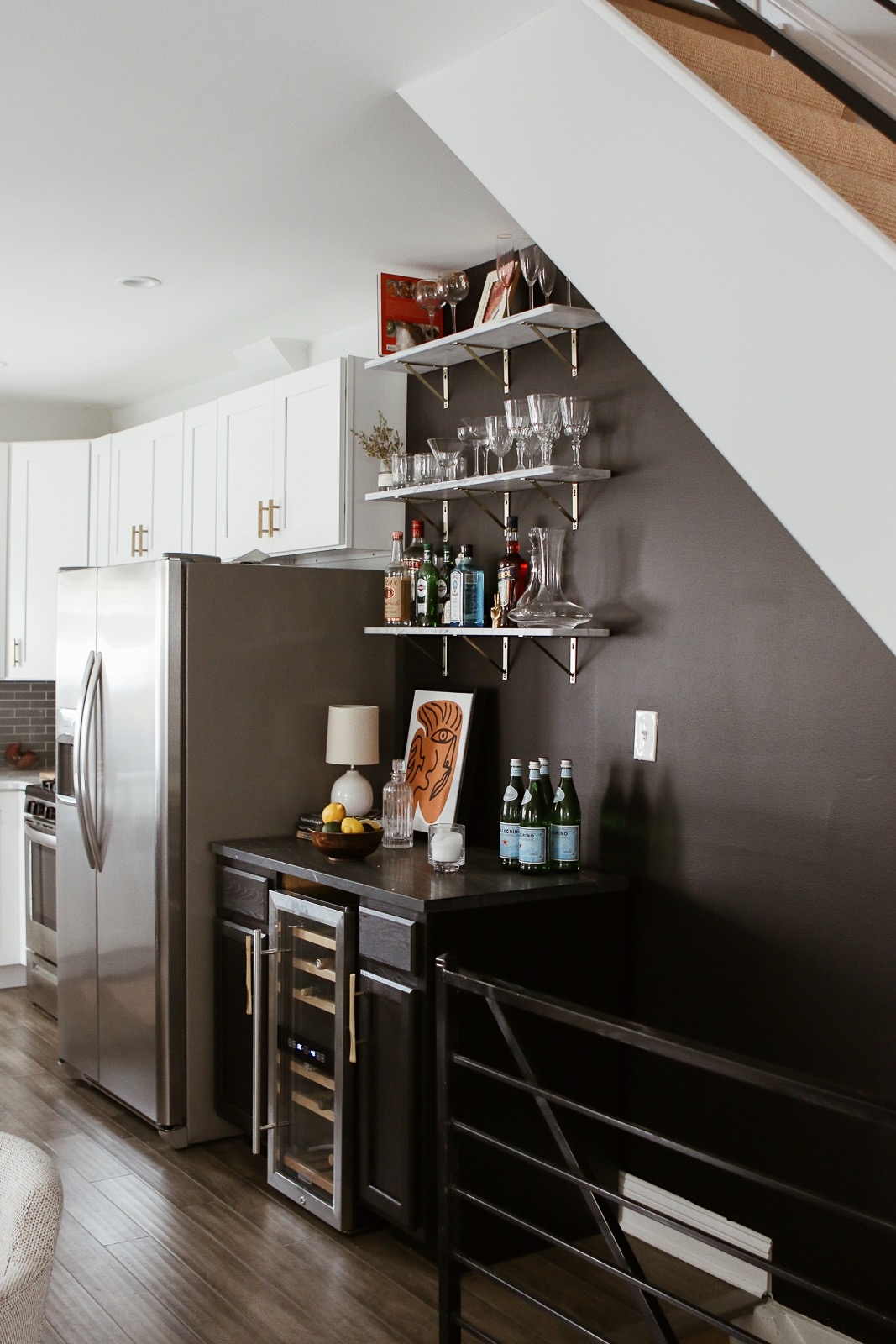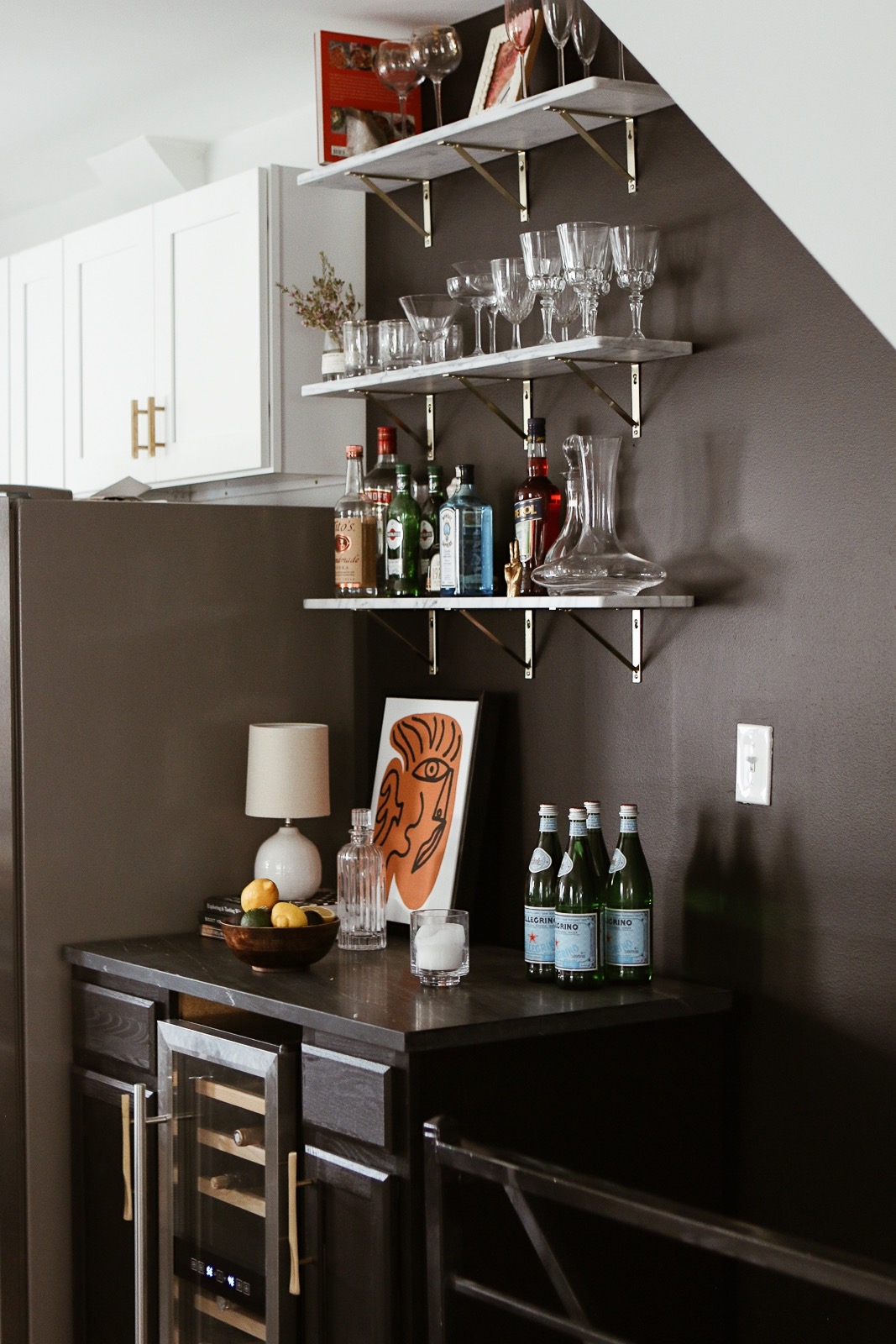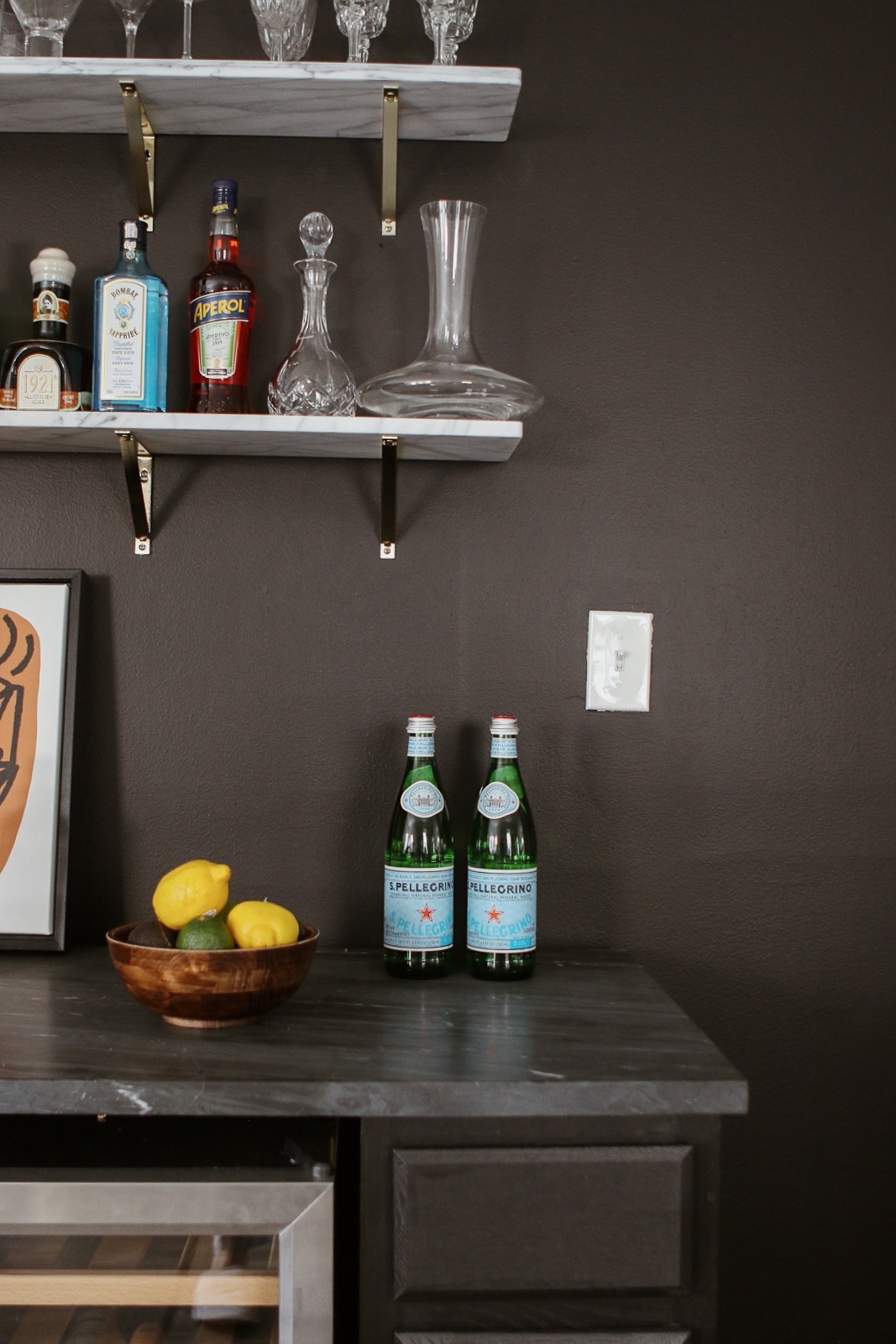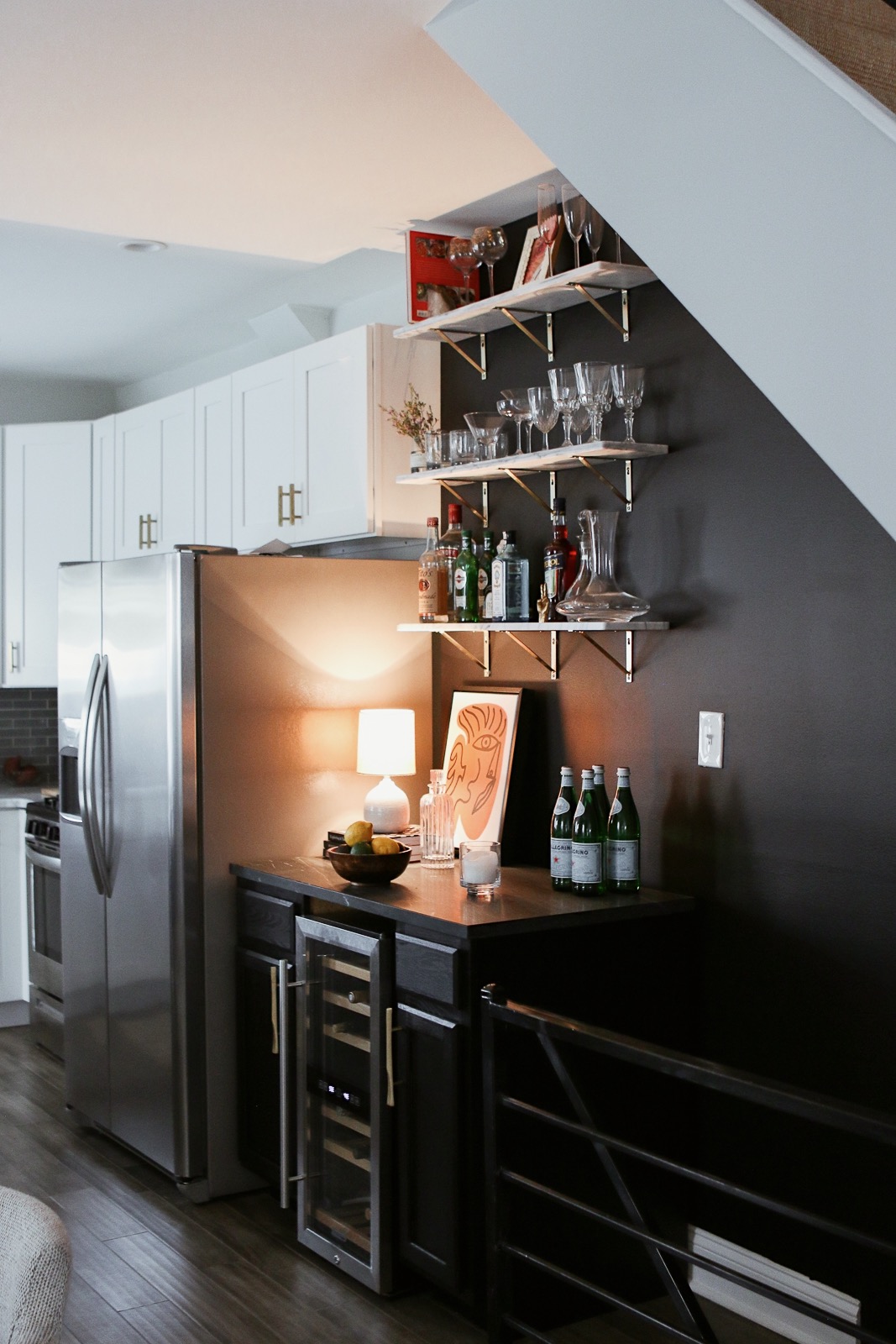 ---
SHOP THIS POST

---