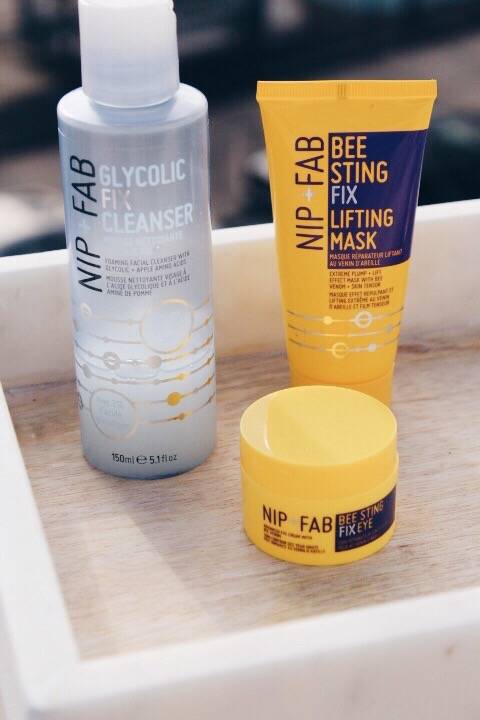 Hey Guys! It's sad to say that it is already Monday. Ugh. Well, grab some coffee and remind yourself that you can do it! We hope you guys had a chance to try out our facial scrub over the weekend. If not, pamper yourself this week. We wanted to stick with the skin care trend and tell you about a skin care line we have been using lately, called Nip + Fab. This post may be a bit long, but we really want to give you an honest review of these products.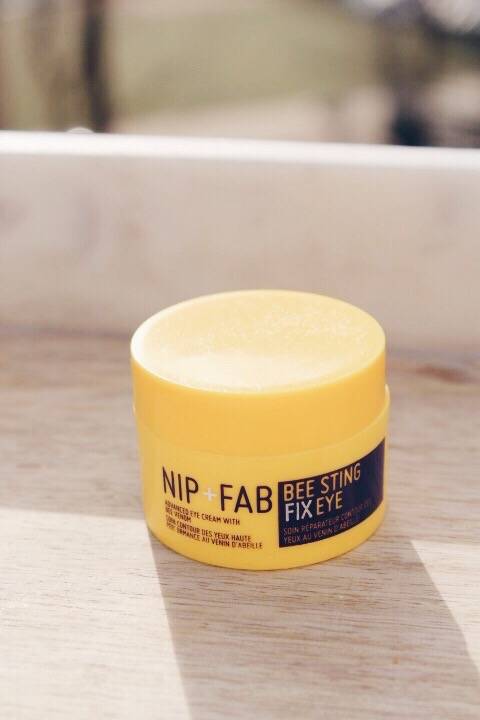 Bee venom has been all the rage lately. Yes, we said bee venom! This substance is known for plumping and firming your skin. It also helps defend against the look of fatigue. We wanted to find a product that had this as an ingredient, which led us to the Nip + Fab Bee Sting Fix Eye. This eye cream also has manilkara leaf to improve skin tonicity, as well as amino acids to brighten dark circles. Before we go on, if you aren't already using an eye cream, then you need to start NOW. The biggest misconception is that you don't need to use an eye cream until you first see signs of aging. WRONG. Prevention is key. Start early to age well. We give this eye cream a 7 out of 10. It seems to really tighten our skin and help with dark circles. We did expect to see more results in regards to the bee venom, but for the price, it was fair. When used in the morning, it did seem to help with the look of fatigue. We have been using it for a while now and are really impressed.
Let's just say the face wash was the clear winner here. We really love this face wash. We have been using the Nip + Fab Glycolic Fix Cleanser for a while now and really love what it is doing to our skin. If you don't already know, glycolic acid is amazing for your skin. This acid gently exfoliates and retexturizes your skin. Apple amino acid provides the foaming effect and softens skin. We also love that this face wash is free of sulfates and parabens. It also has olive oil to give long-lasting hydration and smooth skin. This face wash has really helped our skin tone. We give this product a 9 out of 10.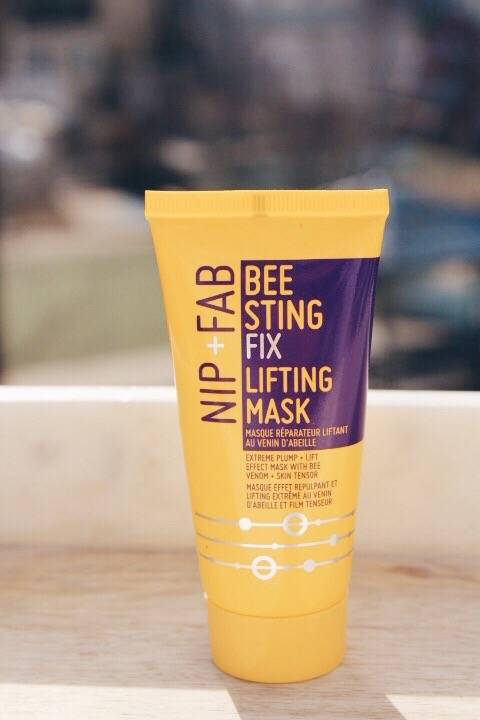 Last but not least, we picked up the Nip + Fab Bee Sting Fix Lifting Mask. This gel mask combines bee venom with 3D express lifting effect technology. Wrinkles appear visibly smoother and skin feels firmer. Within a few minutes, your skin really feels like it is tightening. At first, it is the strangest feeling but you feel like the product is actually working. This mask mimics bee stings all over your face WITHOUT the pain! This causes your face to plump and firm. You can even use this product as an overnight mask. Just apply a thin layer before bed and wake up with tight, firm skin. We give this mask an 8 out of 10 for sure.
All in all, we have been pleasantly surprised with the quality of this line. We plan on trying out their other products to see just how good this line really is. Hopefully you guys enjoyed this product review. If you like these posts, we will definitely keep them up! Let us know in the comments below what you think. Also, let us know if you have tried any of these products and what you think of them. Until next time…
~ Shop this post ~
Nip + Fab Glycolic Fix Cleanser
Nip + Fab Bee Sting Fix Lifting Mask
[jetpack_subscription_form]