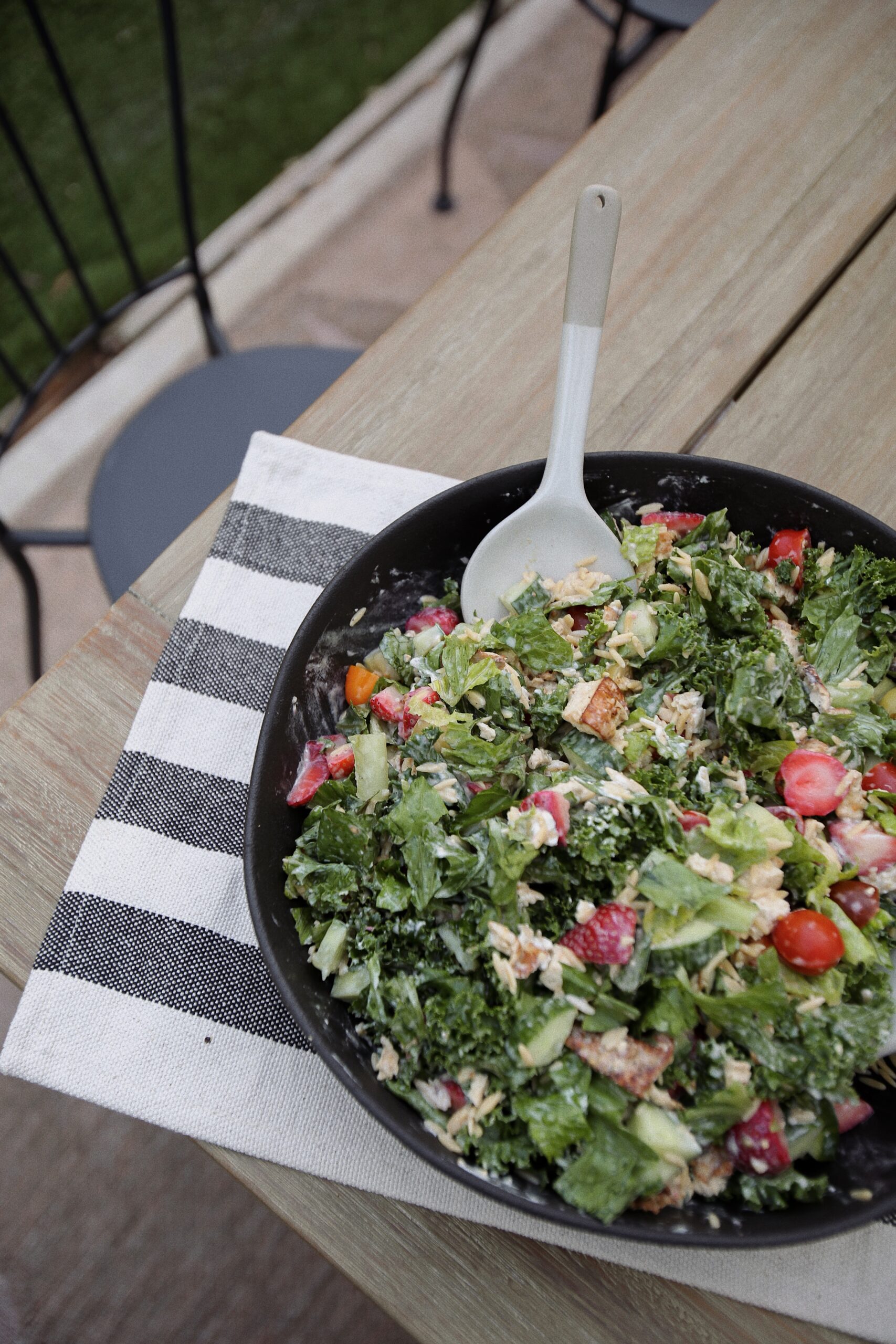 This salad has been on constant rotation this summer. We are truly obsessed with this recipe. It's easy to make and perfect for a warm summer evening. It even has a homemade dressing that takes only a few minutes to whip up.
---
Ingredients
Kale
Romain Lettuce
Cherry tomatoes
Cucumber
Banza Chickpea Rice
Extra Firm Tofu
Strawberries
Goat Cheese
Dressing
Olive Oil
Honey
Dijon Mustard
Juice of 1 orange
1/2 Shallot
Salt
Pepper
Directions
Cut your tofu into small squares and cook on medium heat in olive oil, salt, and pepper. Cook until brown.
Cook Banza Chickpea Rice per instructions.
While tofu and rice are cooking, prepare veggies. Slice tomatoes, strawberries, kale, and chopped romaine. We like to do equal parts of everything. Arrange in bowl.
Top veggies with tofu and rice. Add goat cheese on top — it starts to melt into a creamy mixture — SO GOOD.
Prepare dressing in food processor — the amount of each ingredient depends on how much dressing you want to make. This one is good to taste as you go. Feel free to add more of each if needed. You can't mess this up!

Olive Oil
Dijon Mustard
1/2 Shallot
Drizzle of Honey
Juice of 1 Orange
Pinch of Salt
Pinch of Pepper

Add dressing to salad and mix thoroughly. The cheese melts a bit and gives you the creamiest texture. Enjoy!
---