Well, we are finally finished with our backyard. A quick refresher — we've been working on revamping our back patio for the last few weeks. If you remember, we posted our initial plan for the backyard revamp back in April. Now that we've had time to pick out all the pieces and finalize the design, we're finally able to show you the finished space. Ahh, we are so excited! But before we go any further, we want to show you what the space looked like before. If you're reading this and can remember what the patio looked like two years ago, you're an OG. It used to look like a scene from a post-apocalyptic movie. But luckily this year we didn't have that much work to do. We simply wanted to revamp the space. Ya know, spruce things up a bit.
For this revamp, we partnered with Tuesday Morning. If you aren't familiar with this store, get ready. It's a great spot if you're looking to spruce things up while also scoring some major savings — something we are all about. Alright, let's get onto the design. Since we weren't doing any major renovations, we weren't overwhelmed. It made the experience that much better. We were able to play around with colors and textures to create an oasis in the city for the summer.
The first piece we started with was the base. More specifically, the outdoor rug. This is essentially the canvas for us to decorate. We knew we wanted something neutral and weatherproof. We decided to go with an outdoor jute (natural fiber) rug. It brought in another texture and was neutral enough to go in any design direction.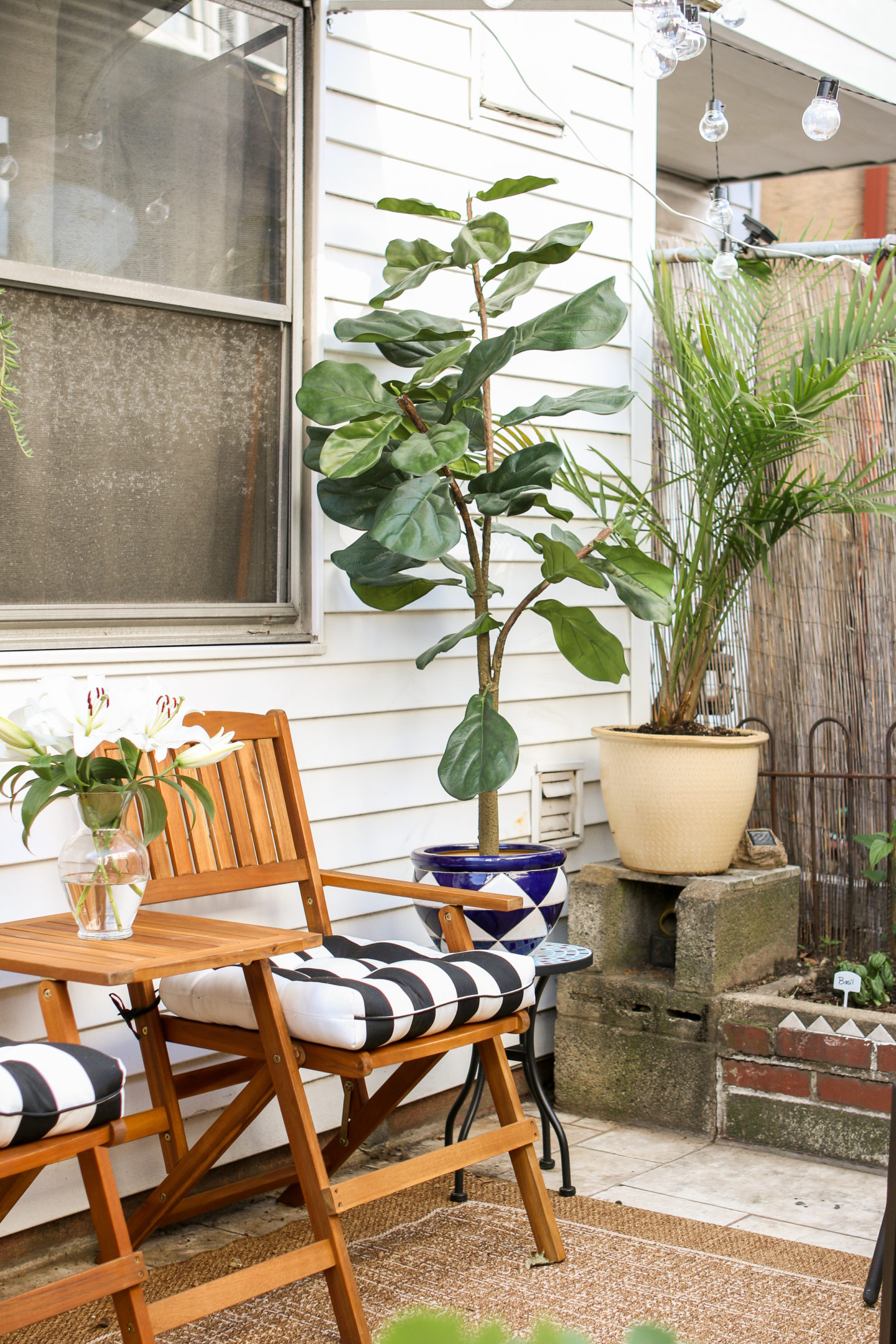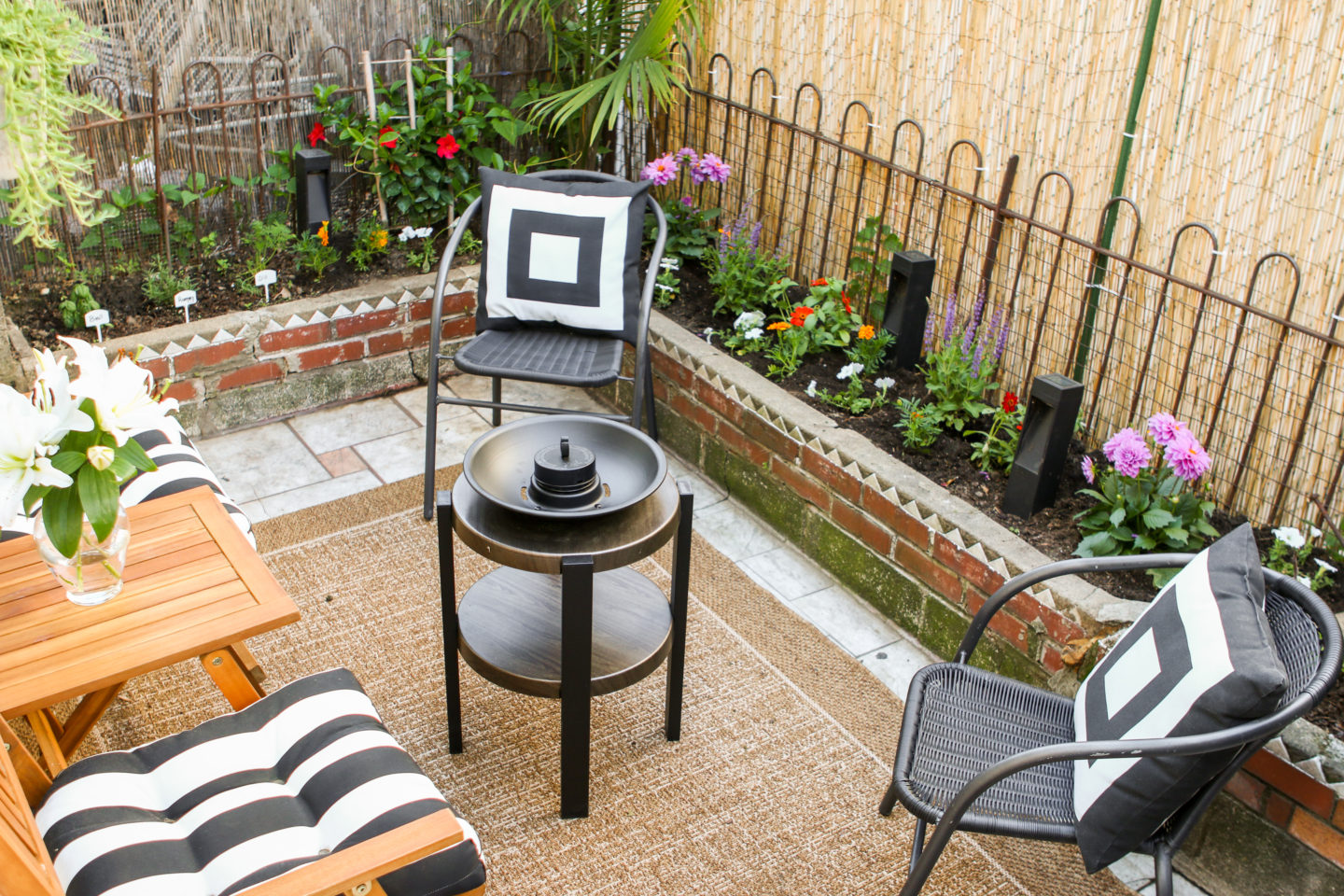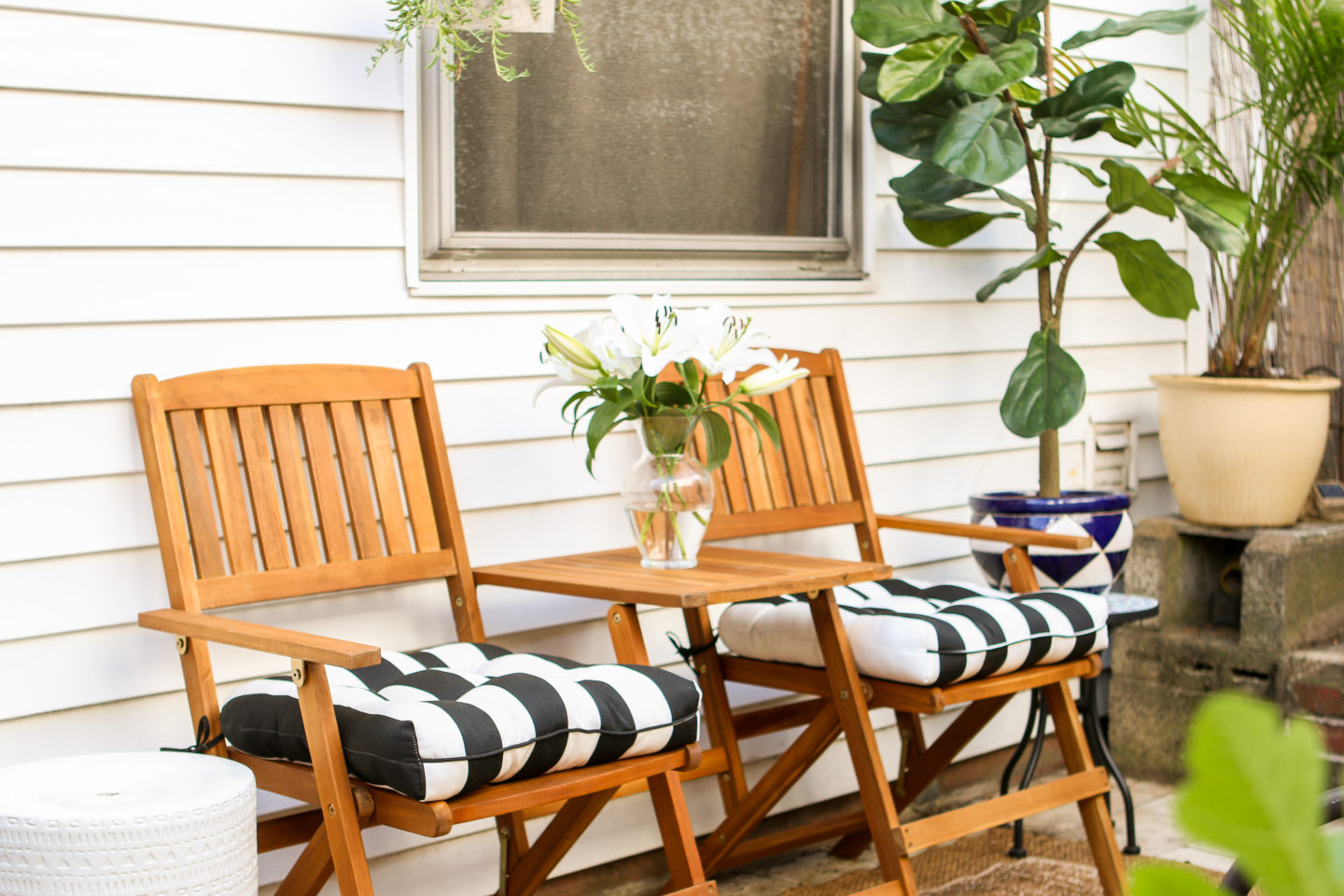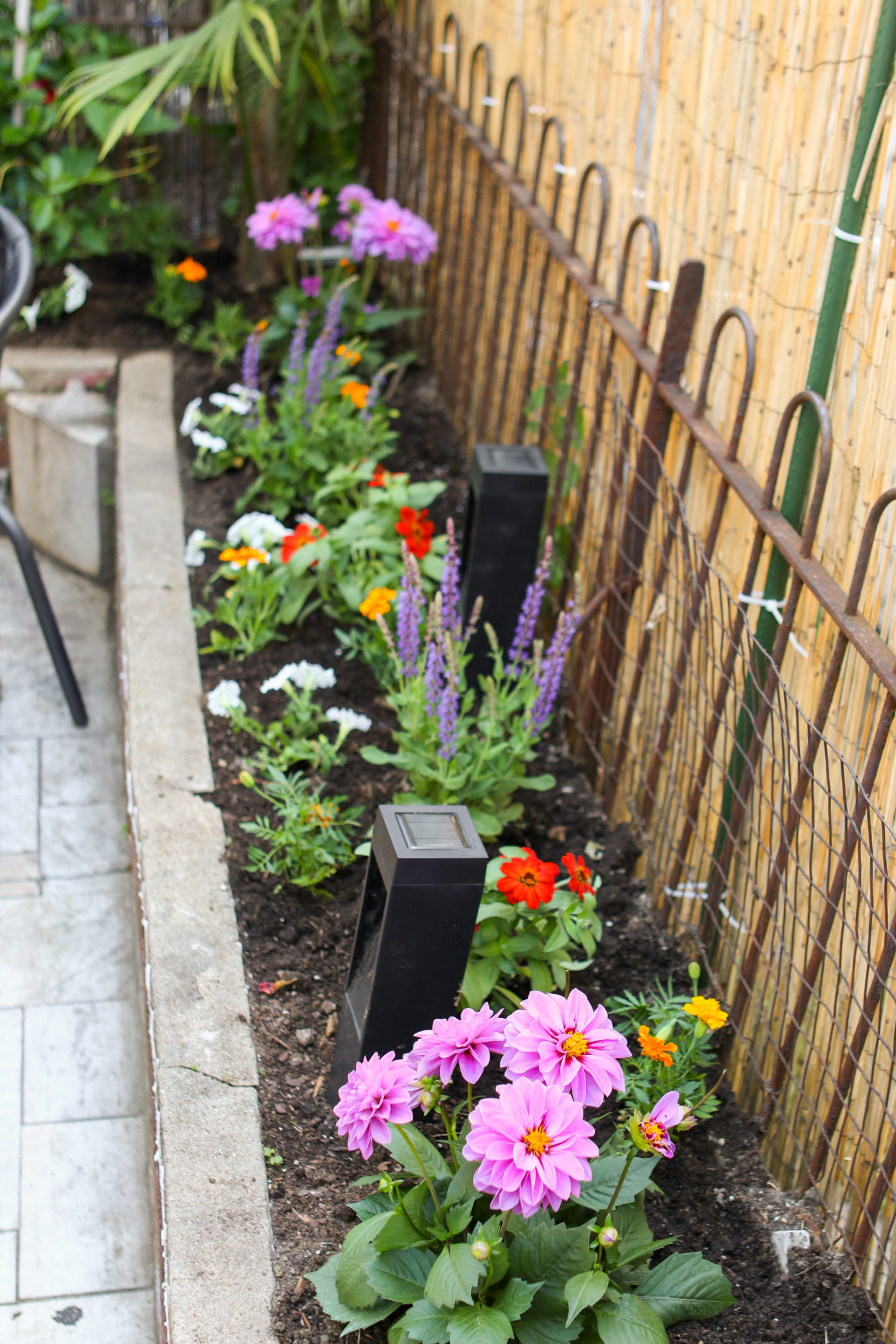 Next up was the seating situation. As you can see, we have a typical city backyard. In other words, it's super small. But we're okay with that. It comes down to how you utilize your space. That means we couldn't go out and find a huge outdoor table. Pro tip: always measure! This way you can find pieces that are scaled to your specific space. We needed to be creative with what we choose. Luckily, we found a jack and jill set that was perfect. It's natural wood and brings an entirely different texture into the space. We are huge with mixing things up. You never want things to match perfectly. It's also great how slim the set is when pushed up against the wall. This helps keep the space open and airy. There is also a hole in the middle for an umbrella. We don't have enough room for that but it's nice to have that option!
Since we do entertain a lot, the jack and jill set alone wasn't going to cut it. We decided to go with two bucket(ish) chairs. They are big enough that you feel comfortable when lounging back but also don't take up a ton of room. Obviously, this is a big deal. We have such limited space that we can't add anything large. Once we found those chairs, we felt like the seating situation was covered. We already had another small bench in the back that we decided to keep. All of this together created the perfect seating arrangement.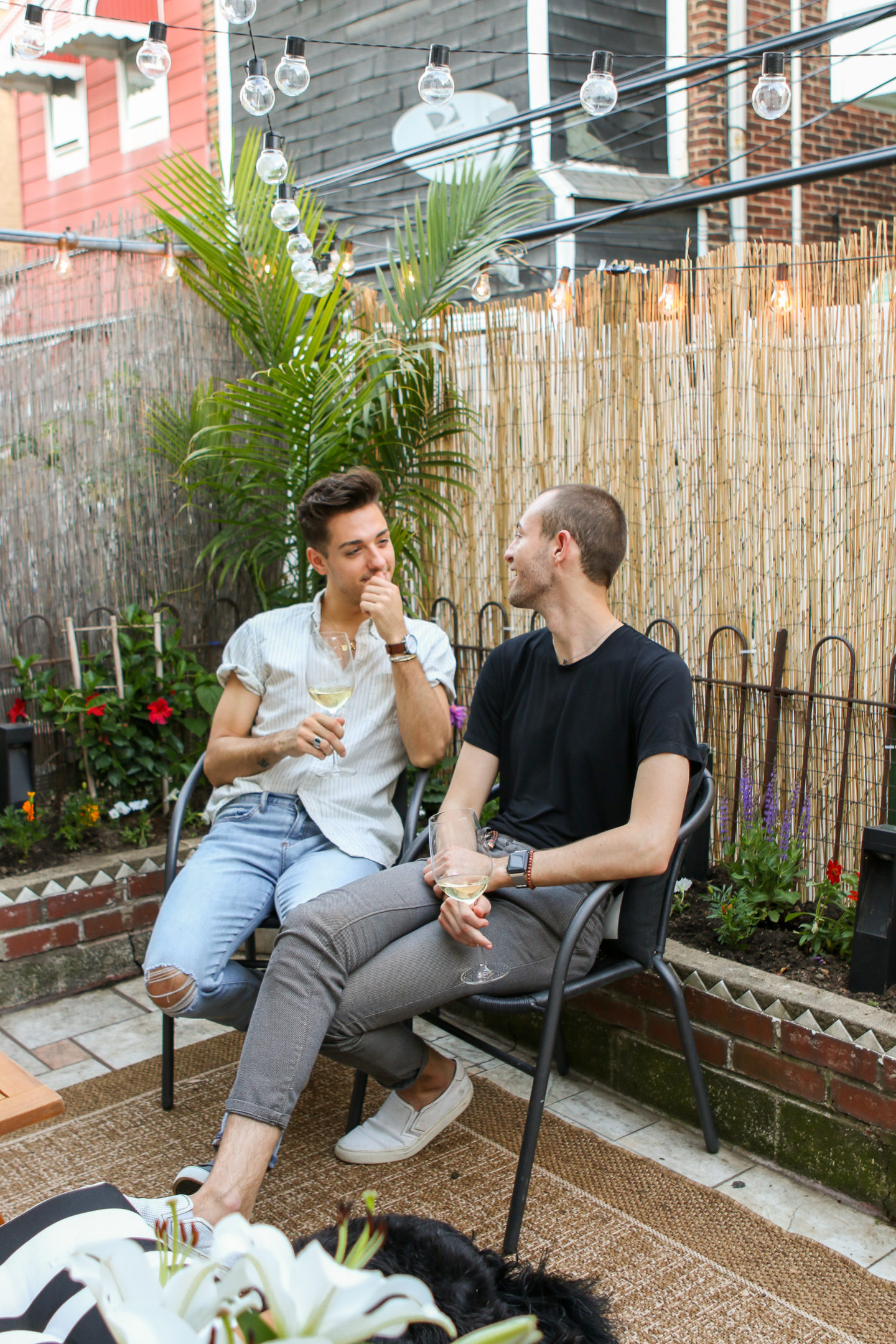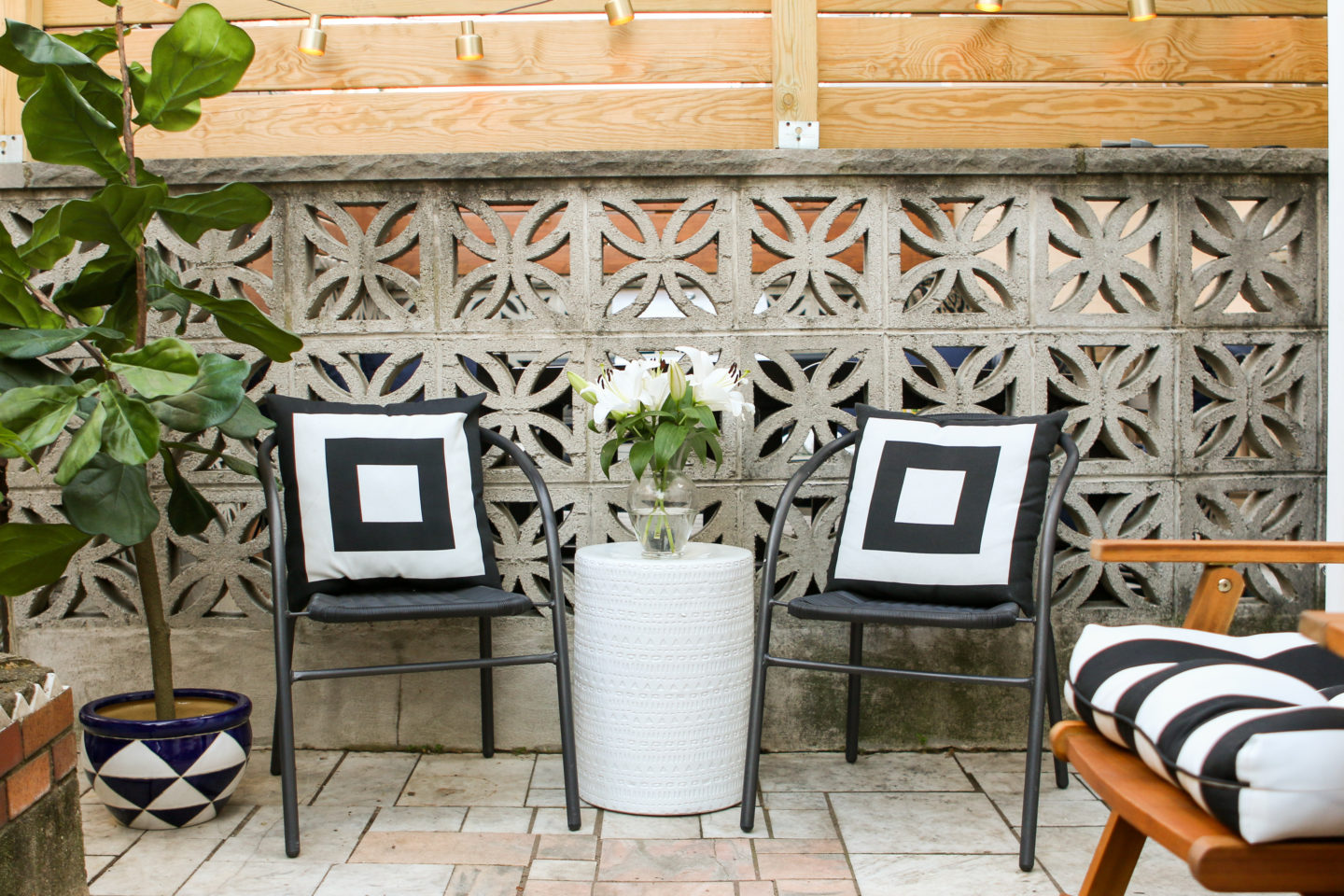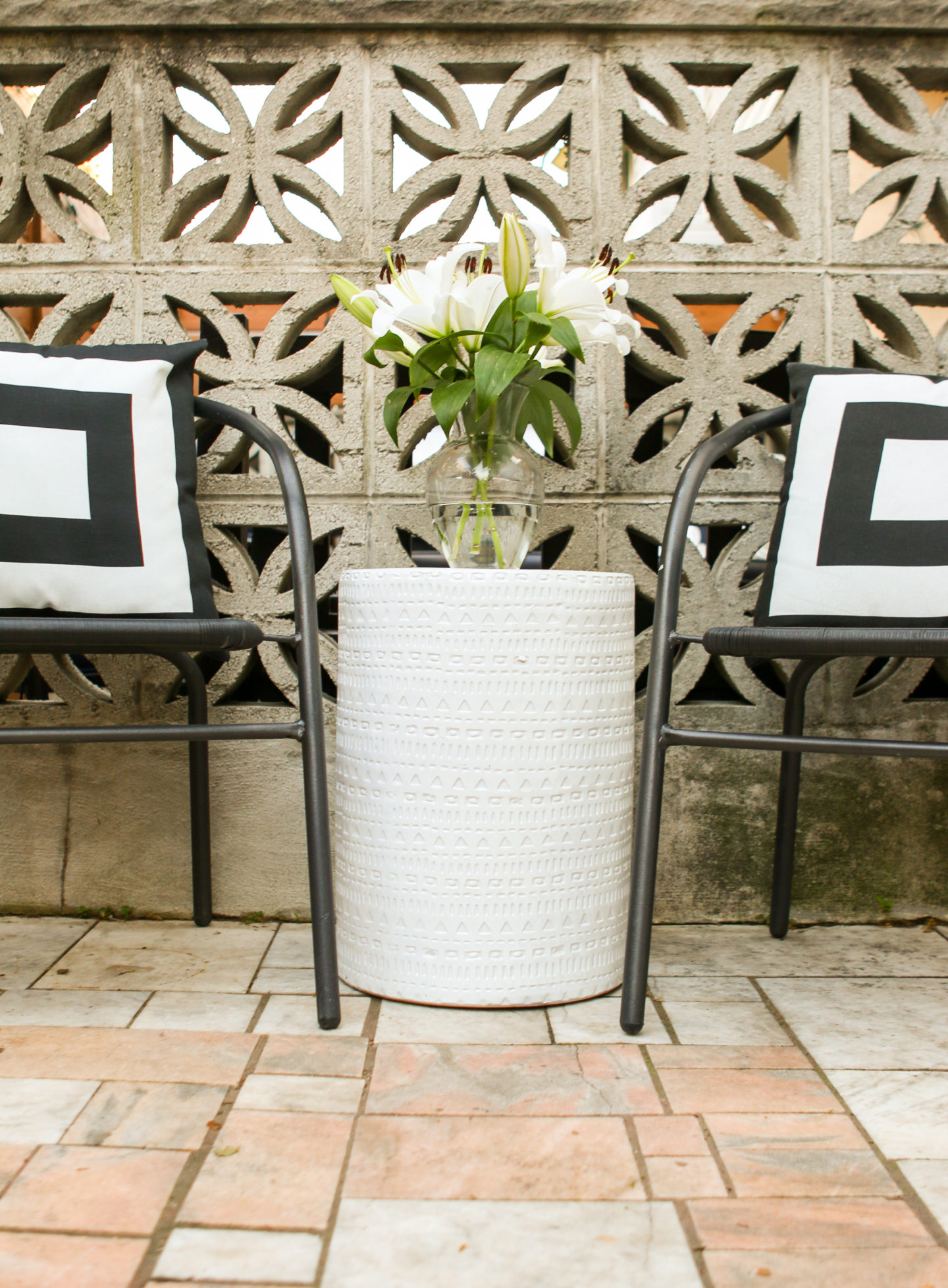 While at Tuesday Morning, we found an amazing deal on a white side table. Since it's round and low, we were able to fit it in perfectly. We also found solar-powered café lights. We really wanted to create an oasis and you can't do that without the right light element. To go along with the lights, we added a small fire pit. Alex is always cold so this was a must. Oh, and since it uses tiki fluid, we don't have to worry about smelling like a campfire. We can already tell we are going to be obsessed with the heat this summer on those chilly nights.
To go along with all of the amazing outdoor pieces we found at Tuesday Morning, we added to our garden. We picked up some new palms because sadly last year's group didn't survive (fingers crossed for this year). We also planted some more flowers and herbs. Oh, and for a quick reminder, our fig tree should (finally) give us some sweet treats this year — fingers crossed for this too!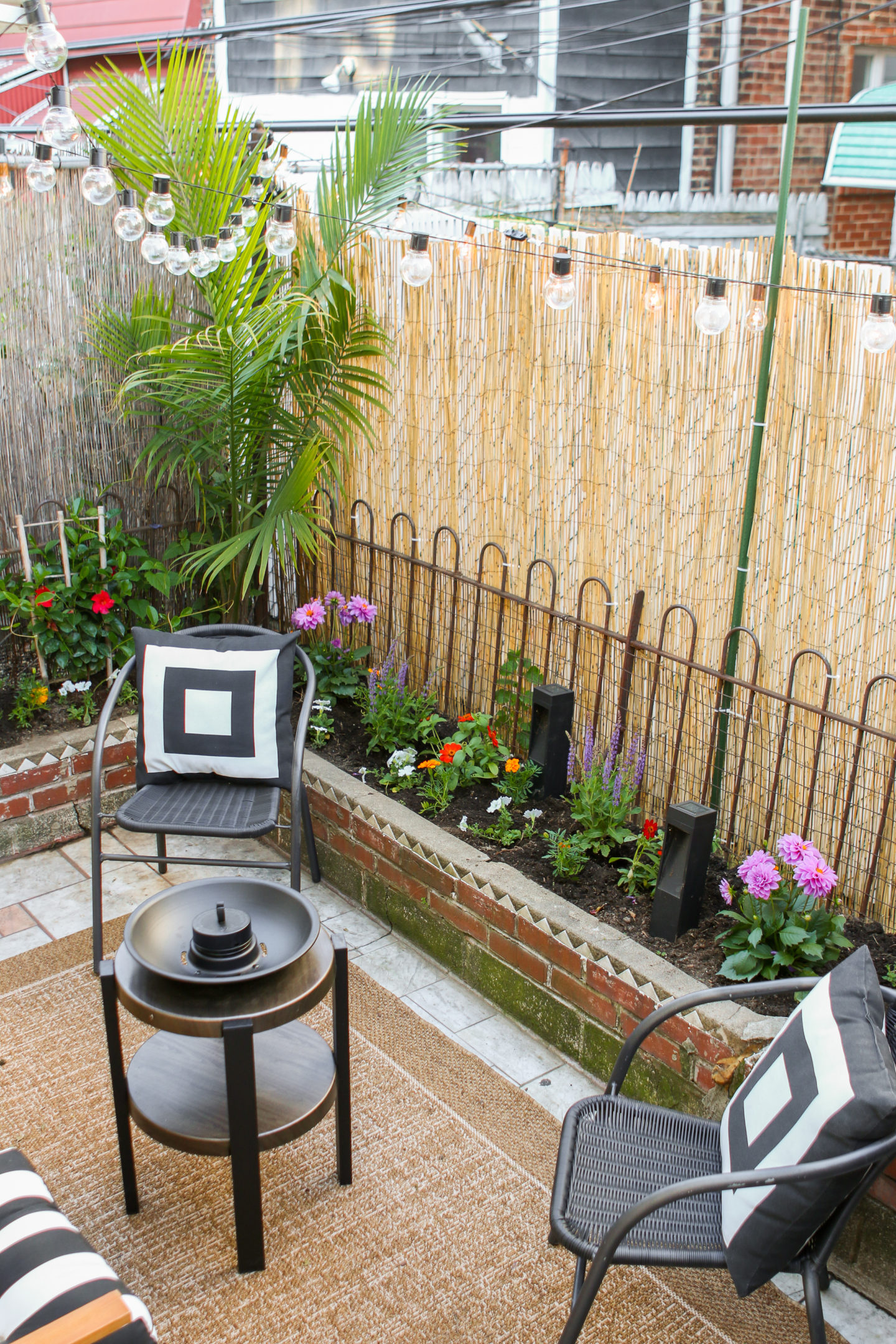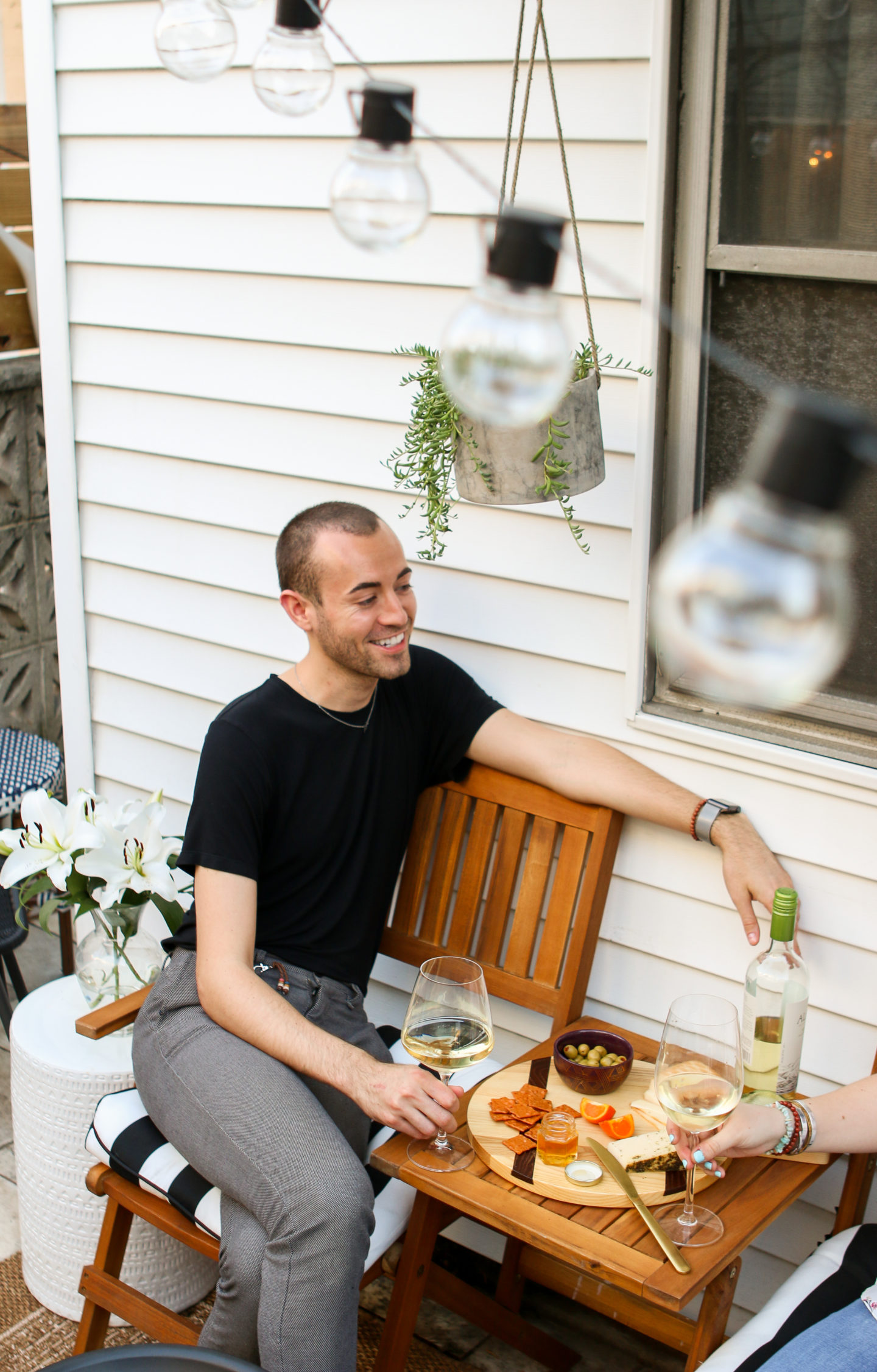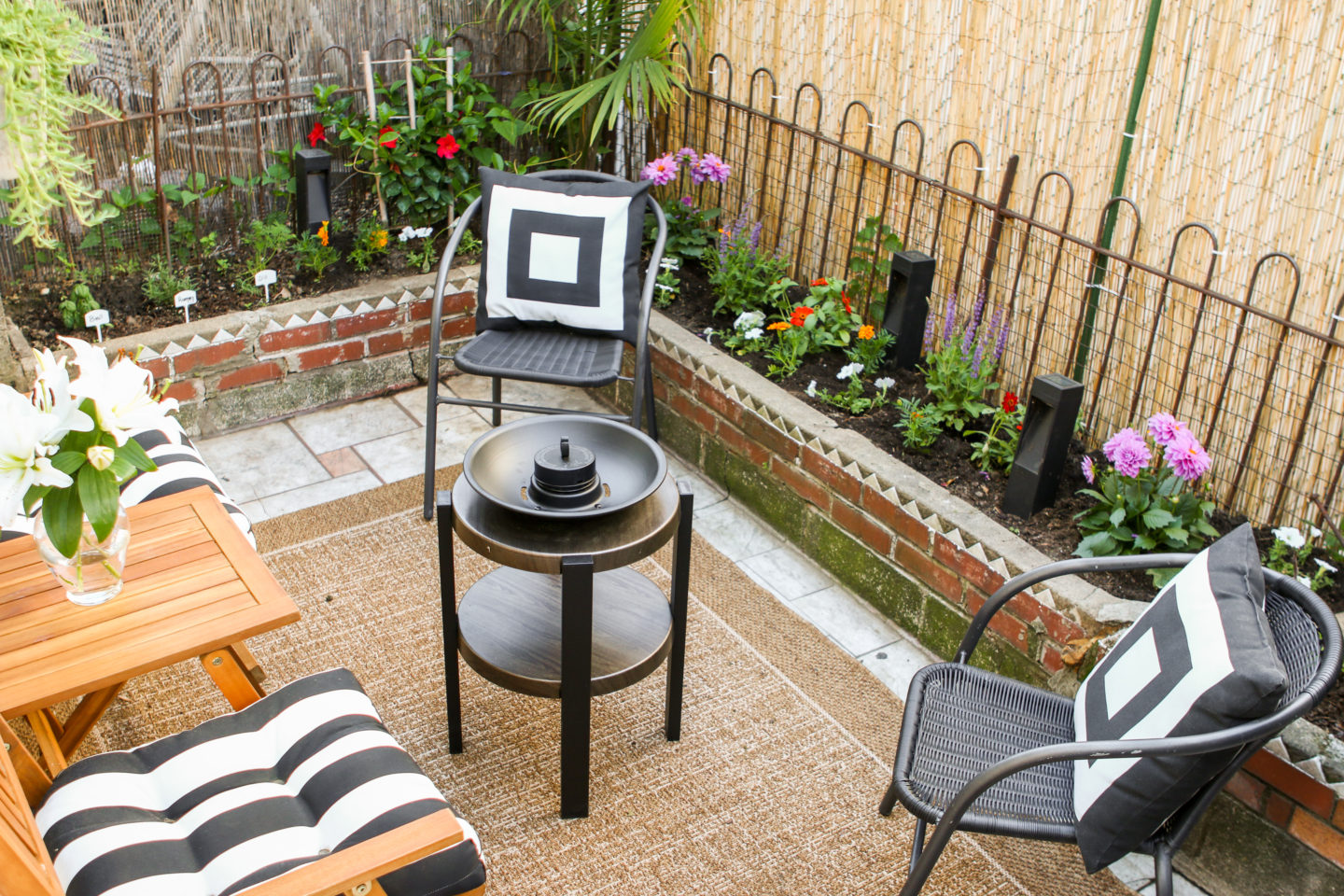 So there you have it. We are now ready for the summer! Bring on all the relaxing rosé nights with friends and family. We can't wait to spend as much time as possible outside this year. Hopefully, the fire pit helps extend those nights even longer! Though the best part about this backyard revamp definitly goes to Tuesday Morning. We are so thrilled with all of the savings we found. It definitely takes off a lot of stress when it comes to revamping a space. We were able to get a lot more than we initially expected. It was also a plus that we had a store so close! We highly recommend visiting the nearest store to you and checking out the selection. You really will be surprised by what you can find!
---
IN PARTNERSHIP WITH TUESDAY MORNING.
AS ALWAYS, ALL OPINIONS AND THOUGHTS ARE OUR OWN.