Spending time at a coffee shop is one of our favorite things to do. We always tell people that drinking coffee is an experience for us. Whether we are sitting at home sipping a latte or working in a coffee shop, there has to be a good vibe. We figured it was time we shared some of our favorite coffee shops here in Philly. We've rounded up ten coffee shops we love hitting up. Whether it's the ambiance or the caffeine, all of these spots give us good vibes.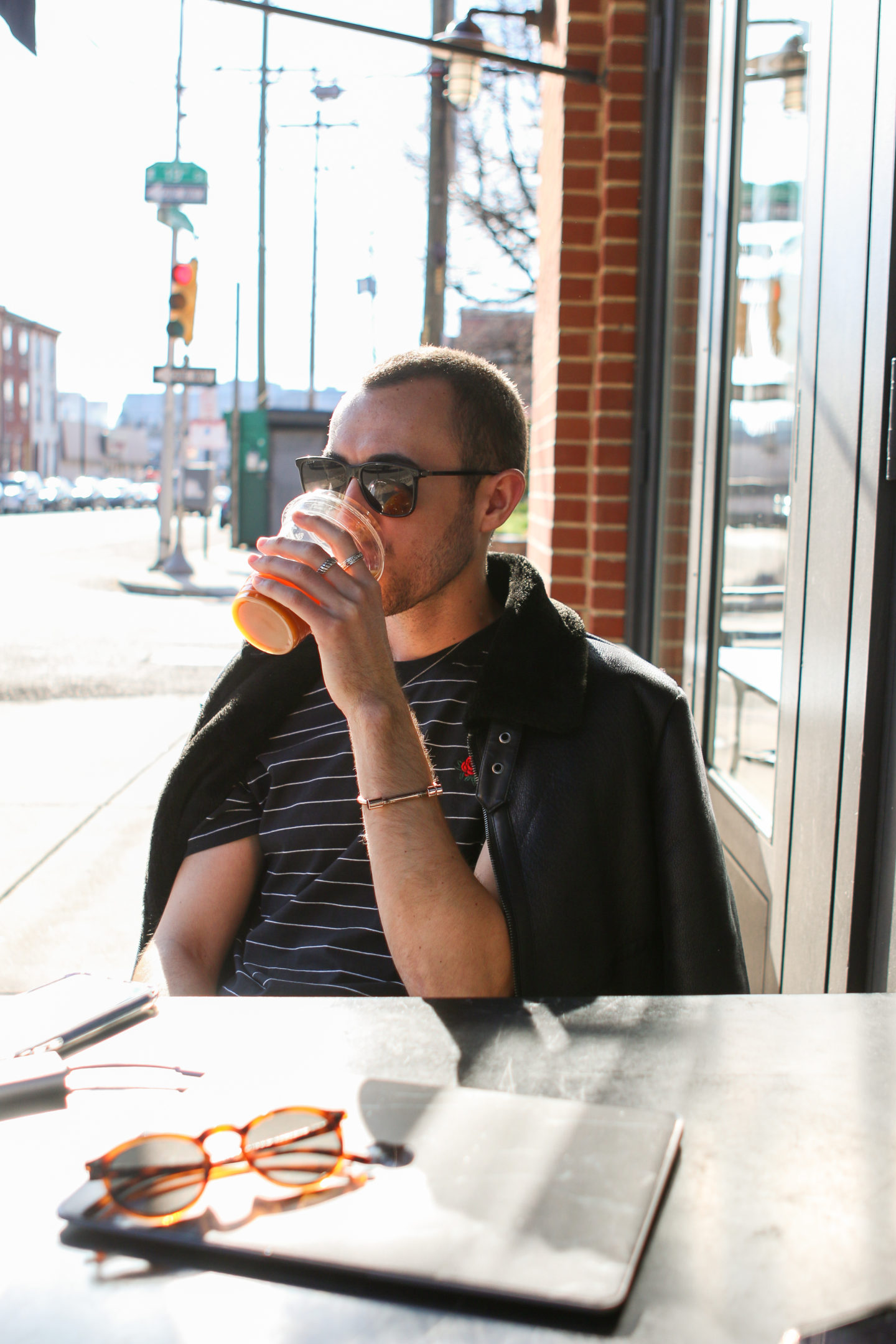 There are actually a few locations for this coffee shop, but we prefer the one in Newbold. We find ourselves going here when we need to get some work done. The almond croissant is a must-try! But truly everything is good. The staff is friendly and super knowledgable. They even have a garage door as a wall and open it up when it's nice outside. Oh, and how can we forget the bottle shop! If your workday continues past 5 PM, you can start happy hour right there!
We LOVE this coffee shop. It's always busy and can be hard to find a table but when you do, you'll want to hang out for a while. The dark interior makes for a warm and moody space. The coffee is fantastic and the vibe leaves you wanting to come back.
We fell in love with this spot the moment it opened. The Rittenhouse Square location is the first shop outside of NYC. Not only can you get your caffeine fix, but there is also a full food menu — the avocado smash is delicious!
This is the quintessential Old City coffee spot. You can't visit Old City without stopping here. From the coffee to the treats, we love it all.
When you think of Philly coffee, you think of La Colombe. This has been a staple in the city for years. From the delicious espressos to the rich lattes, you can't go wrong with your choice. Though it is a busy spot, there are multiple locations in the city — truly, we love them all.
So this might not be your first choice since it's inside of Whole Foods. But rest assured, it's worth it. The menu is great and the location is perfect for us. We can grab a latte then head up the stairs to shop.
There are three locations for this cafe — though we prefer the one on East Passyunk. We love to set up shop when we have a ton of work to get done. The coffee is great and the food menu is delicious.
We can't talk about Philly coffee shops without mentioning Saxbys. With several locations all over the city, it's another staple here in the city. The cold brew is a must when you visit next — even if it's cold outside.
South Philly is home to a ton of great coffee shops — Kay Kay's being one of those spots. Though we do love the coffee and food menu, it's the people that made us fall in love. From the moment you walk in, you're greeted with a warm smile. It's exactly what you think of when you picture a South Philly corner coffee shop!
There are two locations in the city — but we prefer the one in Rittenhouse Square. On a sunny day, we like to grab a coffee and sit outside. We're able to take in the views of the park and really experience city living.