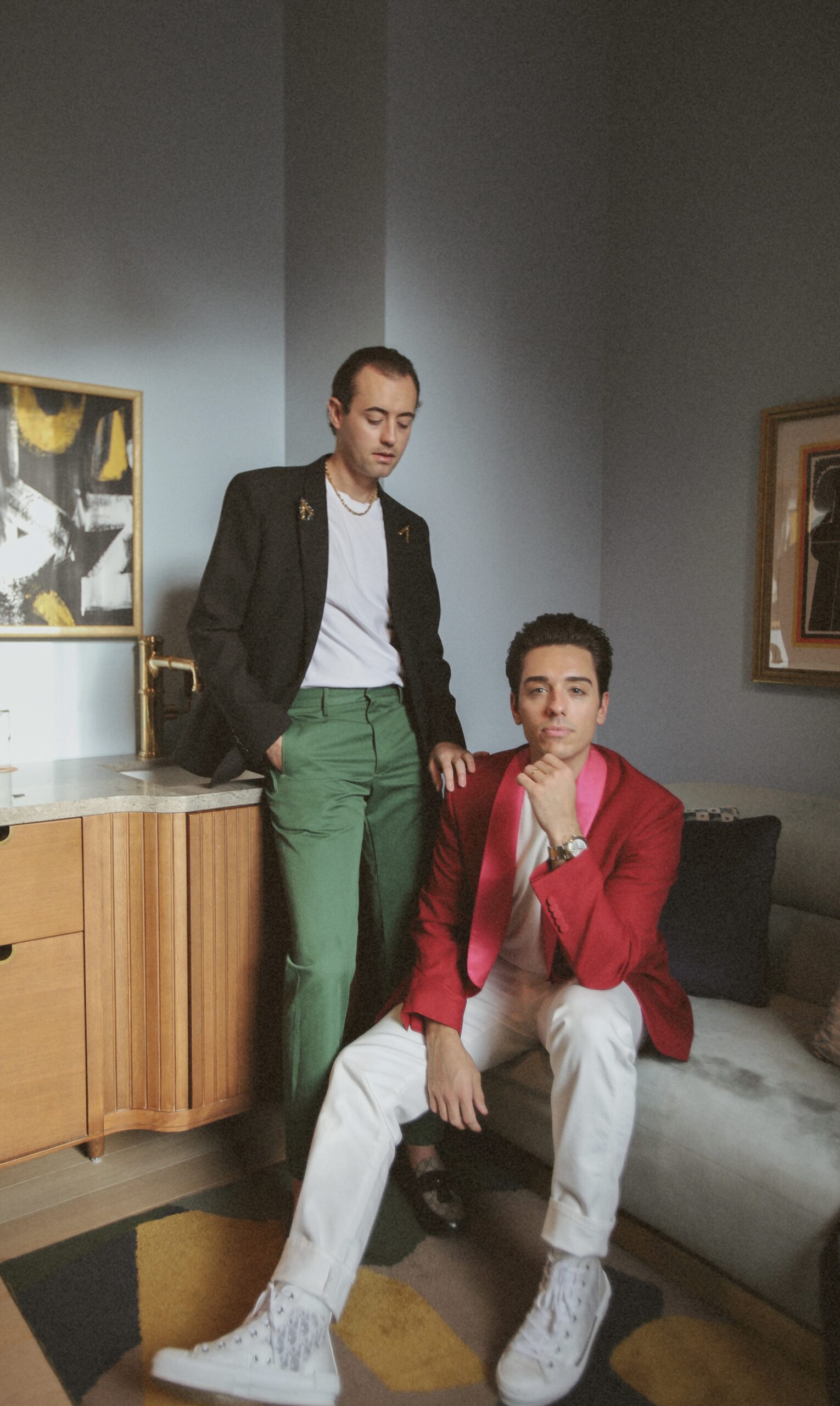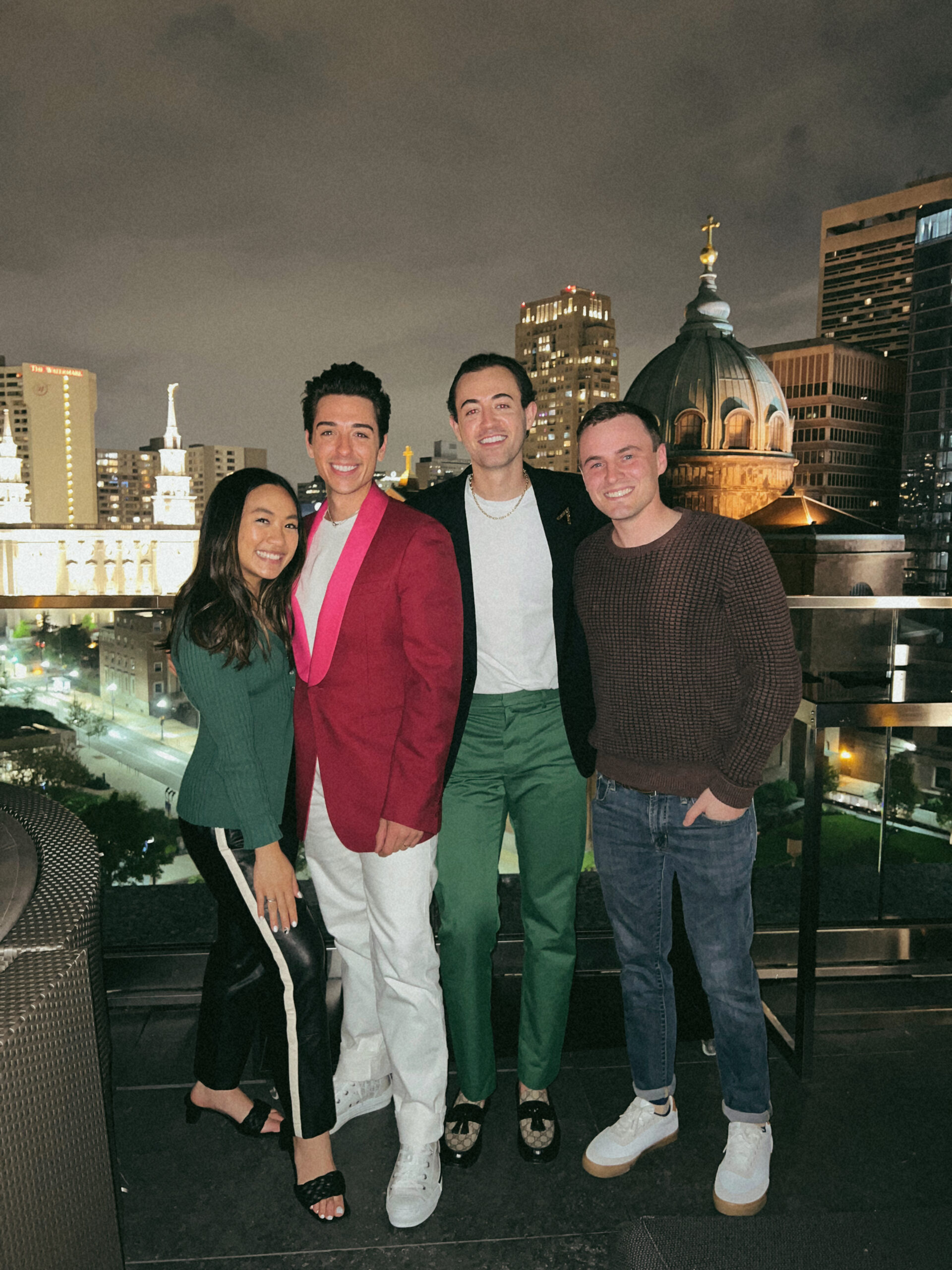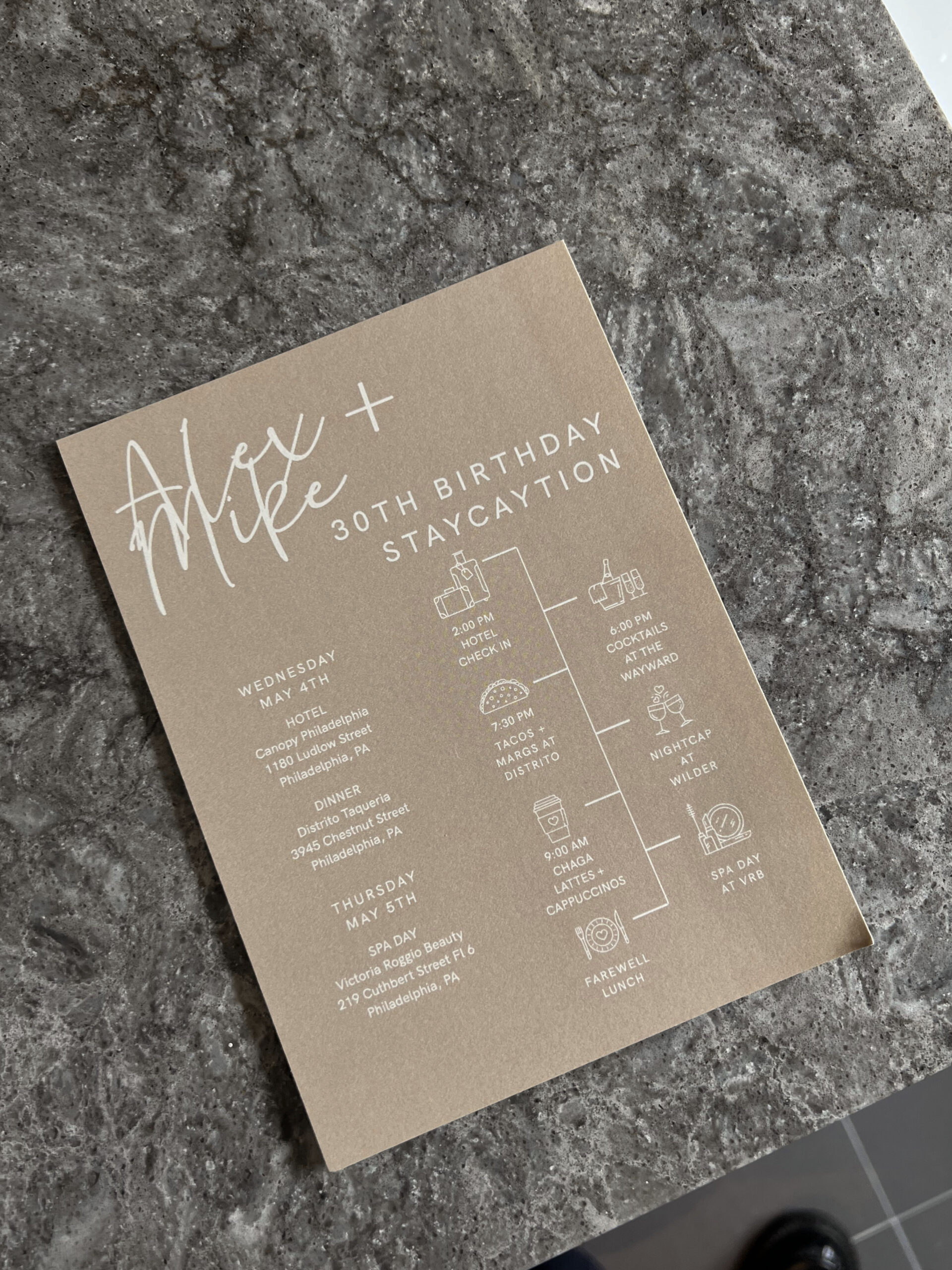 2022 is the big year for us — we both turn 30! Mike's birthday was back in March (24th) and Alex's birthday is at the end of this month (May 31st). We've never done a joint celebration before so we decided this year should be the one. It feels appropriate for it being the big 3-0. Our initial plan was to rent a house in Palm Springs for a long weekend getaway with a few friends. Unfortunately, that didn't end up working out. Instead, we decided to host a fun little staycation in the city. It was truly so much fun. We did share this all on IG but wanted to give you a full breakdown over here.
First up, we need to give a major shoutout to our incredible friend, Jas. You've probably seen her all over our Instagram. She's an incredible blogger, content creator, and labor & delivery nurse — @jasminewiin. She helped us plan out this celebration and created a beautiful itinerary for everyone. We love you, Jas!!
Hotel. We stayed at The Canopy in the heart of East Market. If you've been a longtime follower, you'll remember we actually did a staycation there years ago. If you're a lover of interior design, you will really appreciate the space. The hotel is so beautiful and has a ton of unique & modern details. Highly recommend booking a stay if you are ever in the area or planning a staycation!
Once we all arrived at the hotel on Wednesday, we took some time to enjoy the space and slowly get ready. A lot of us hadn't been together in a while so it was fun catching up. Around 6ish, we all made our way downstairs to The Wayward. This is the restaurant and bar on the ground floor of the hotel. We've been here before and always had a wonderful experience. We all had a round of drinks and a small bite. The French 75 is delicious!
Dinner. We made a dinner reservation at Distrito in University City. Tacos and margs? You really can't go wrong. It was a good combo of cute and comfy for us. We all just wanted to chat, laugh, drink, and eat. It was a great dinner!
Drinks. It was such a nice night out so we thought it should be spent outside as much as possible. We made our way to the rooftop of Assembly. We really love the views of the city from this spot and the fire pits add such a nice ambiance. We stayed there for a while before making our way to the last spot of the evening. To be honest, this one wasn't planned. We were having so much fun and didn't want the night to end but also didn't know know where to go given the amount of people in our group. We decided on Time — somewhere we haven't been since our early 20's when going out was something we did every weekend. Oh, how the times have changed lol. It was actually pretty fun. Some of us may have indulged a bit too much and the night may have ended pretty late…but who's pointing fingers.
The next morning, Mike, Alanna, and Nicole needed a little boost with IV magic so they stopped by City Hydration for Hangover IV Bags. If you've never done this before, it's a game changer. They were all feeling so much better within an hour. It's also such a relaxing space at City Hydration. The service is wonderful and really does make for a great experience.
Bagels. Listen, when we tell you the bagels at Schmear It are UNREAL. Get the Caprese Schmear and thank us later. Oh, and they have gluten free bagels!
Spa. We all love a spa moment so we booked facials at Victoria Roggio Beauty in Old City. Our friend Jas had been there before but no one else. We've been following Victoria for a while and have been dying to see her space. We were truly blown away. From the moment you step foot in the spa, you are immediately relaxed. The vibes are so good. The service is incredible and the facials left us all feeling ourselves. We can't recommend VRB enough. Already planning our next appointment.
Well, that's it. We packed in a lot over the course of 36 hours but it was well worth it. We had the most incredible time with our friends and feel very blessed. Here's to the next decade and what it holds for us.