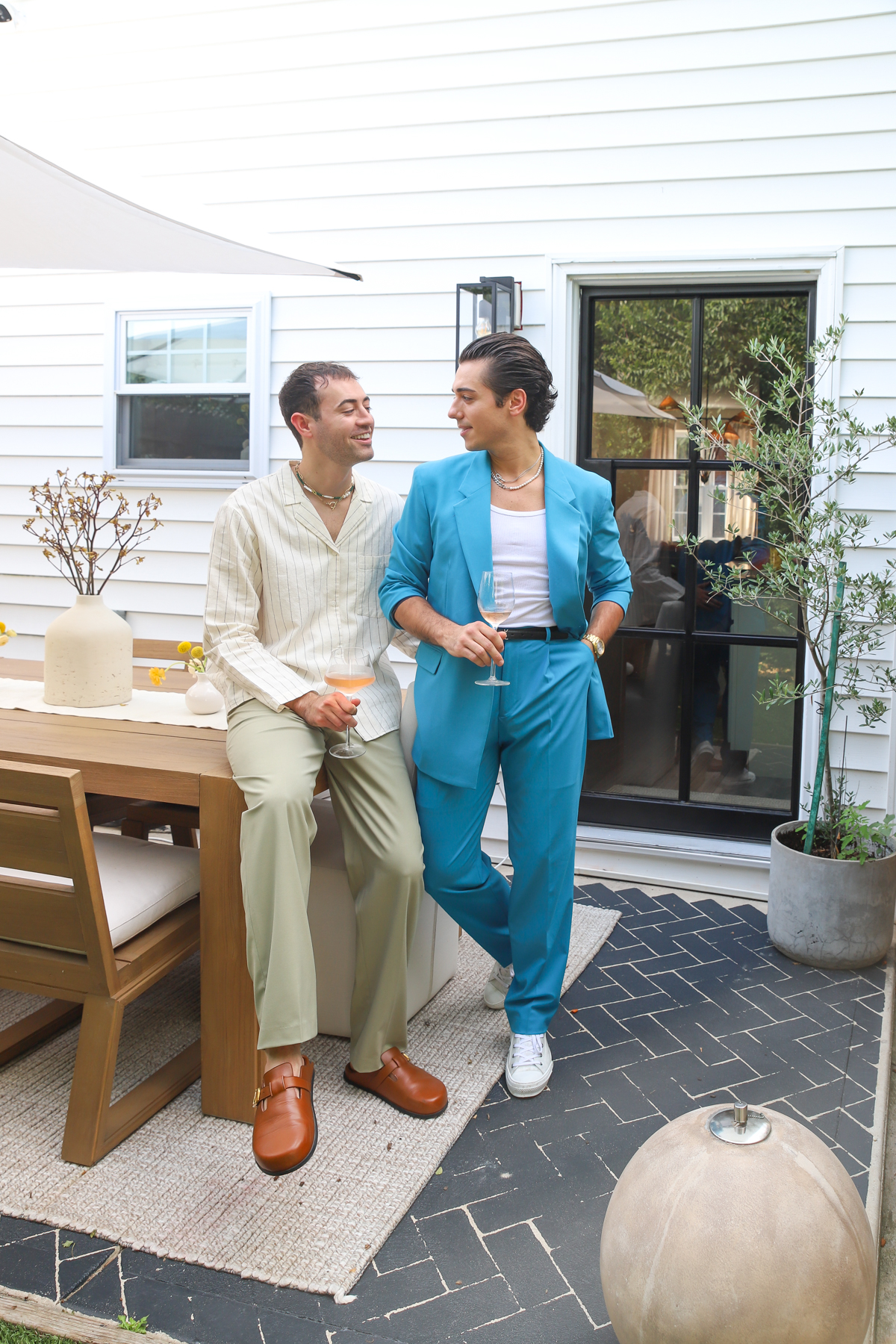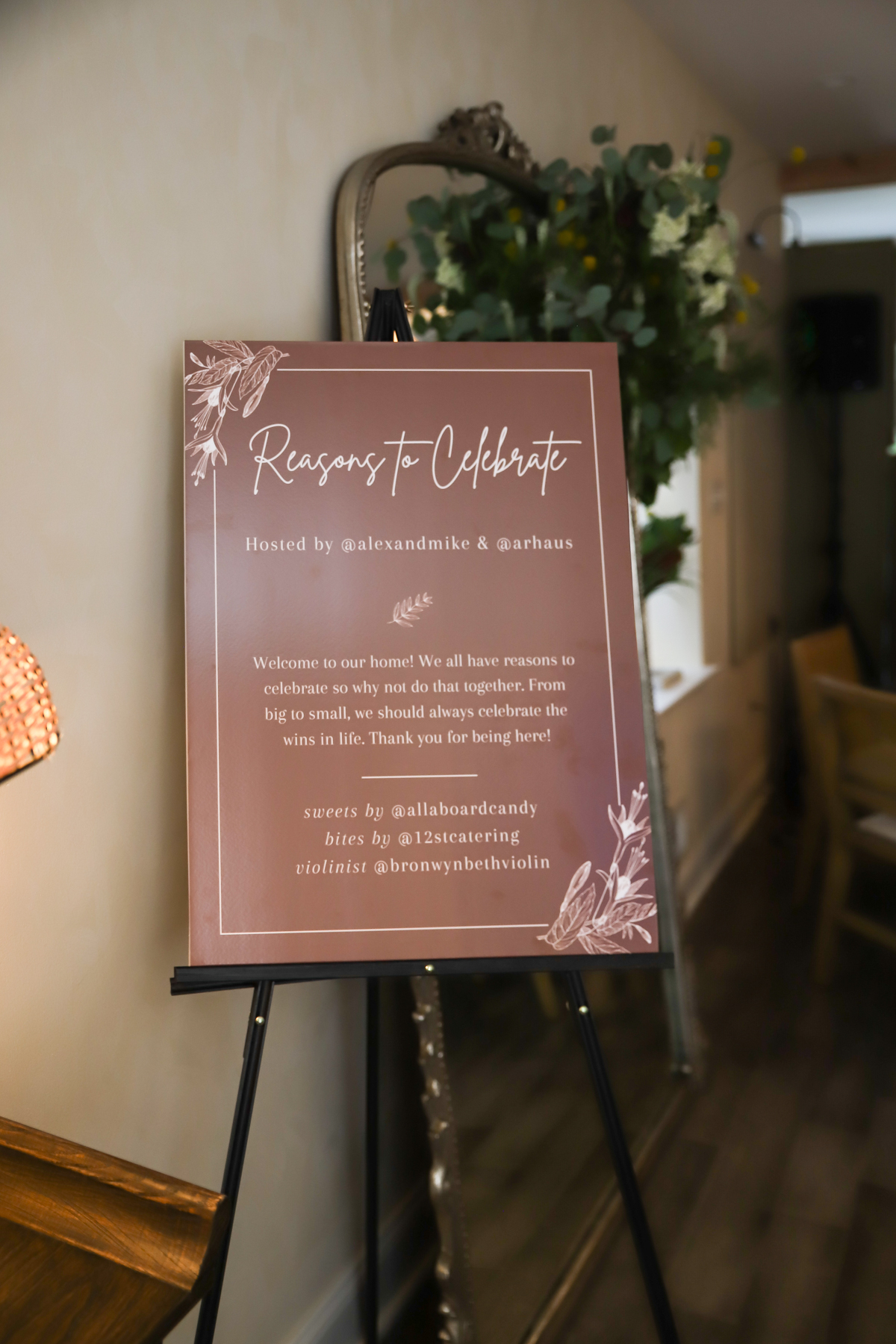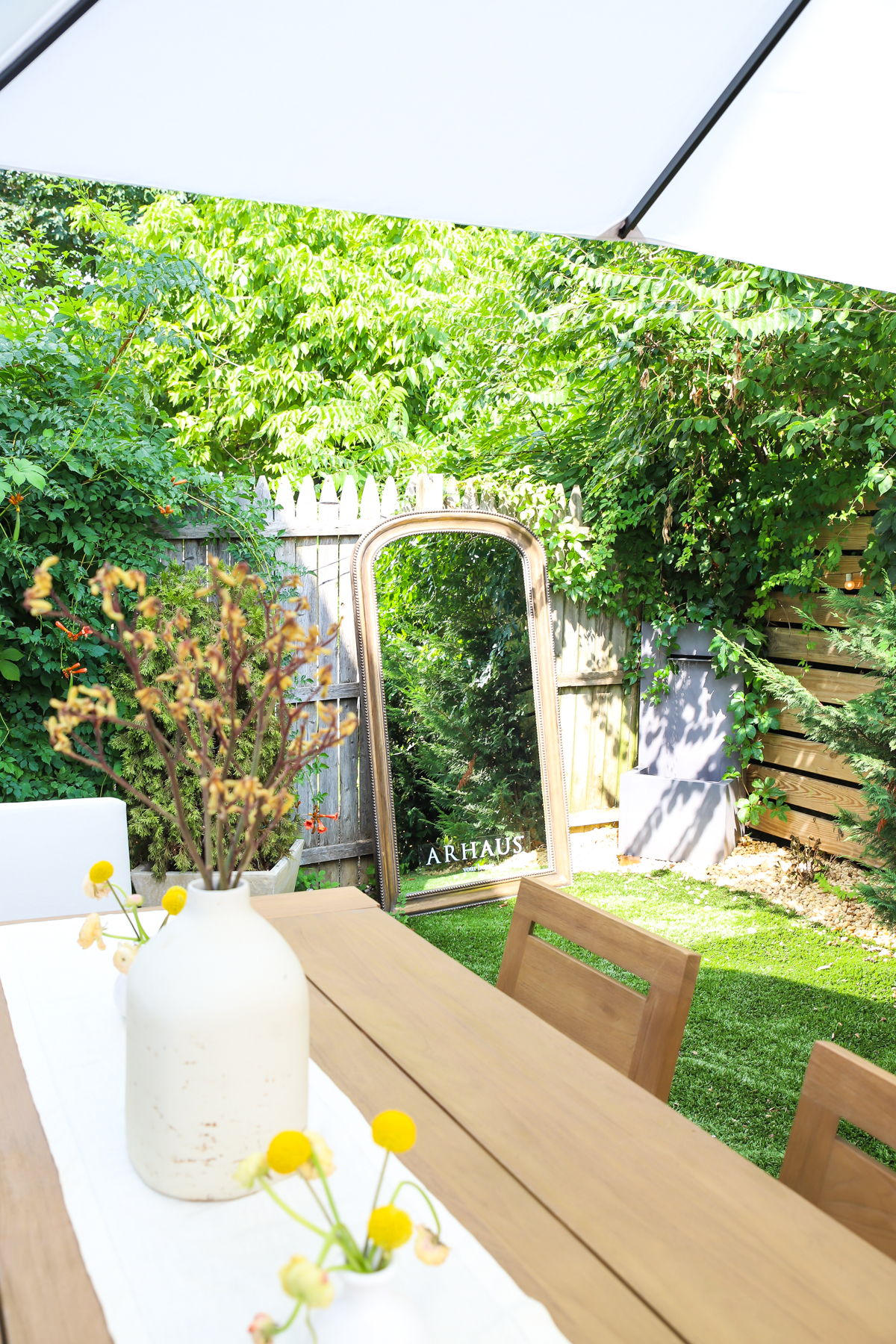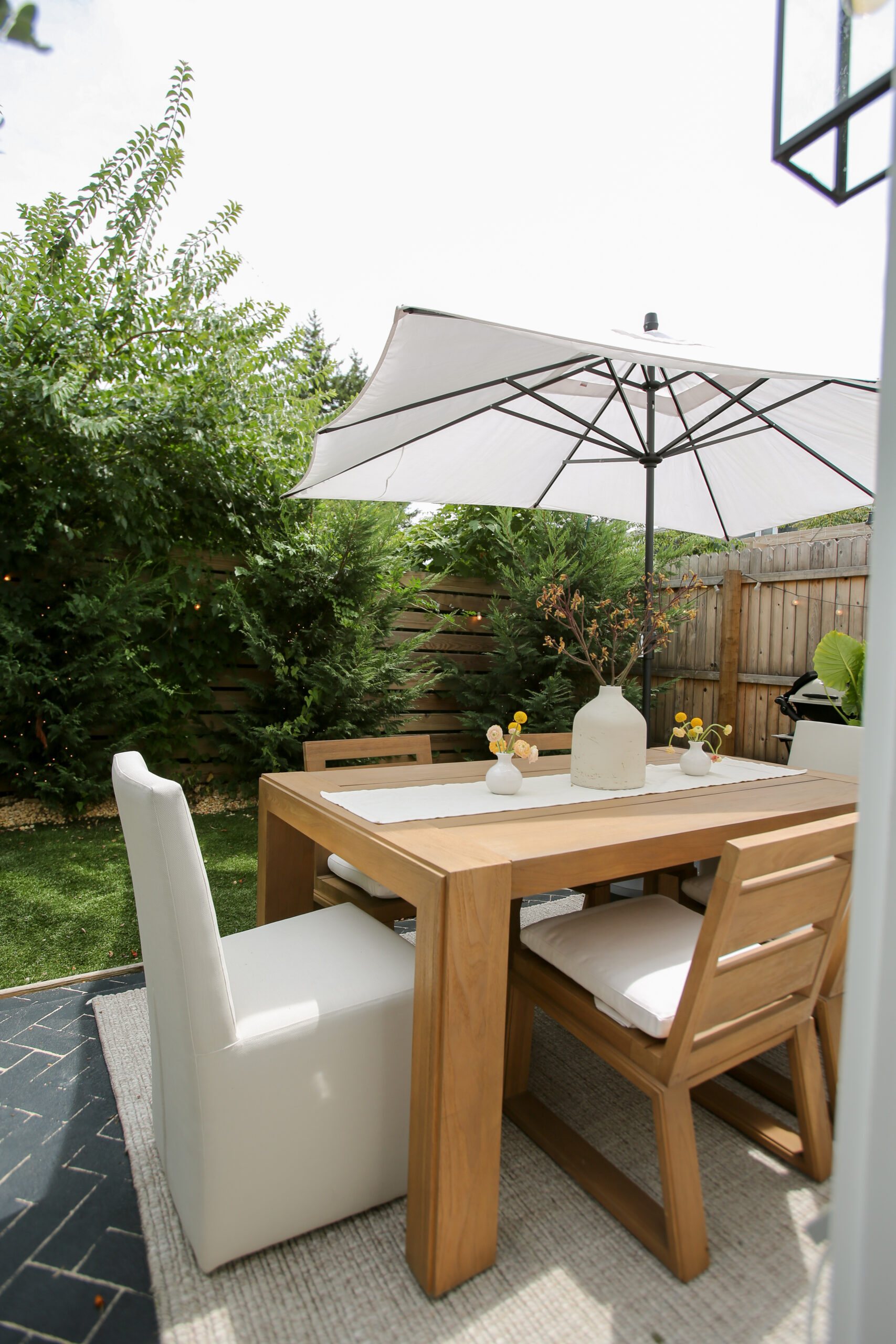 If you've been following along over on IG, you'll know the obstacles we've had to overcome to make this event come to life. But before we share all of that with you, let's take you back the beginning of why this event was happening in the first place. Back in June, we worked with Arhaus on a living room transformation. If you haven't check that out, we linked it here. We still pinch ourselves that our space looks like that. It was a dream partnership. Since then, we've continued to build a relationship with our Arhaus family. Once summer came around the corner, we had the opportunity to work together on a project — our backyard. We redesigned the space and planned an event to celebrate Pride Month. We worked so hard to think about every detail. Fast forward to the morning of the event, we were busy setting everything up when we heard the loudest bang outside our door. It truly sounded like something exploded. We all ran outside to see that a trash truck had barreled down the street without paying attention to the low hanging branch in front of our house. It crashed into the tree and uprooted it straight out of the ground. The tree then fell onto the power lines and hit a neighbor's house. When we tell you the shock on our faces! The entire neighborhood ran outside and started calling the police, electrical company, etc. Within 20 minutes, the street was shut down with emergency services. We all walked back into our houses to give them space. In our optimistic minds, we thought they would be able to get this fixed by the time the event was scheduled to begin. LOL to that thought. The next thing we knew there was a loud bang on our door.  It was the police evacuating us. We all ran out of our houses just as the transformer exploded. Everyone lost power and we didn't get back into our house for the rest of the day. Needless to say, we cancelled the event.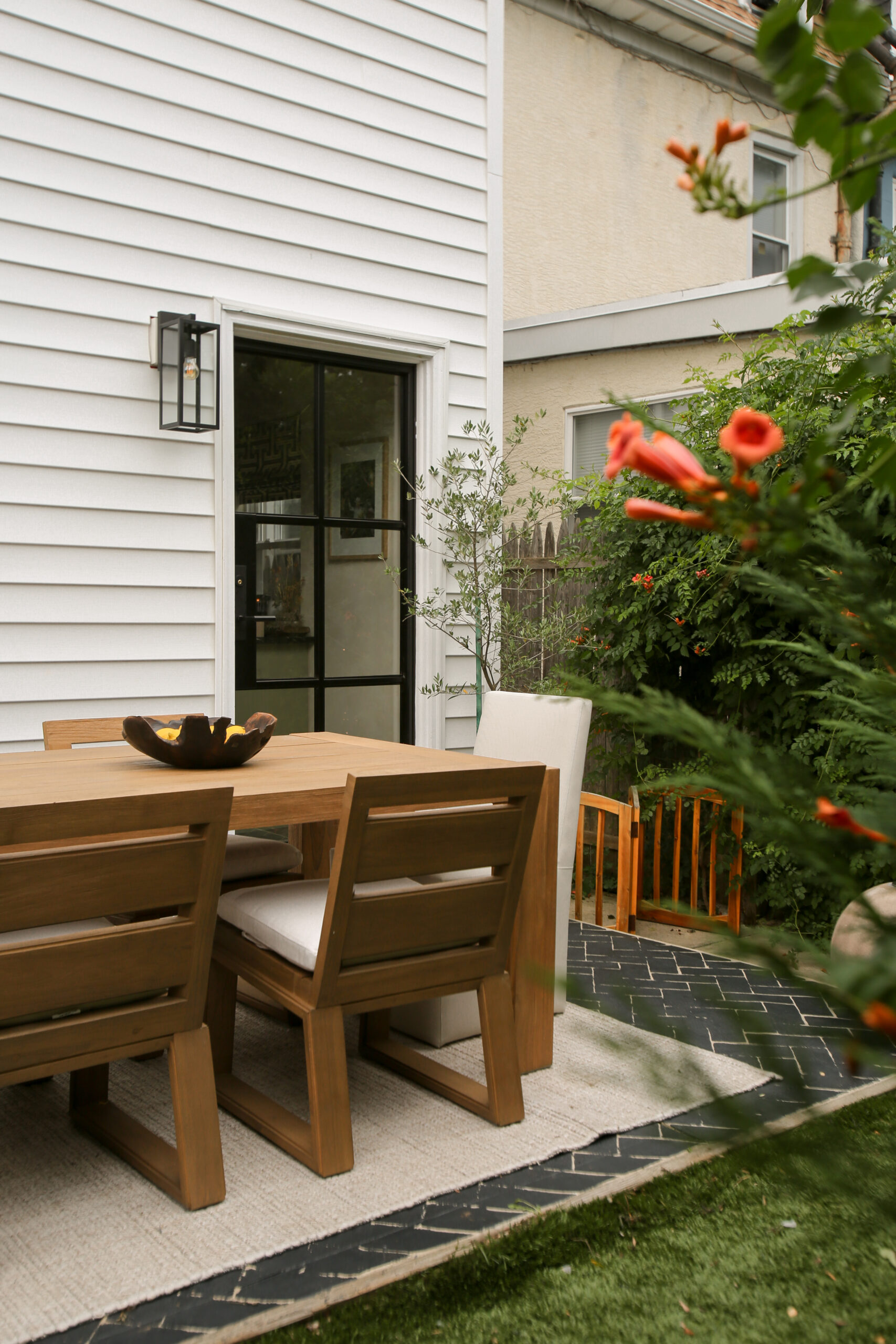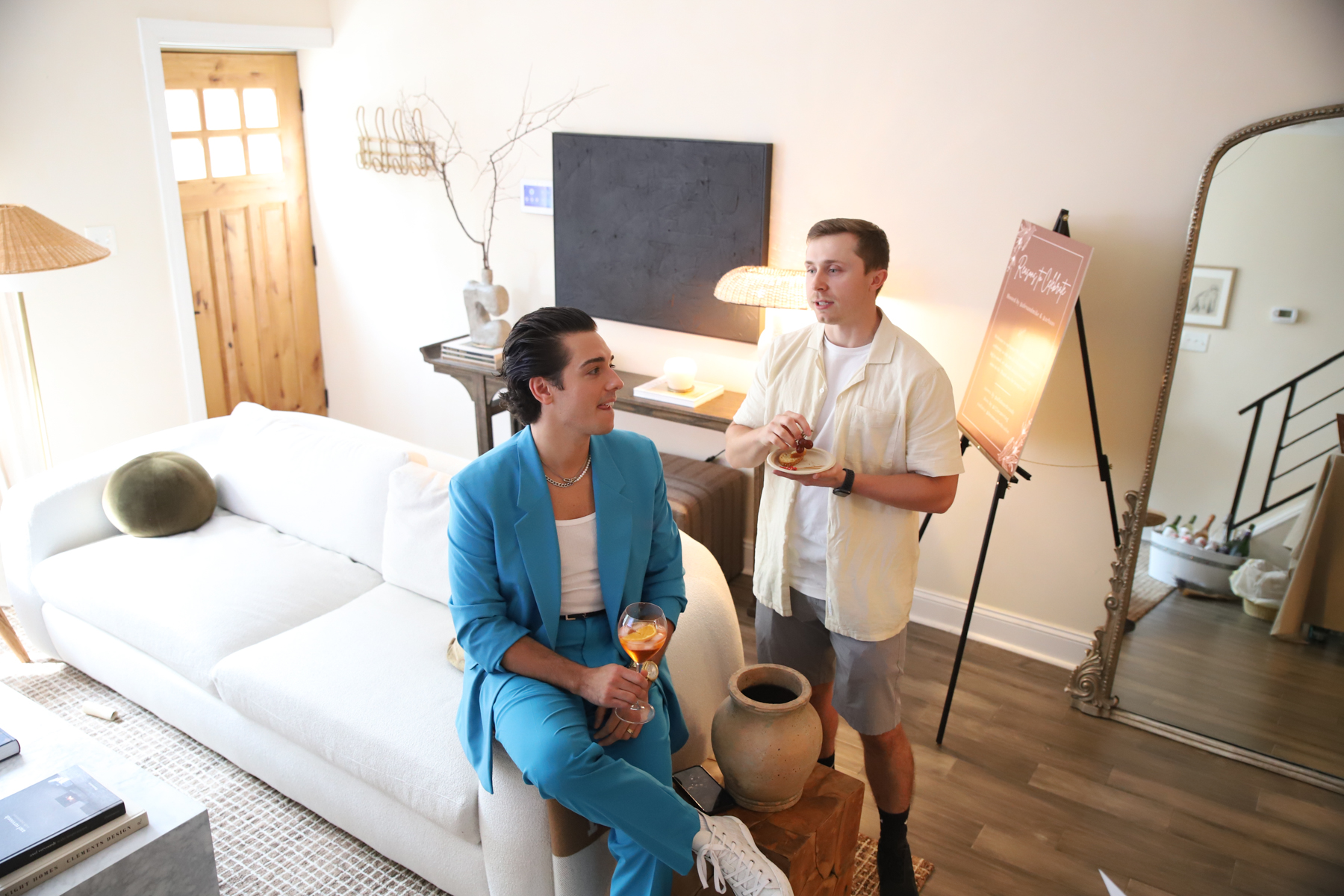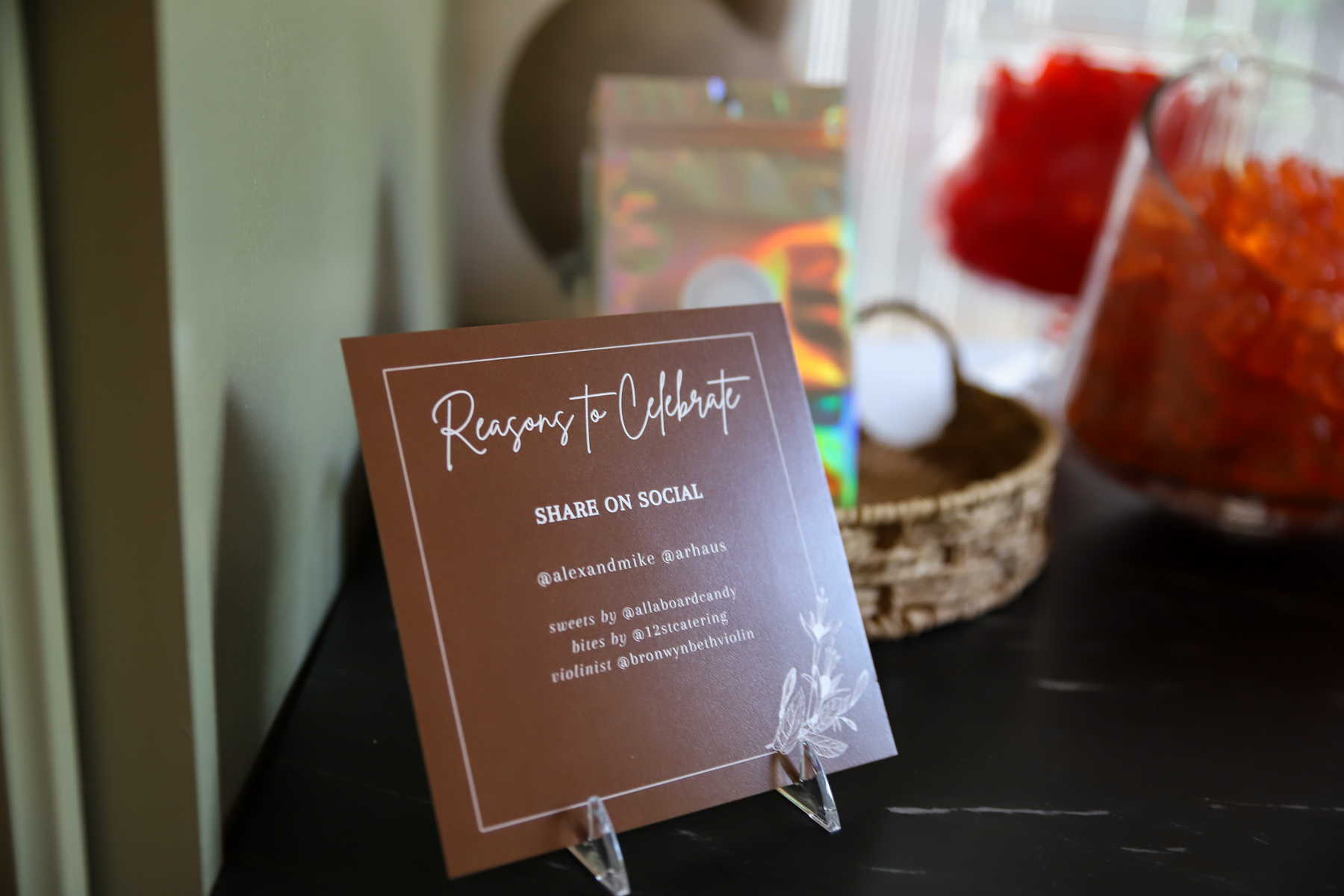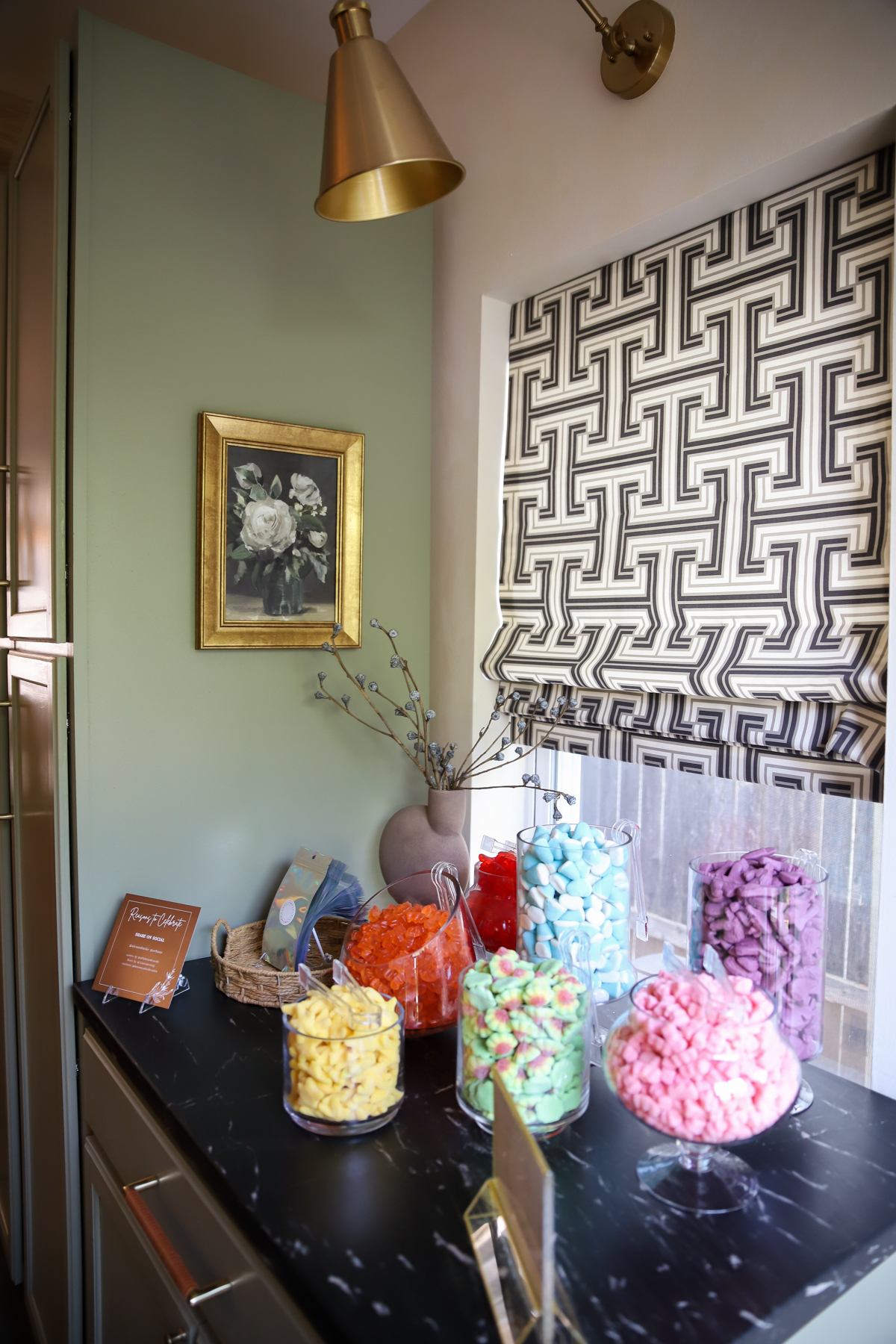 Fast forward to the next scheduled event date. A few days before, Alex tested positive for COVID. The universe was just messing with us at this point. Third time is the charm, right? This past week, we finally held the event. We did change up the theme seeing as how Pride Month had already passed. This time, it was called 'Reasons to Celebrate', fitting seeing as how just hosting this event was a celebration in itself.
Since the event was held at our home, we didn't want to invite a ton of people given the space. We had about 25 people total. For catering, we went with 12th Street Catering. The food was delicious! We were really happy with our choice. To make things a little more special, we hired a bartender to serve drinks. This was honestly the best decision. Not having to stress about getting everyone drinks the moment they walked in was so great. We served two signature cocktails along with wine and prosecco. For a sweet treat, we used All Aboard Candy. They set up the cutest candy bar for our guests. All of this was great but we wanted to surprise everyone with something super special. We brainstormed on what could make this event even better and landed on a violinist. You know the motto — make every moment an experience. Everyone was obsessed! We hired Bronwyn Beth — on IG she's @bronwynbethviolin. When she asked for the vibe, we said pop/Bridgerton — she nailed it. We're already thinking of other events we can host with her. So much fun! Also, shout-out to our friend Briana of In Between Rivers for capturing the event!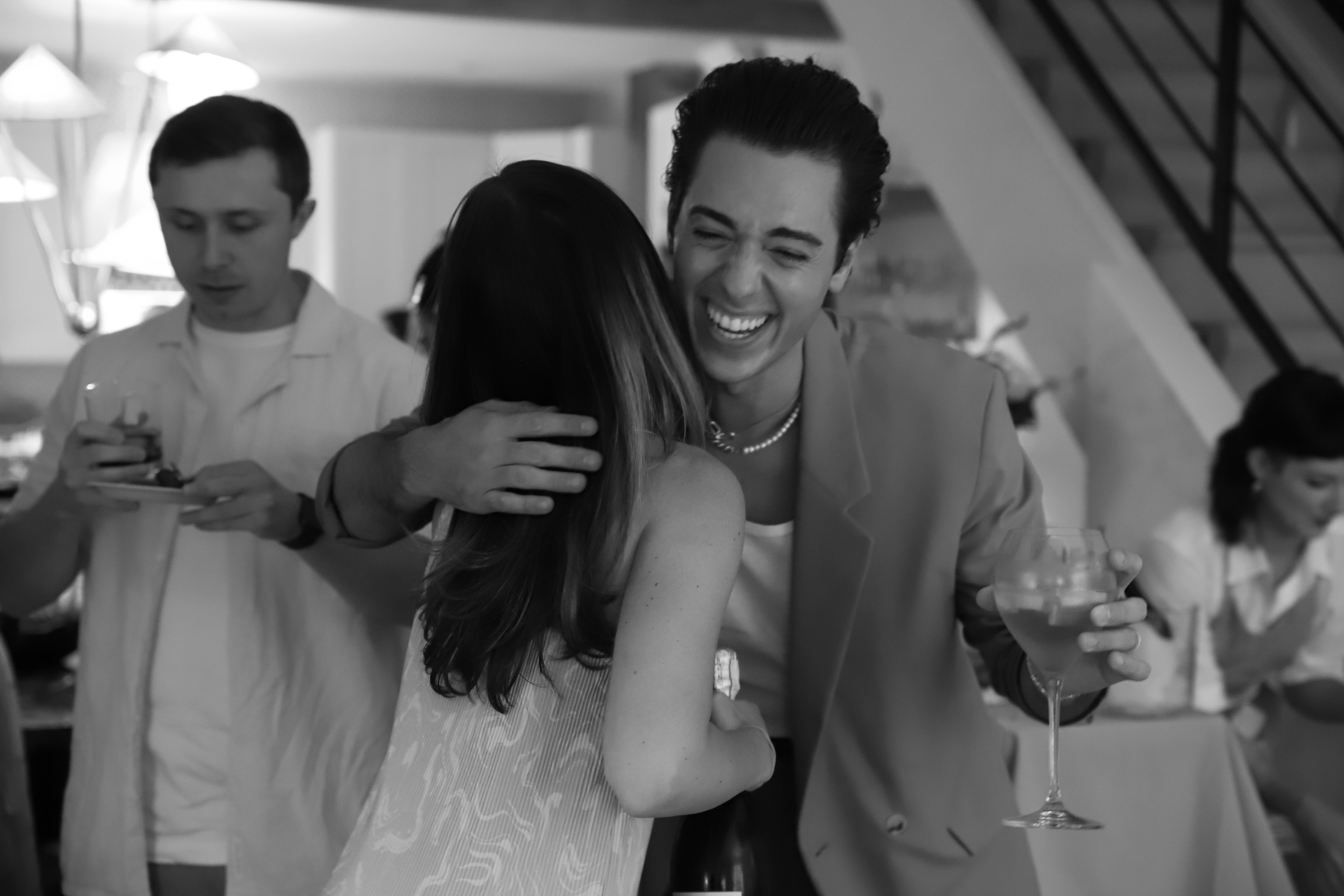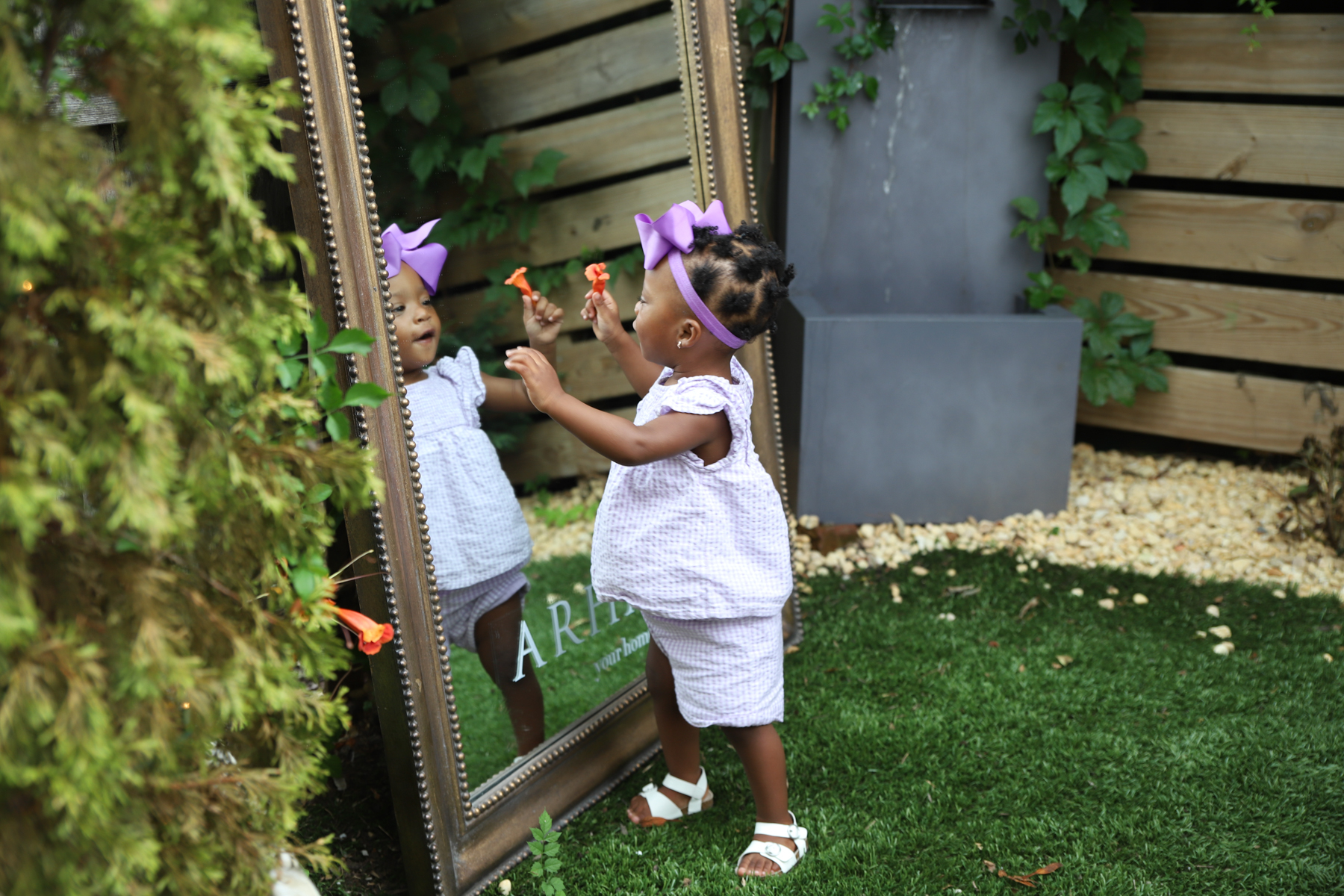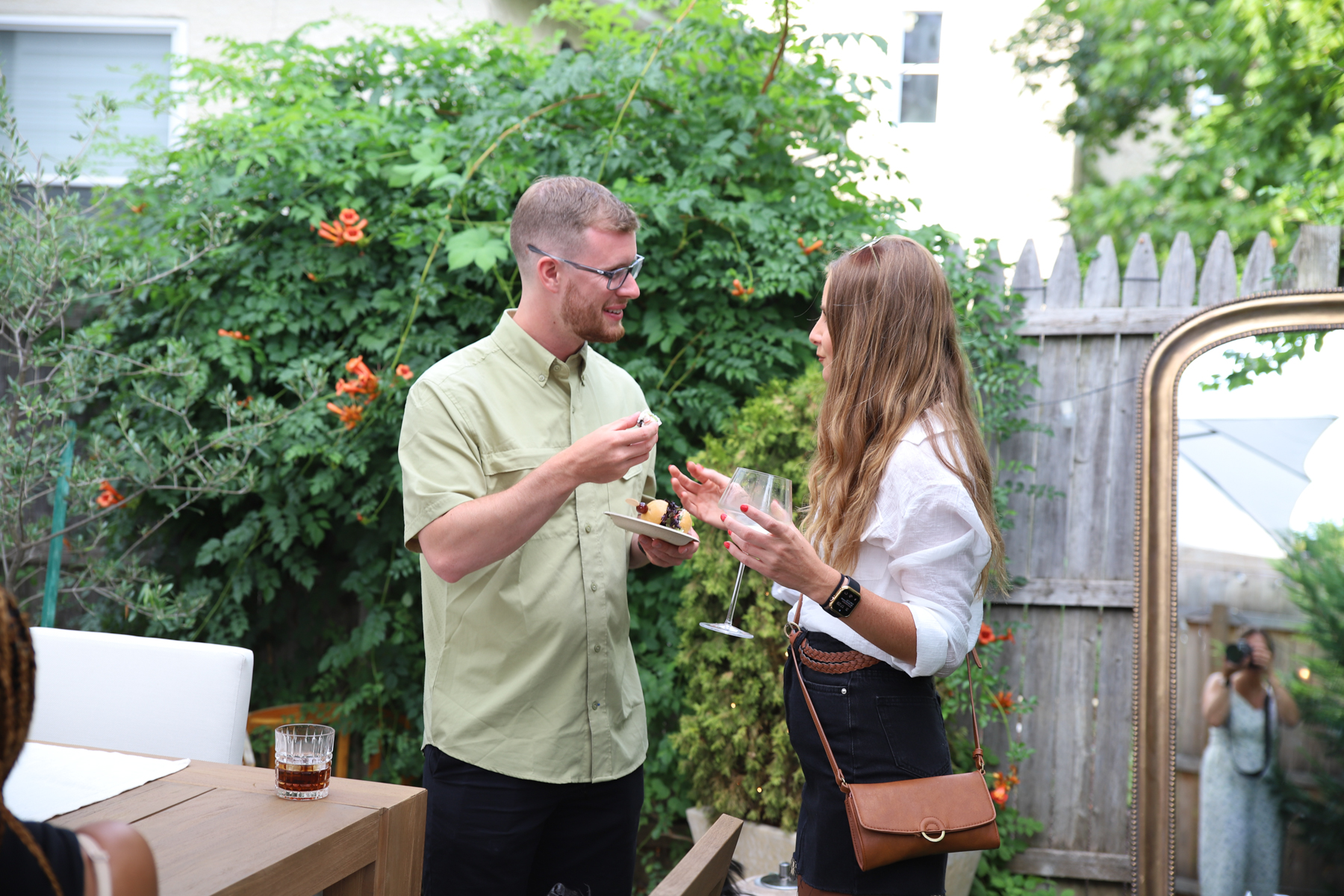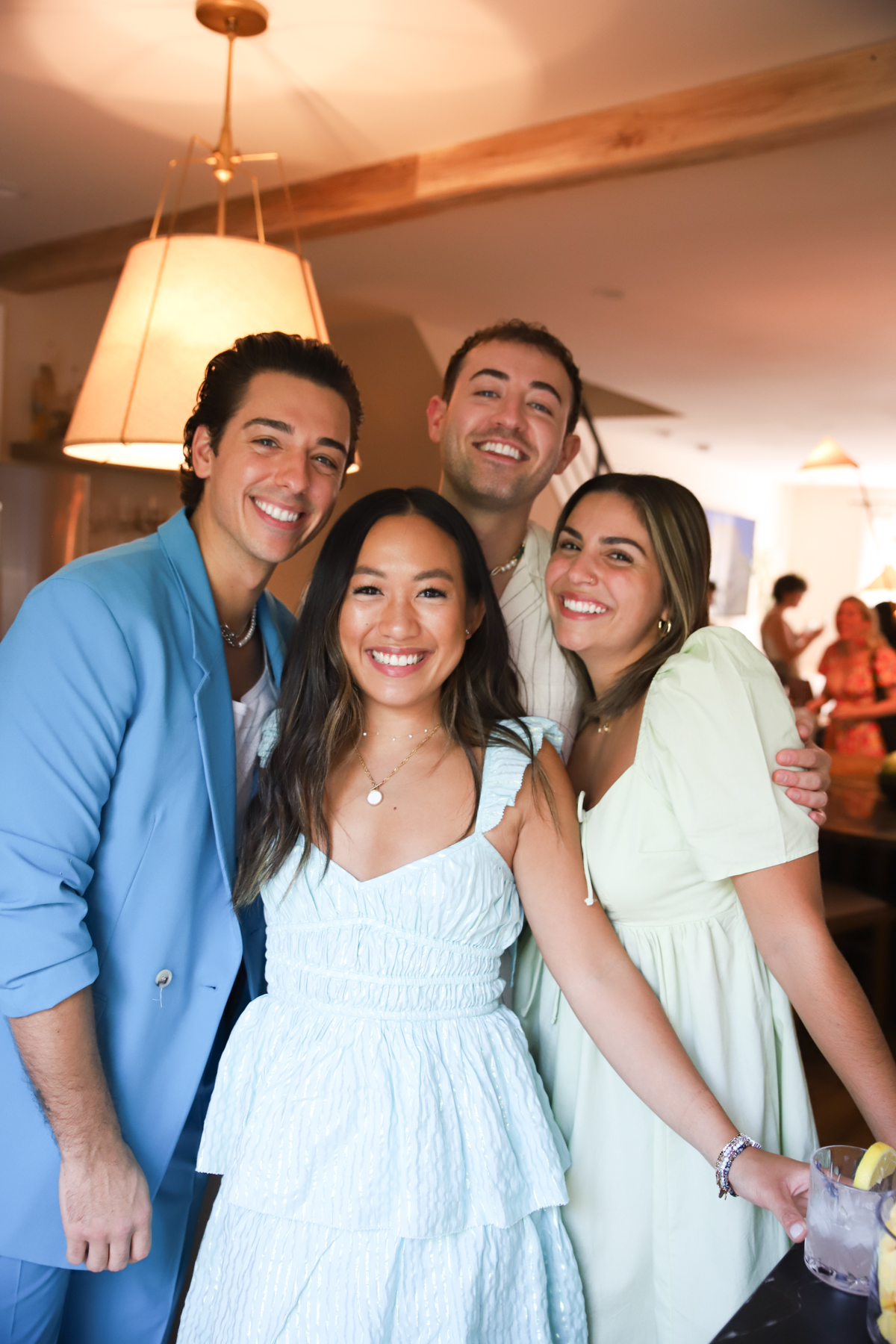 Overall, the event was a success. We had the best time bringing together friends and celebrating everything in life. It feels so good to put smiles on the faces of those we love. It made all the cancelations and obstacles worth it. Of course, we couldn't have done any of this without our Arhaus family. We love you guys!