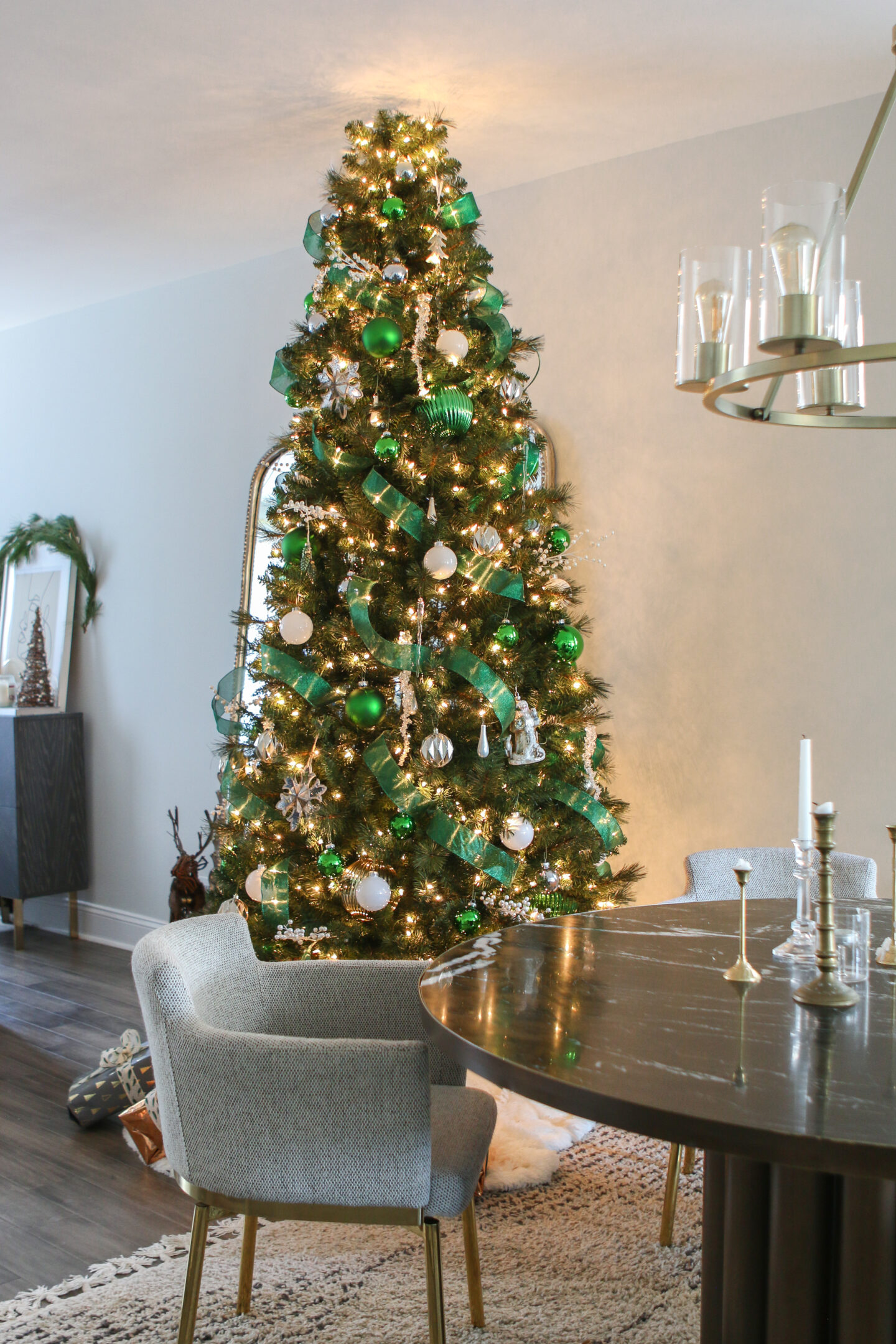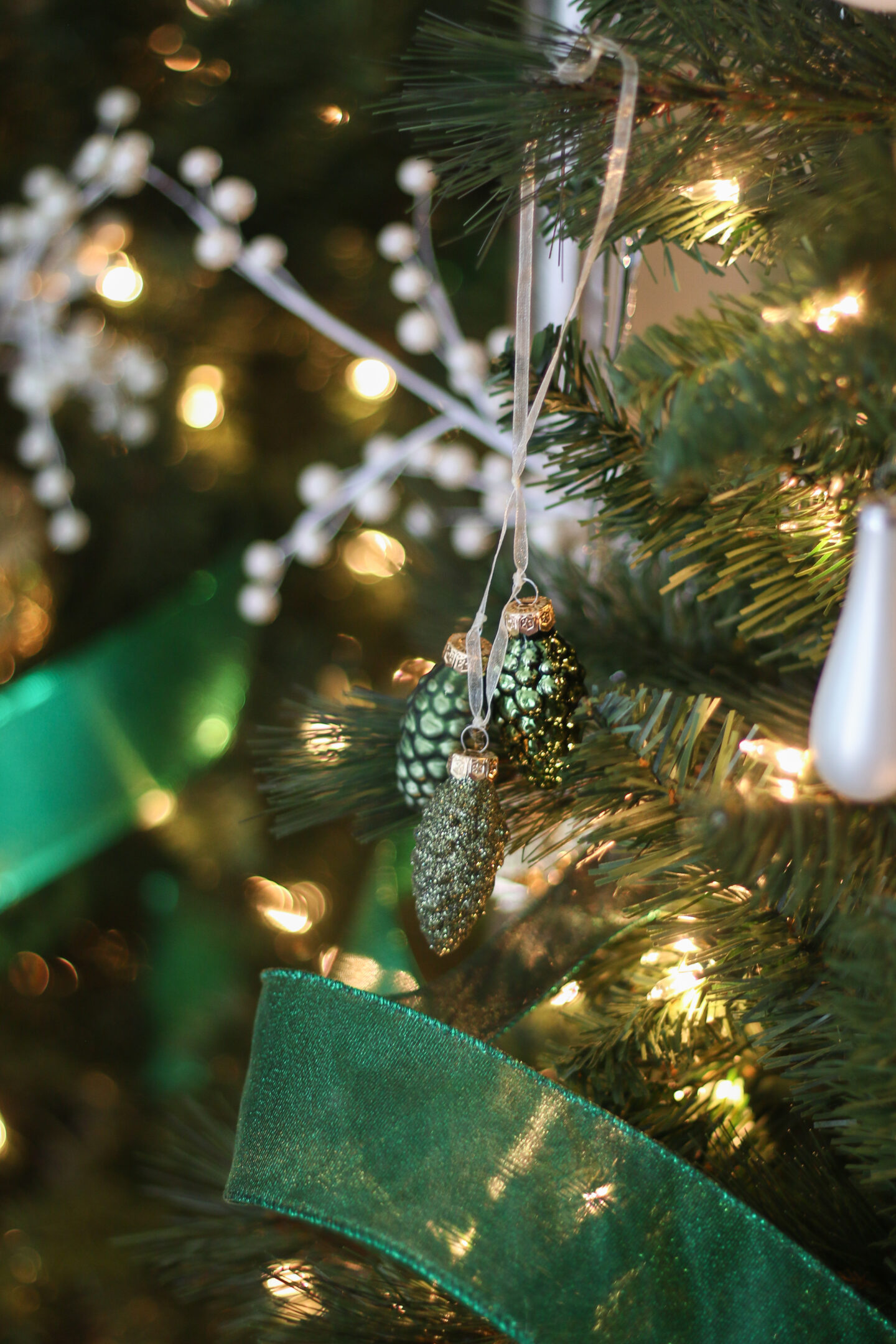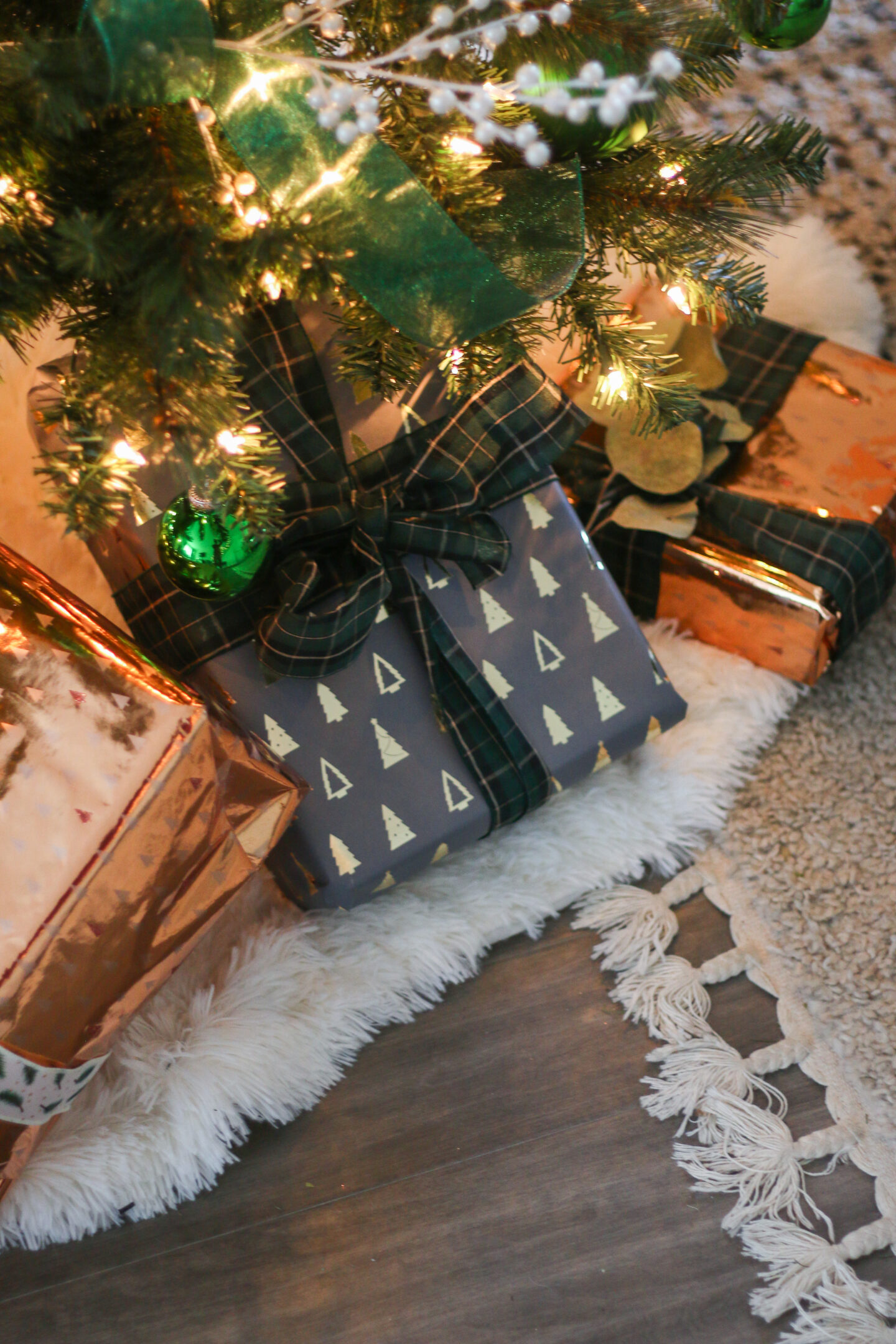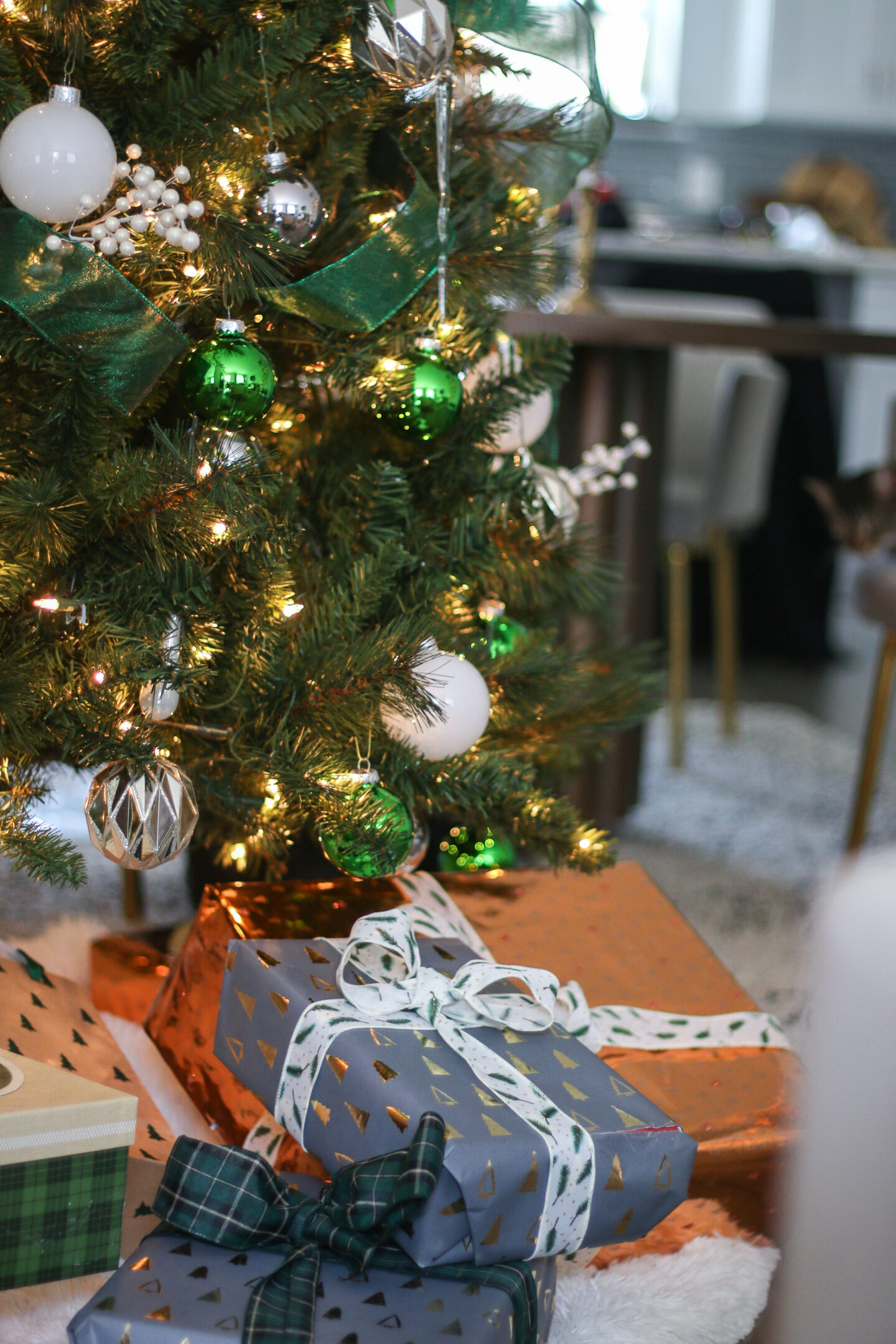 It's finally time to reveal this year's Christmas tree theme. Last year, it was all about peppermint. But this year, we're all about the green — emerald to be specific. We thought long and hard about the vibe we wanted this year. You know how seriously we take the holidays lol. After going back and forth, we knew emerald was the vibe we wanted. We also like to be super extra and name our themes each year. We decided on "Enchanted in Emerald" for the theme name. We think it fits the vibe of the tree. Just one more excuse for the holidays to be extra and over the top.
The first thing we dealt with this year was buying a new tree. We've used the same tree for the past few years, but somehow we lost a few of the pieces during the move. So we were forced to buy a new one this year. Though we weren't mad about it since it allowed us to upgrade. We have pretty high ceilings in our new house so we were stuck between the 7-foot and 9-foot tree. We knew the 9-foot tree was going to be cutting it suuuuper close. We also knew we would probably have to sacrifice the tree topper but we figured we would give it a try. Well, we JUST made it. We literally had to bend the top of the tree a little to make it fit. But it looks great in the space and creates a grand feel. The 7-foot tree would have been too small so we're glad we went with this size.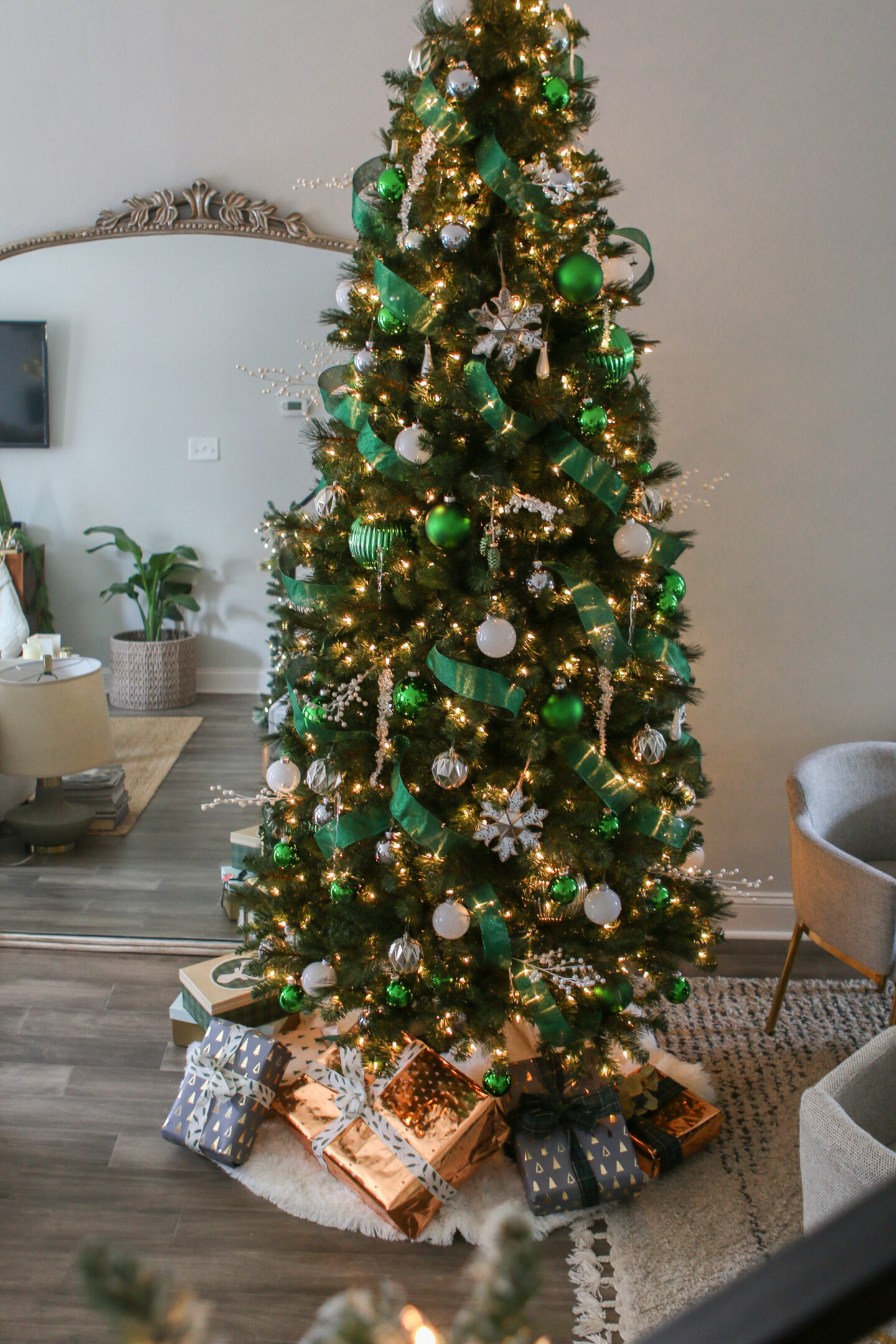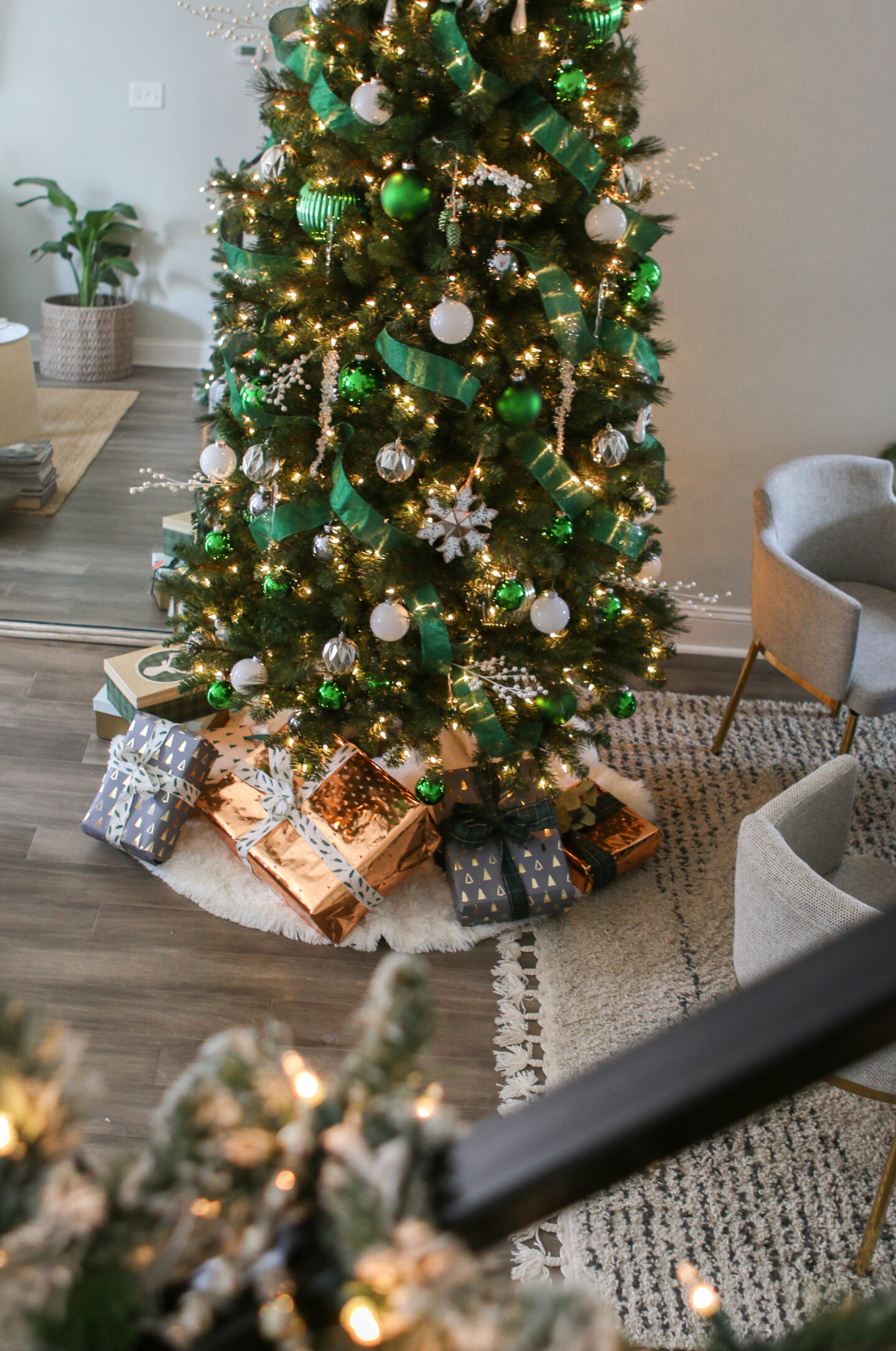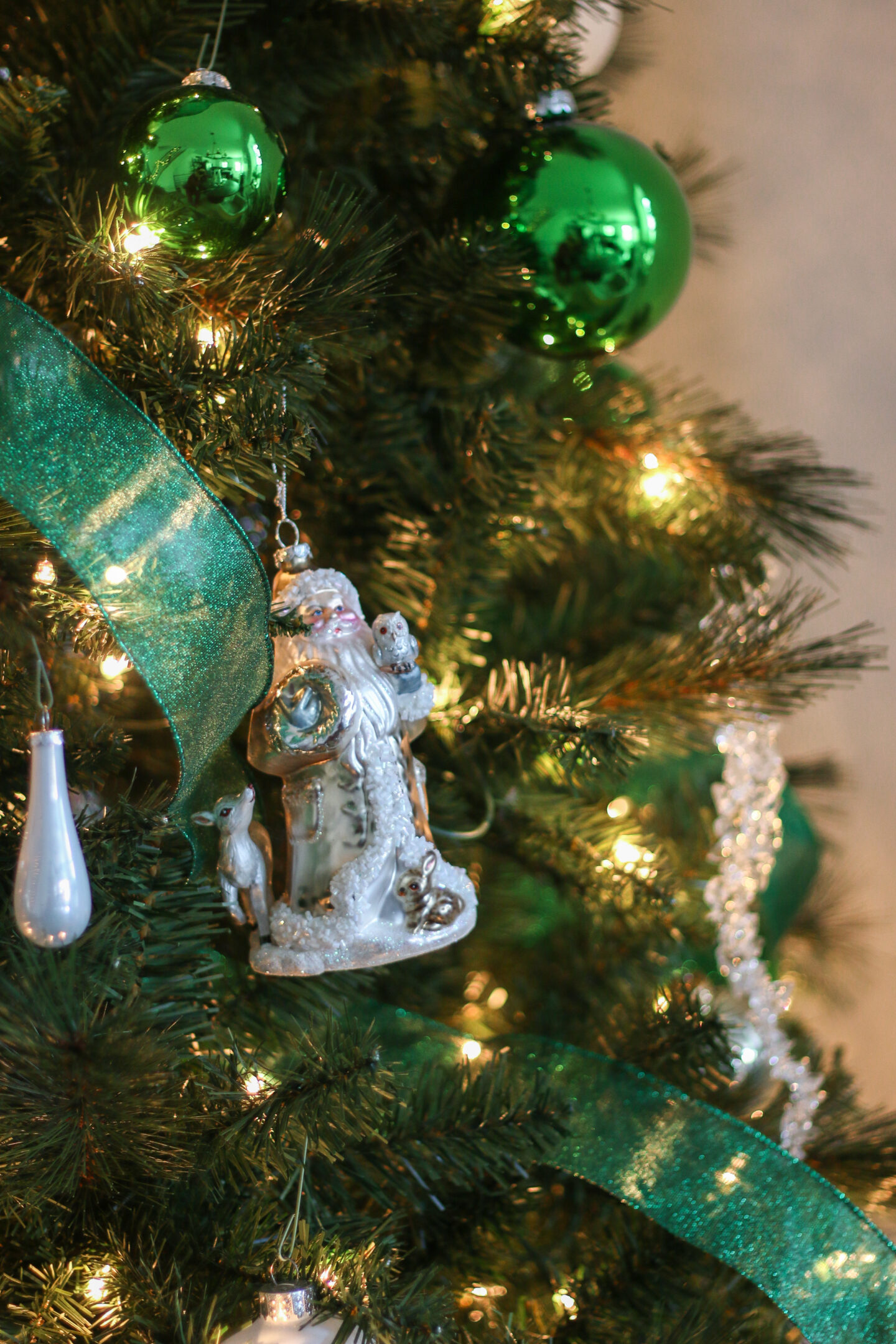 Back to the theme. We've been so inspired by the many shades of green lately. From style to home decor, we are really feeling this color right now. It was only fitting that we brought it into the holiday theme this year. We primarily used emerald and then sprinkled in some filler colors to prevent the green from being overwhelming. For filler pieces, we used white ornaments, silver ornaments, and clear icicles. We also used green ribbon and white decorative picks. This is actually the first year we've used ribbon on a tree. We wanted the ribbon to look like it was effortlessly flowing through the tree. We're really happy with how it turned out. But you do need to use the ribbon first when decorating. It's much harder to try to wrap ribbon through ornaments. You should also start with the accent colors first and then come in with the main color. This helps prevent the main color from being overwhelming. As for shopping for ornaments, we always visit Target, HomeGoods, Christmas Tree Shops, West Elm, CB2, Pottery Barn, Crate & Barrel…the list goes on and on.
Obviously, we don't have the tree topper since we decided on the taller tree. But we honestly don't mind it. The tree is already really busy so the tree topper might have put things over the edge. It all worked out really well. As for the bottom of the tree, we went with a white faux fur skirt. We wanted to keep it super simple. We also added a few wrapped gifts. Fun fact: we literally use empty boxes and just wrap them up. We always choose wrapping paper that compliments the theme. This makes the tree look fuller and more put together. It's so funny when friends come over and think we already have gifts piling up.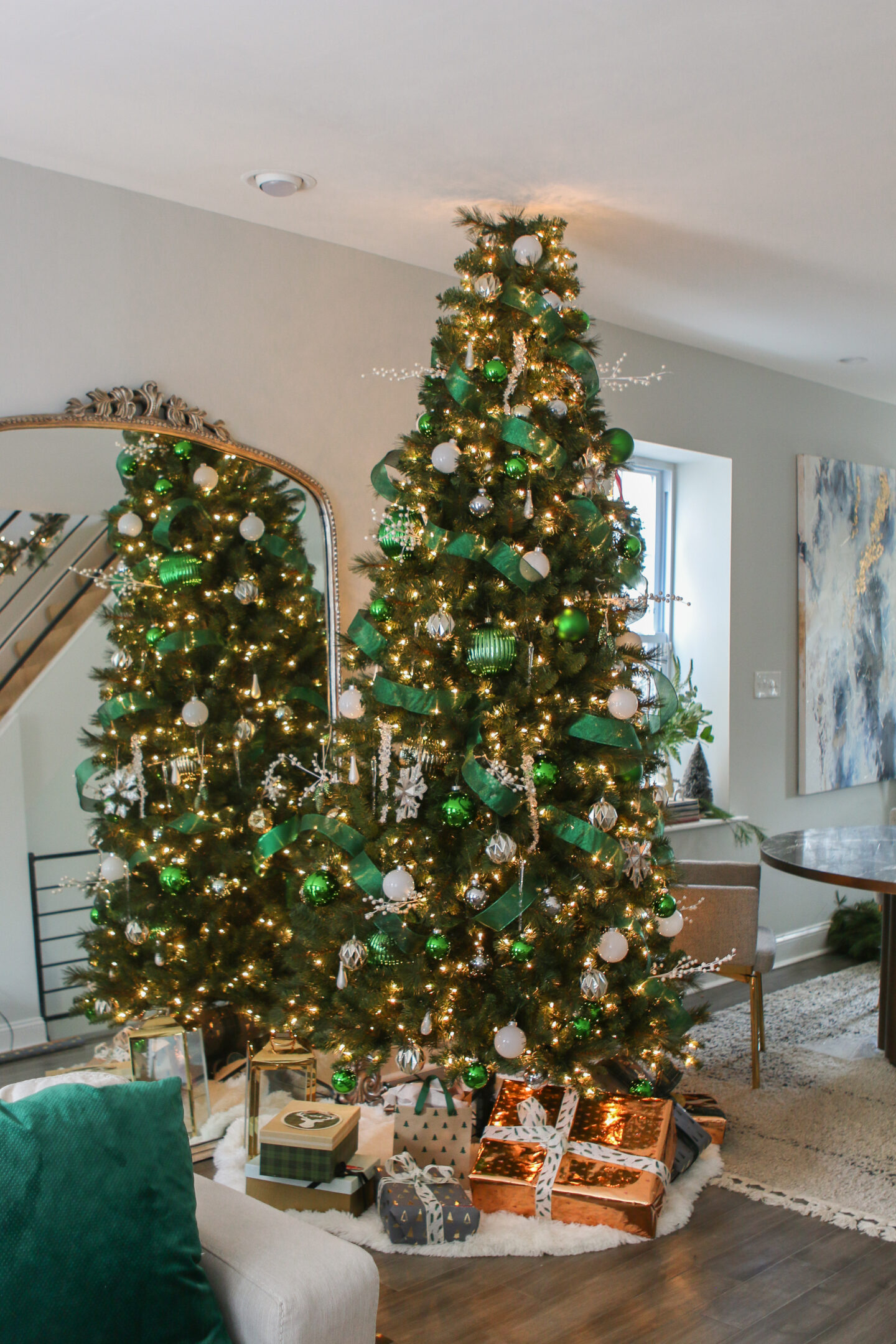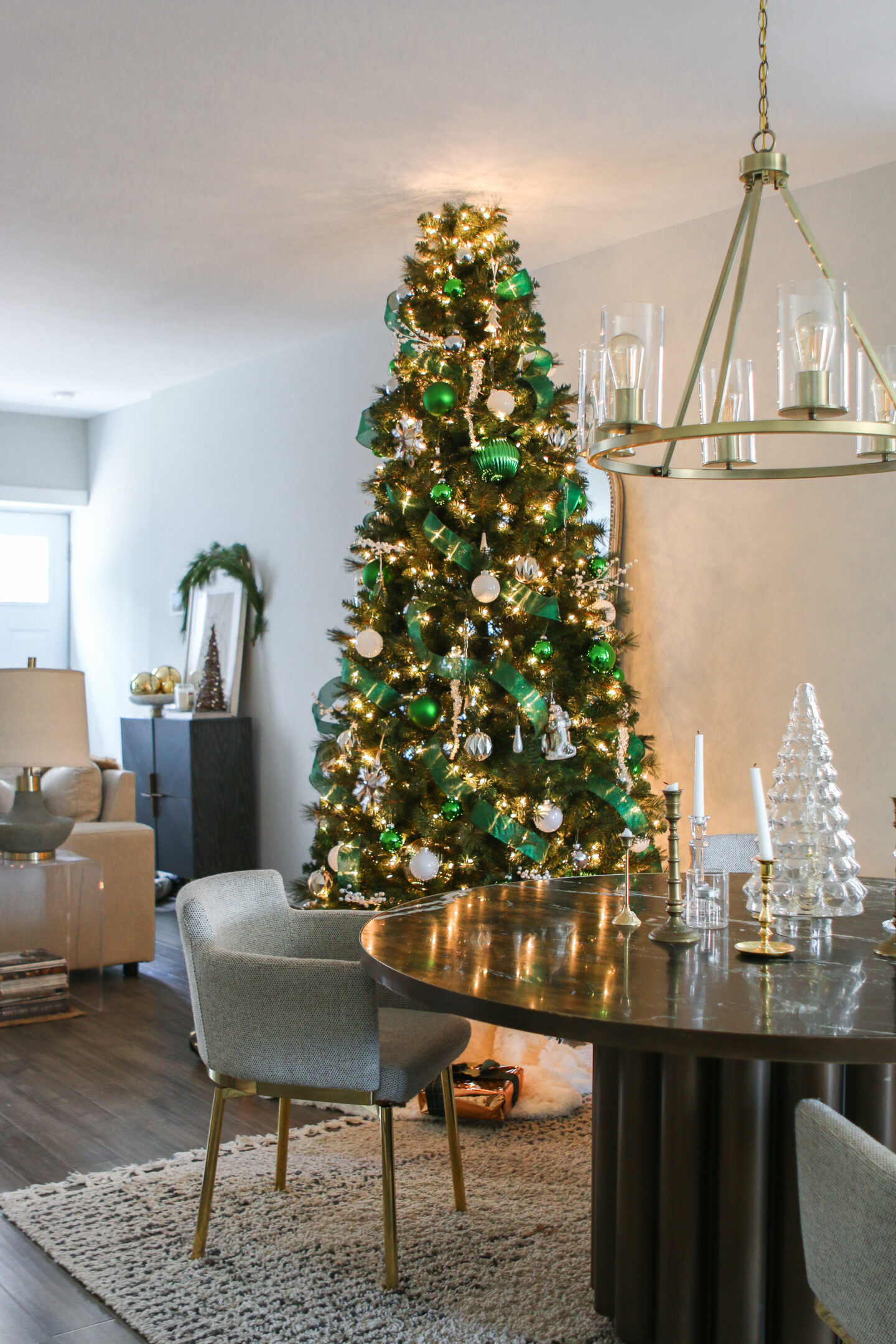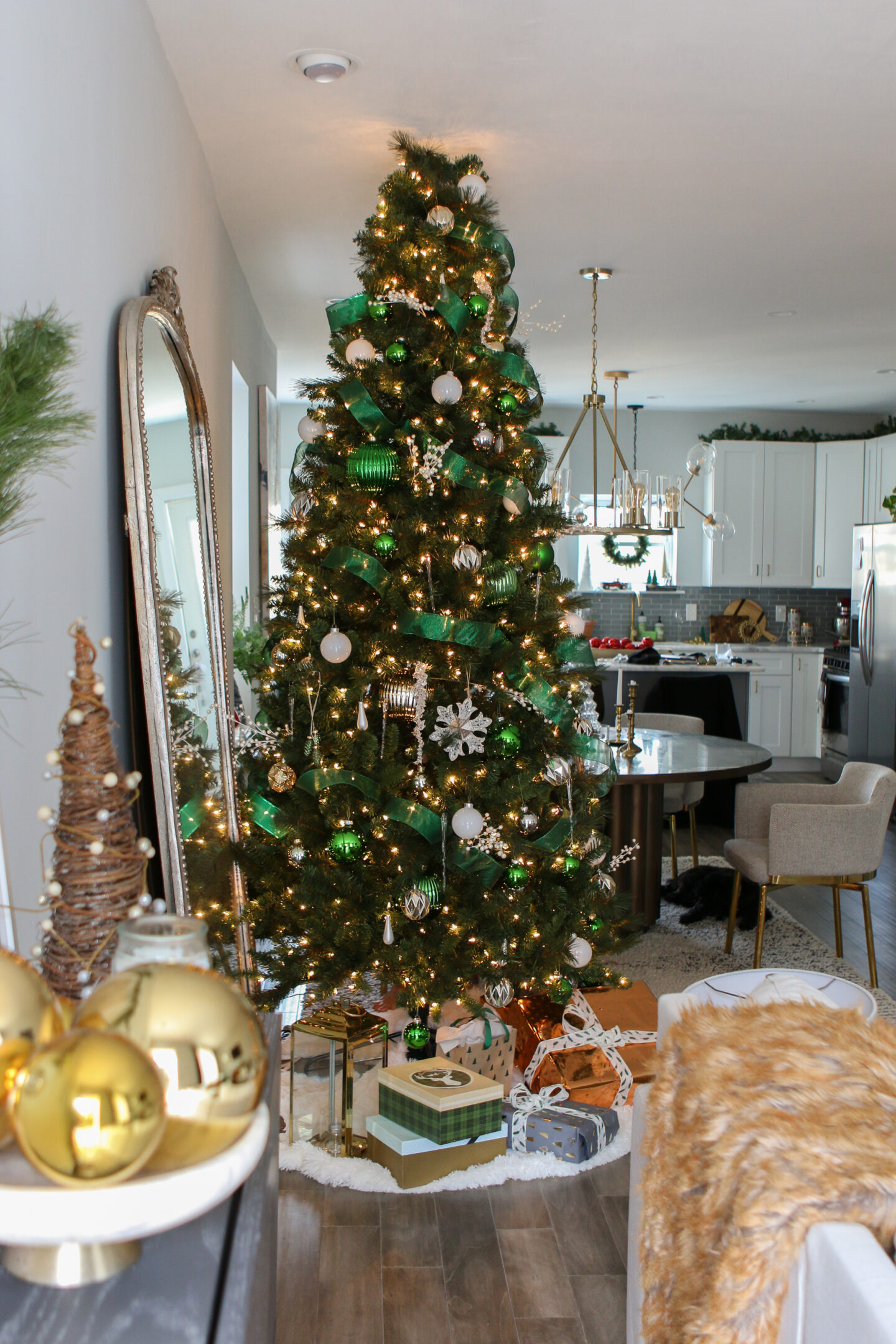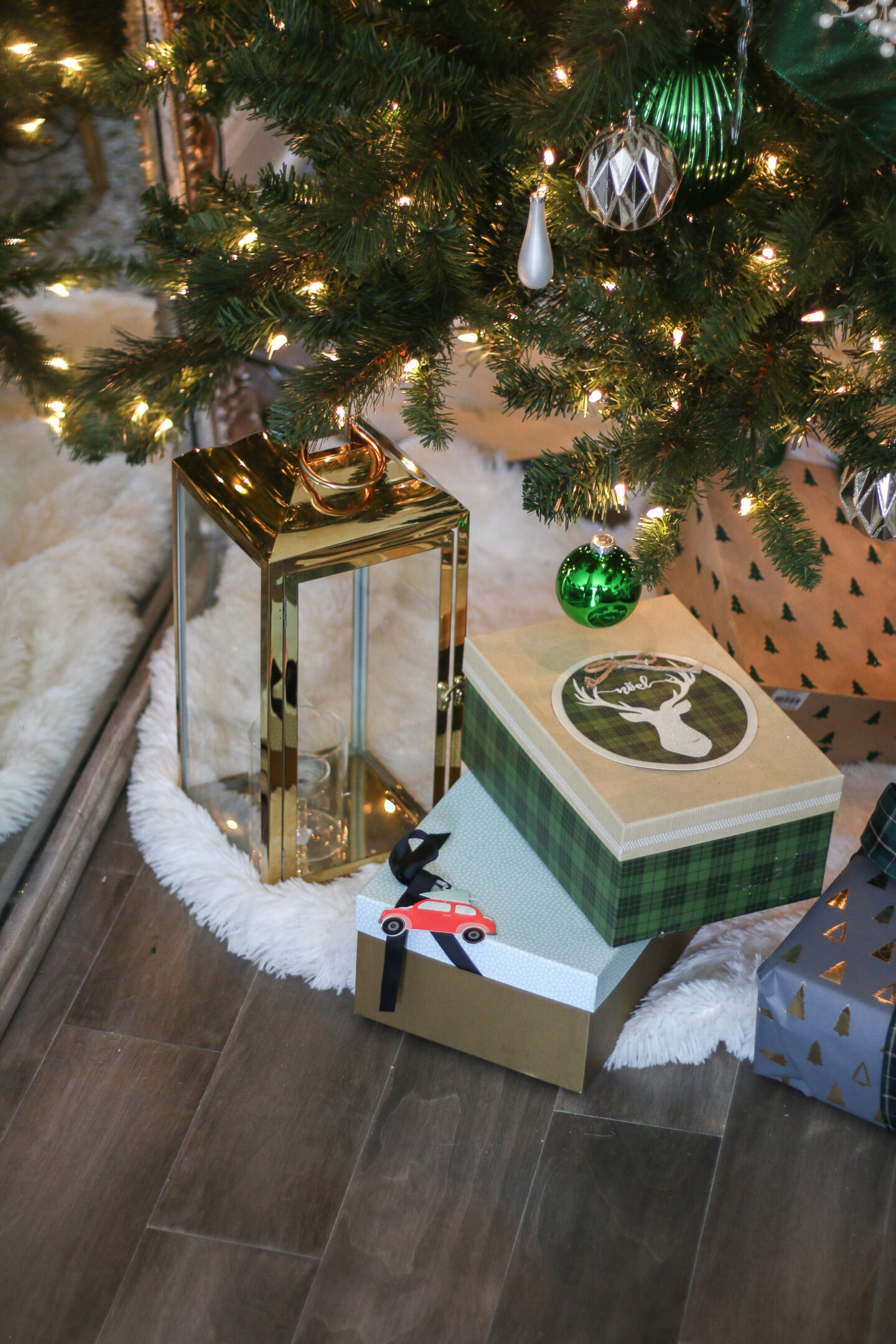 So there you have it — this year's Christmas tree theme. What do you think?? Are you enchanted in emerald?? Let us know! Until next time…