We're still in shock that we're in the November issue of Philly Mag. It's a pretty surreal moment for us. We sat down with the Philly Mag team at the newly opened Fashion District in the city. For those of you who don't live in Philly, Fashion District is a new shopping destination in the middle of the city. It has totally transformed that area into a destination for shopping, dining, and so much more. Keep scrolling to read our interview with Philly Mag!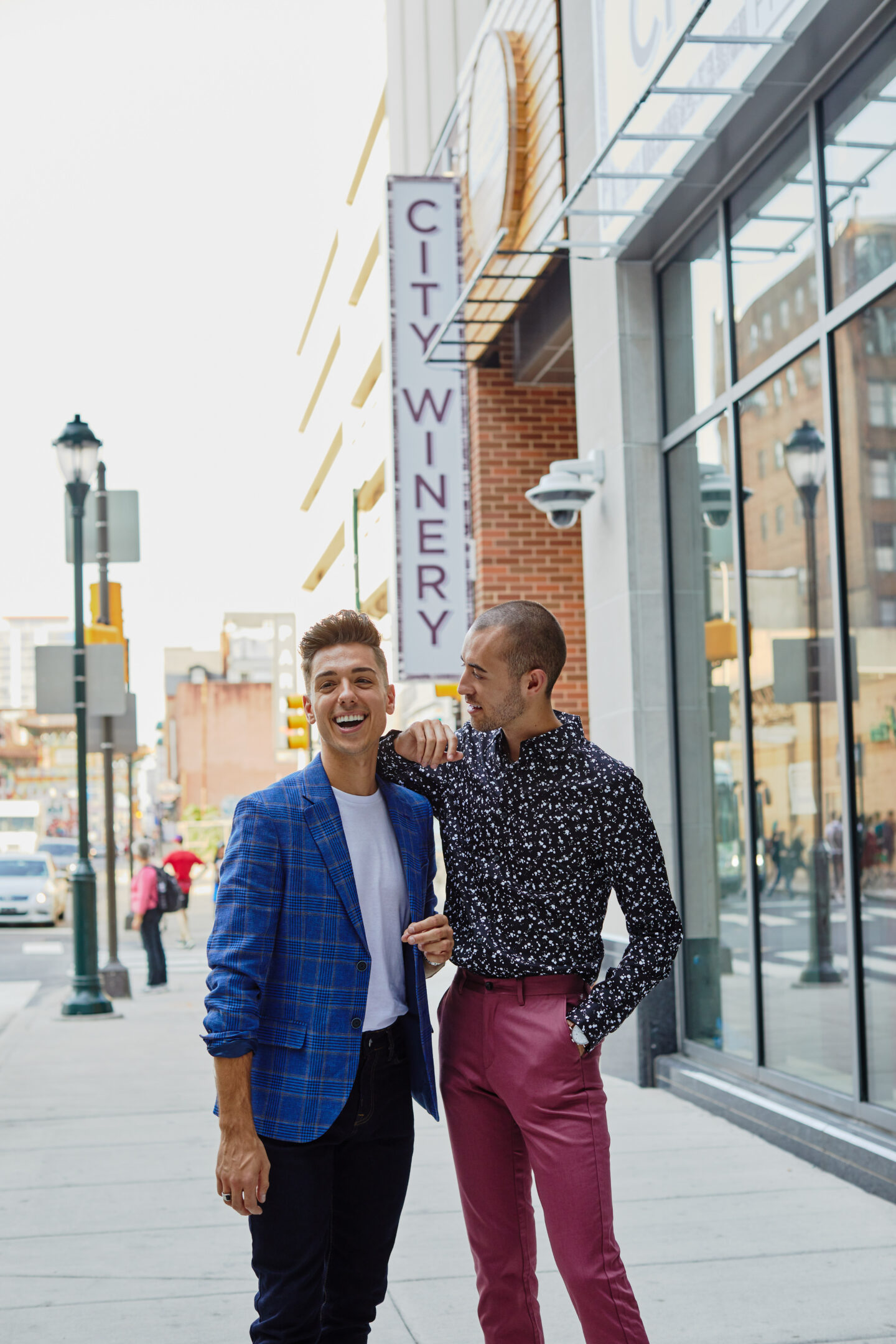 ---
When Philly couple Alex Nelson and Mike Rubino started their blog in 2015, they were simply looking for a creative outlet and a way to spend more intentional time together rather than vegging on the couch or going out. They certainly didn't anticipate what it would turn into: a robust business, more than 17,000 Instagram followers @alexandmike, and a community of readers who tune in daily for their advice on fashion, home décor, skincare, food and more. While they still love their day jobs—Mike works nights as a nurse and Alex works a more traditional 9-to-5 in real estate—they haven't looked back.
Decked head-to-toe in Century 21 looks from Fashion District, Alex and Mike give us a peek into their daily life together as creative entrepreneurs.
We met… in college six years ago. We were both health sciences majors.
On days off… we love to go to the movies and have wine nights with friends or just each other. We're excited to have City Winery right in the city now—so far it looks like they have a great selection.
We don't… follow every single trend. We're not going to put something on just because it's popping up all over. We keep it simple!
Philadelphia… is very eclectic and exciting. People act and dress in the most wild of ways. Fashion here feels less homogenous than some other parts of the state and country.
Philly men… could elevate their style. Just incorporate slim, well-fitted denim, a good bomber or leather jacket, and a cool pair of shoes. There are so many shoe options beyond sneakers!
Fashion District… is elevating this whole area and making shopping more accessible in general in Philly. This is truly a destination now, and it's so cool that we have this now in the middle of the city.
Balance… means putting the phone down sometimes. When we go out to eat, we spend the first few minutes taking pictures for the blog and then put our phones away to just really connect and enjoy each other's company.
Our dream… is to one day own skincare and home décor lines. You hear that, Target?