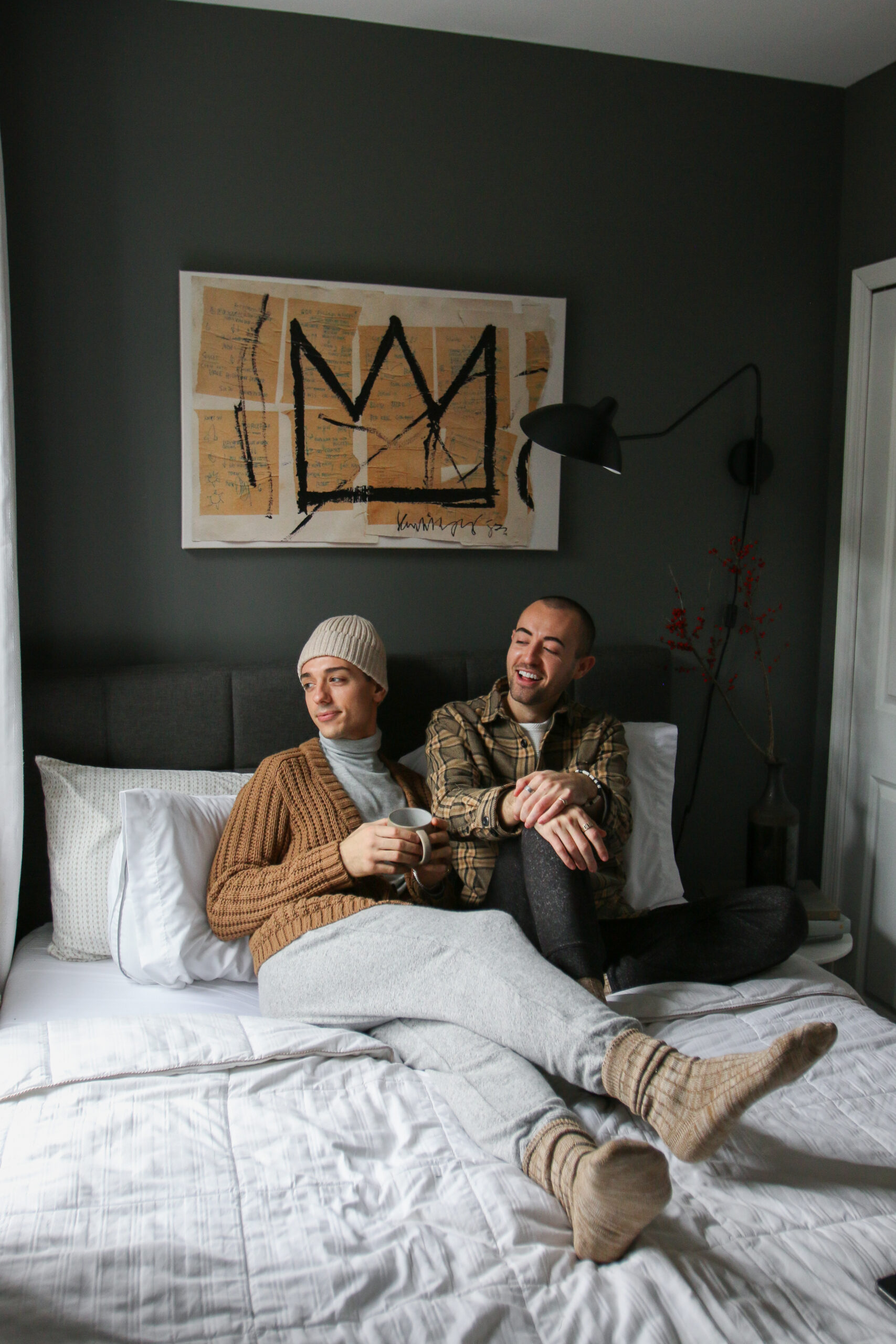 2020 has been an intense year. It's almost impossible to sum up this year in one shot. We've been through an intense election, a pandemic (still happening..), mass loss — the list goes on and on. It's almost unbelievable when you take a moment to step back and really think about it all. Personally, we've learned a lot about ourselves. That's what we want to focus on in today's post. What we've learned about ourselves this year, what we're taking with us into 2021, and what we're leaving behind.
This year has presented challenges we never thought we would face. Some of which we couldn't have even made up in our wildest nightmares. March 13th will always stick with us as the day it all changed. We distinctly remember that day. Rushing to the grocery store, stocking up, and preparing for a possible lockdown. Even as we write this, it sounds like a horror movie. We never thought we would be forced to stay home for months at a time  — only leaving for food and our daily walk with Toby. At first, it was great spending so much time together. We had never slowed down like that before. We were able to reconnect and be present. But then things changed. We both started to hit a wall. It seemed like the weight of the world started to push down on us. Would this ever end? What happens next? It was just too much for one person to handle. We were short with each other — irritated by the little things. Alex wrestled with intense anxiety and depression. It was a lot. We're sure you can relate to some part of that.  On top of all that, Mike started working with COVID patients at the hospital. We couldn't escape it. But we found a way to come together and lean on each other. We wanted this to be an opportunity to learn and grow — both individually and as a couple. One person can't handle it all and we needed to remind ourselves of that. We were forced to confront issues that might not have been addressed before. We learned a lot about the strength of our relationship and the improvements that needed to be made. It was hard work and we're not done yet. No relationship in modern time has been presented with this unique situation before. We learned to be more patient and easy with each other. Not all days were good and not all days were bad. We took each day at a time and started to learn more and grow.
For a long time, we didn't allow ourselves to view this as a blessing since so many people were suffering and dying from this pandemic. But in order to keep going, we had to recognize the good things happening in our lives. This didn't mean we were ignoring the reality of the world but rather focusing on what was in front of us. We had made improvements that deserved to be celebrated. We also started to let go of things that seemed to be holding us back. False narratives we had made up in our minds. People in our life that weren't serving us in a positive way. This past year has been a gift in that sense. We were able to prioritize what was important in our lives and what needed to be released. We also learned that we weren't practicing enough gratitude on a daily basis. This has been one of the best lessons we've learned all year. It's amazing what happens when you wake up each morning and immediately recite three things you are grateful for. Your entire mindset is changed and you carry yourself differently throughout the day. We don't plan on stopping this as we enter the new year.
2020 was also a year that brought us a lot of growth in our business. It's not an understatement when we say we did not see this coming this year. We've been doing this for over 5 years and absolutely love sharing our life with you. We built a community that means the world to us and we couldn't be more thankful. But as we've grown, things became hectic and hard to manage. We do share a lot with you but there is still a ton of behind the scene work you don't see. Working with brands we love, designing a ring collection, planning new business ventures — it's a lot. That's why this year we signed with a management team. Our manager, Caitlin, is a true angel and helps us stay on top of everything. We never imagined 5 years ago that we would even be writing that sentence — a true "wtf" moment. But that's the beauty of life. You never know what's around the next corner. We're really proud of ourselves and what we've accomplished. It can be uncomfortable to say those words sometimes but we're learning that it's okay to do so. If you can't be proud of yourself, then who can?
Going into 2021, we sat down and made a list of goals we have. Obviously, no one knows what this next year has in store but we're hopeful. In a perfect world, we would be able to take the big trip we had planned for earlier this year. We wanted to travel to Italy for our anniversary this past June but that didn't work out for obvious reasons. Realistically, we probably won't be able to do this next year but it's still on the vision board. We would also love to travel to a few cities and states we've never visited before — Portland, Rhode Island, and Vermont. Discovering new places always brings us so much inspiration and we could use some of that this next year. Fingers crossed that happens!
Since there is a big chance we won't be traveling in 2021, we want to continue to work on home projects. Spending so much time at home means we want to feel like we're in an oasis. Somewhere calming, peaceful, and beautiful. We've already talked about the guest bathroom and the plan for that room. We are working on that this week so stay tuned. The basement is also a space that we want to finish soon. It will be nice to have a cozy spot for movie nights. We do have a few other projects we would love to tackle like adding shiplap to the ceiling on the first floor and redoing the main bathroom and closet. Those are bigger projects but we would love to make those work. Lots of planning happening over here!
Another key part of 2020 has been the intense social movement around BLM and racial equality. Of course, these issues aren't new. But it seems like this year something changed. George Floyd, Breonna Taylor, Elijah McClain. Names that will never be forgotten. Normally, we might have had a conversation about what happened and (unfortunately) moved on. But not this year. We finally woke up. We started to educate ourselves more on what it means to be anti-racist. We shared our thoughts and positions on social media like never before — and guess what? It felt good. Why were we so quiet before? Did we feel like we couldn't speak on these issues? Whatever the reason, we opened our mouths and fought for what was right. We marched in protests and actually felt like we were making a difference. All of this will come with us into the new year. We will continue to do the hard work every single day. 2021 will be a year for real change.
2020 has been an intense year full of ups and downs. We grew, we lost, we forged on. Lessons were learned, emotions ran wild, and despite it all, we made it. If you are reading this, you did too and that's something to be proud of. No matter what has happened to you, 2020 didn't stop you from getting to this moment right now. We have an opportunity to start a new year with a fresh perspective. Speak freely, love boldly, and be grateful for every moment you have. Cheers to the new year. We love you.