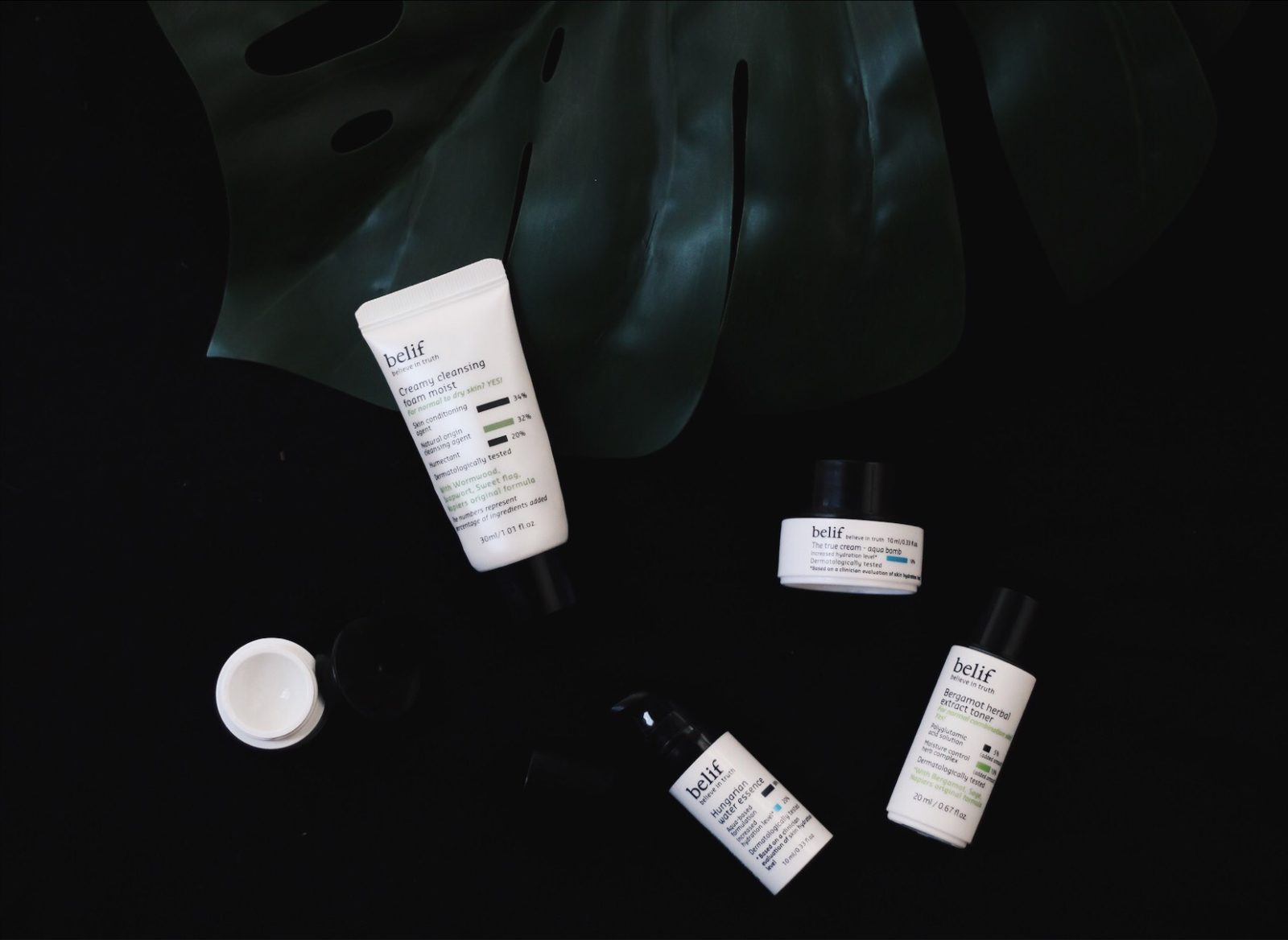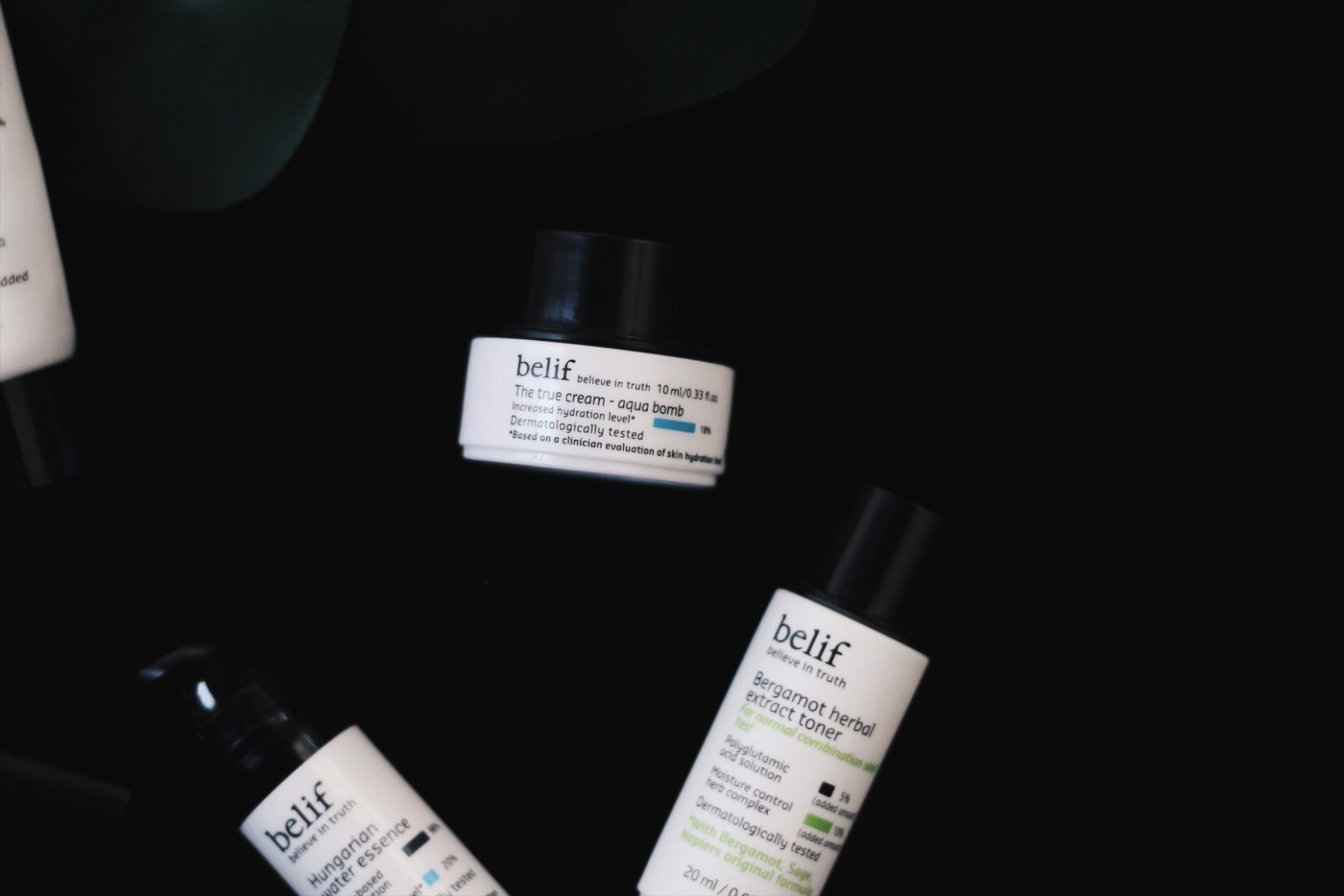 Happy Friday friends! We are SO happy that the weekend is finally here. Though we are pretty busy this weekend, we do plan on fitting in some r&r. Hopefully, you do the same! Today's post is all about belif cosmetics. We've been using belif products for quite a while. Our favorite thing about this skin care line is its transparency. The front of each container literally tells you the percentage of each ingredient inside. Crazy, right? It seems like most products have the ingredients written so small as if they are hiding something. For us, that can be pretty scary. We like to know what we are putting on our skin. We recently got our hands on their bestsellers package and gave it a try. We had already tried a few of the products in the line and couldn't wait to try the rest. Now, we have the small versions of each product for travel purposes but we highly suggest purchasing the full sizes containers. To make things easier, we're going to break down each product and give you our thoughts — duh! You guys know our love for giving our opinion.  
We LOVE this cleanser. We first tried this product over a year ago and we were hooked. We actually wrote an entire post dedicated to this cleanser. Check it out here. This cleanser lathers and foams so well. It moisturizes your skin and makes you feel like you are at the spa. Seriously, it's that good. It's also perfect for sensitive skin. We find ourselves coming back to this cleanser time after time. It's a real winner in our book.
Before we give you our thoughts on this toner, it's important to talk about toners in the first place. We are huge fans and strongly believe that everyone should use one in their skin care routine. We even wrote a post giving you guys the lowdown! We like this toner because it does a great job at soothing and hydrating our skin. Our one complaint is the formula. This is not your average toner — it's a gel-liquid. That means it's much thicker than what we are used to. We don't hate it but it's definitely not our favorite. It's still a really good toner that gets the job done.
You might be wondering what an essence even is right now. Well, we aren't going to go into the exact details in this post. We know, try to wipe your tears. But we promise we are going to do a post dedicated to the benefits of using an essence. We will make you guys believers! We really like this essence because it almost feels like a light toner. It's extremely hydrating because it goes deep down into your skin. It almost feels like a slippery formula — we know, that sounds kind of weird. But that's the best way we can describe this essence. It glides onto your skin and instantly makes you feel like you just gave your skin an extra cup of love. The rosemary helps detoxify your skin, leaving it smooth and soft. We really like the way our skin feels the morning after using this essence. This is definitely on our top ten list.
We are torn with this eye cream. We give it an A+ for moisturizing our skin but we aren't sold on the firming part quite yet. Our under eye area feels super moisturized and supple after using this eye cream. We also love the thickness of this product. It really feels like you are hydrating your eyes. Though, we haven't seen much improvement in firmness. Unfortunately, that kind of change does take time. If you're looking to add moisture to your eyes, this is a great choice. We wouldn't recommend using this if you are purely looking to improve the firmness of your eyes.
This stuff is amazing. Seriously, we are huge fans. The main job of this product is to highly moisturize — which it most definitely does. We love how lightweight and refreshing this formula feels when applied to our skin. It's packed full of herbs, which help improve skin's elasticity and protect against free radicals. The great thing about this product is the 'burst' that you feel when it's applied to your skin. It gives you this surge of moisture that you can actually feel. We love that our skin is left super smooth and soft. This is definitely a great choice for someone looking for extra hydration.
Did you guys see the recurring theme in all of these products? HYDRATION. All of these products are perfect for those of you looking to beef up your hydration game. We definitely give this a thumbs up for its job at moisturizing our skin. Though some are more of our favorites than others, we are really pleased with all five. This is a great starting point for those who don't know where to begin.
Let us know what you guys think in the comments below! Until next time…
SHOP THE PRODUCTS

---
[jetpack_subscription_form]