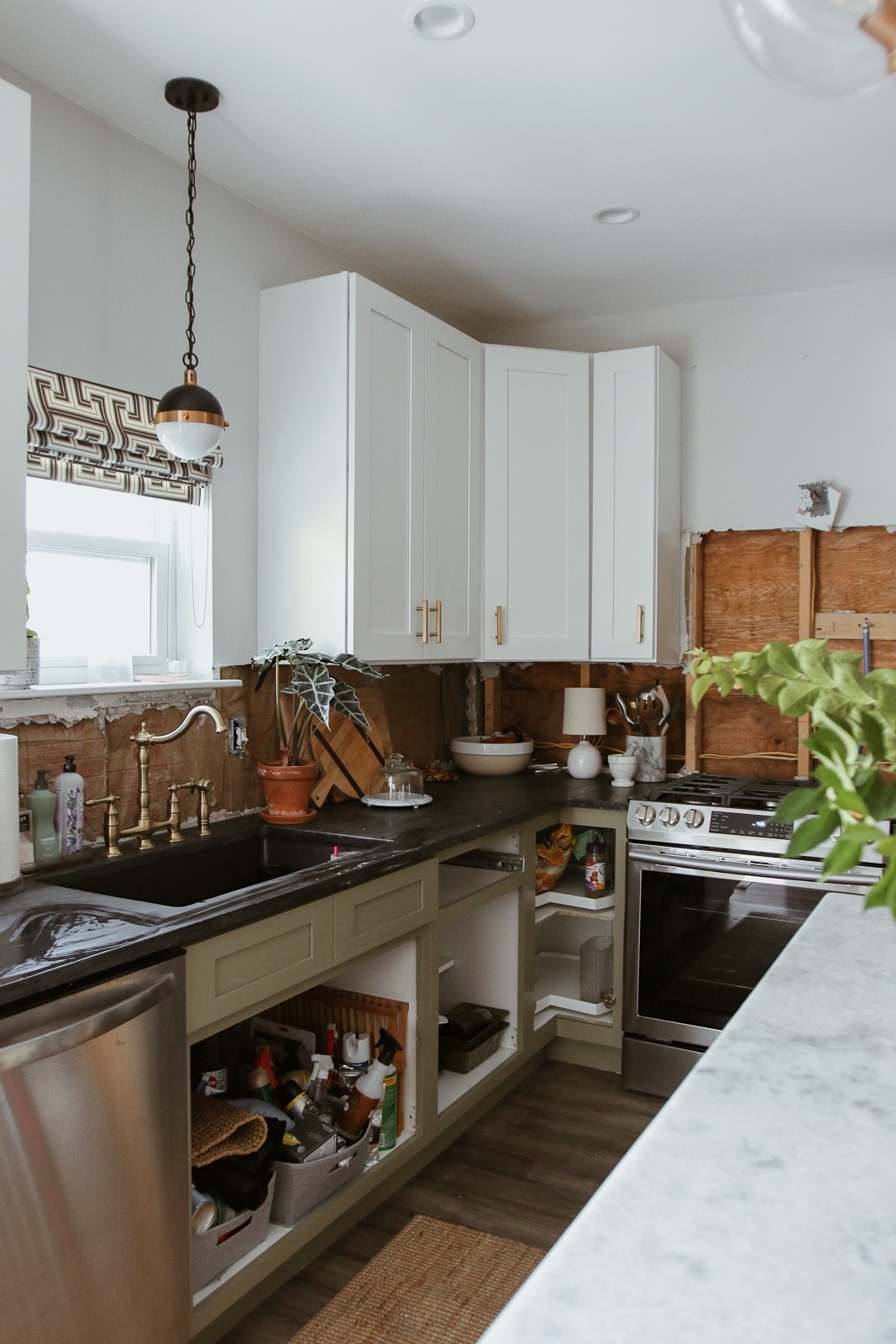 We've been super busy with the kitchen these past few weeks. If you remember, we shared the initial plan with you a few weeks ago. Since then, we've made a lot of progress. As we check things off the list, we will continue to share on Instagram and the blog. We want to break things down to make it super easy to do yourself. First, we're going to share the updated plan in more detail. But stay tuned for lots more!!
We've already started the process of painting the lower cabinets. We chose the color Muted Sage by Behr. We are absolutely in love with this color. It's not too dark and not too light — just the perfect hue. We are working on a blog post that breaks down the steps of painting your cabinets. It's been a lot easier than we thought it would be. Spoiler: we didn't even have to sand! We are finishing up the cabinet doors and drawers this week. We need to use the backyard since we have a paint sprayer but it's rained every day we planned to use it. But this week it should all be finished.
The new counters were installed last week. You most likely already heard about the little snafu (if you know, you know lol) we dealt with during the installation. Everything has been sorted and we already chose a new slab for the island. It should be installed this week so stay tuned! We also want to share our thought process behind choosing the black soapstone. We did a ton of research on the different stone options. We knew we wanted something dark to contrast the sage cabinets. We didn't want marble because of the maintenance. Quartz was another option since that's what we originally had. Though soapstone was the ultimate winner. We were so drawn to this stone for several reasons. For starters, it's the stone we have on our bar. Soapstone is more durable than granite or marble, heat resistant, stain-resistant, and non-porous. Do not believe anyone that tells you it's porous! We were told by soooo many fabricators that soapstone would absorb oils and leave marks. That's not true. Luckily we had done the research and knew that we were correct. Now, this stone will have natural wear to it since it's a softer stone. That means it will show scratches or marks over time but that's actually something we like. We want a counter to look used. We don't live in a showroom kitchen. It also has a matte finish so it feels soft to the touch.
To make the counters look like they flowed right into the sink, we chose a black quartz undermount sink. This really made a huge difference in the kitchen. We love how the counters look continuous to the eye. It looks like the sink is actually part of the counter — like one whole piece. To offset the dark, we chose a brass bridge faucet. This adds so much character to the kitchen, especially after having a simple, single-hole faucet before. Also, just a quick refresher on the appliances we chose since we are still getting lots of questions. We bought a KitchenAid French Door refrigerator. If you remember, we talked about how we are pretty particular when it comes to refrigerators. We love when the handles are straight (lol yes that's a thing) and the water dispenser is inside. As for the range, we chose a Samsung 5 burner convection slide-in gas range. Since we removed the cabinets and microwave above the range, we were able to make room for a range hood to go above. Lots of changes happening!
---

---
We've gotten so many questions on the backsplash and why we removed the drywall. It definitely wasn't in the original plan. We did so much research on how to easily remove the tiles. But unfortunately, it didn't' work for us lol. The adhesive was so strong that it ripped up the drywall even though we were so careful. After a while, we decided it would be easier to just remove and replace the drywall. Even though it did add a little bit more work, something great did come from it. Guess what we found behind the drywall?? The plumbing for a pot filler!! We have always wanted a pot filler in our kitchen but weren't sure if we were going to be able to install one right now. Apparently the universe heard us and sent us this little gift. We already ordered a pot filler that will compliment the kitchen really well. We will install that once we start on the backsplash. Now for the backsplash, we decided to go with a white herringbone tile with black grout. We're going to take it all the way up the wall to really draw your eyes up and make a statement. Here are a few photos that inspired us…Stay tuned for more this week! xoxo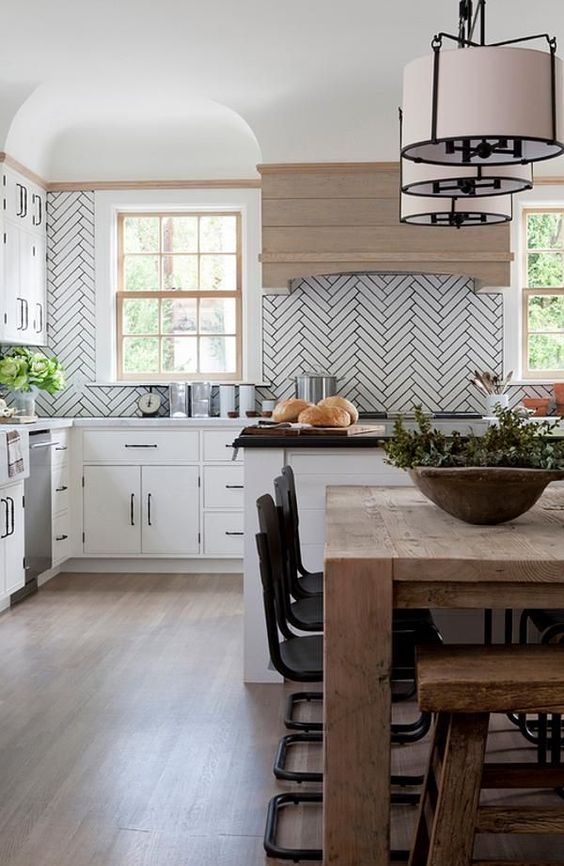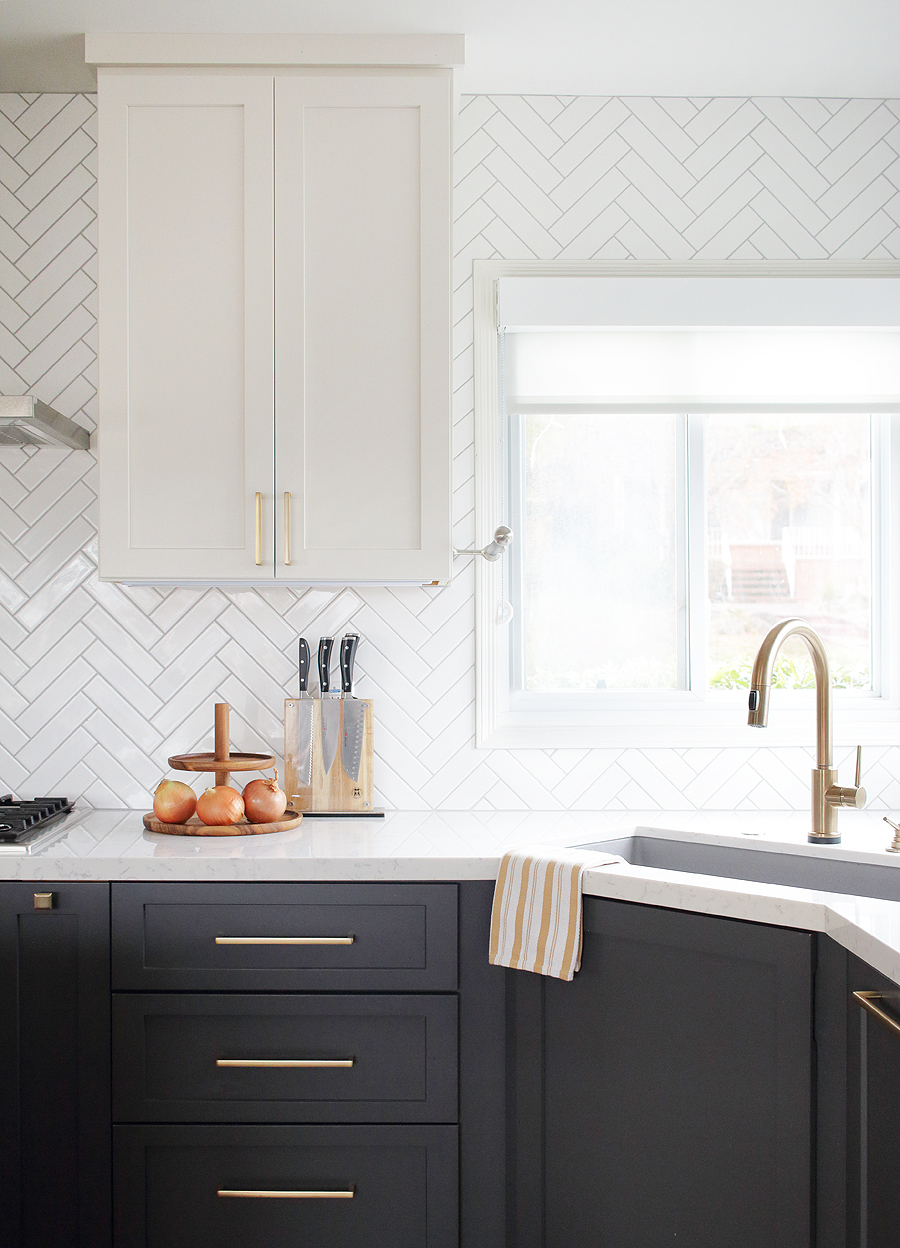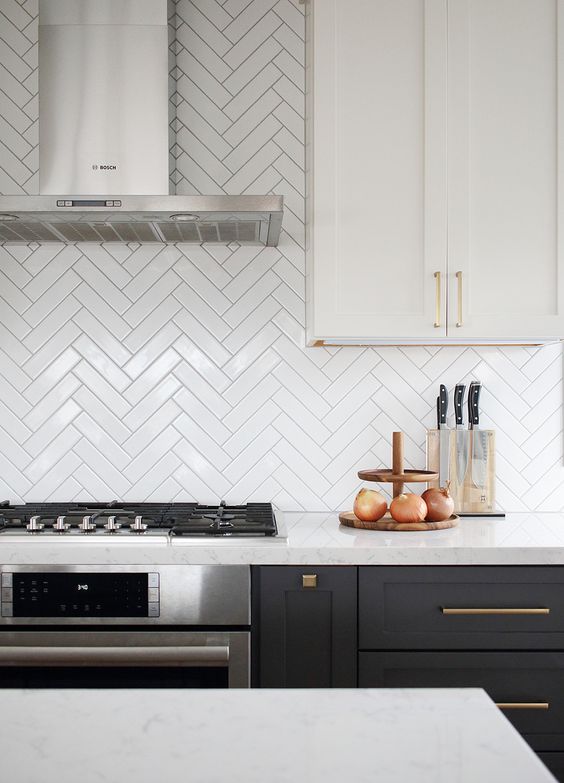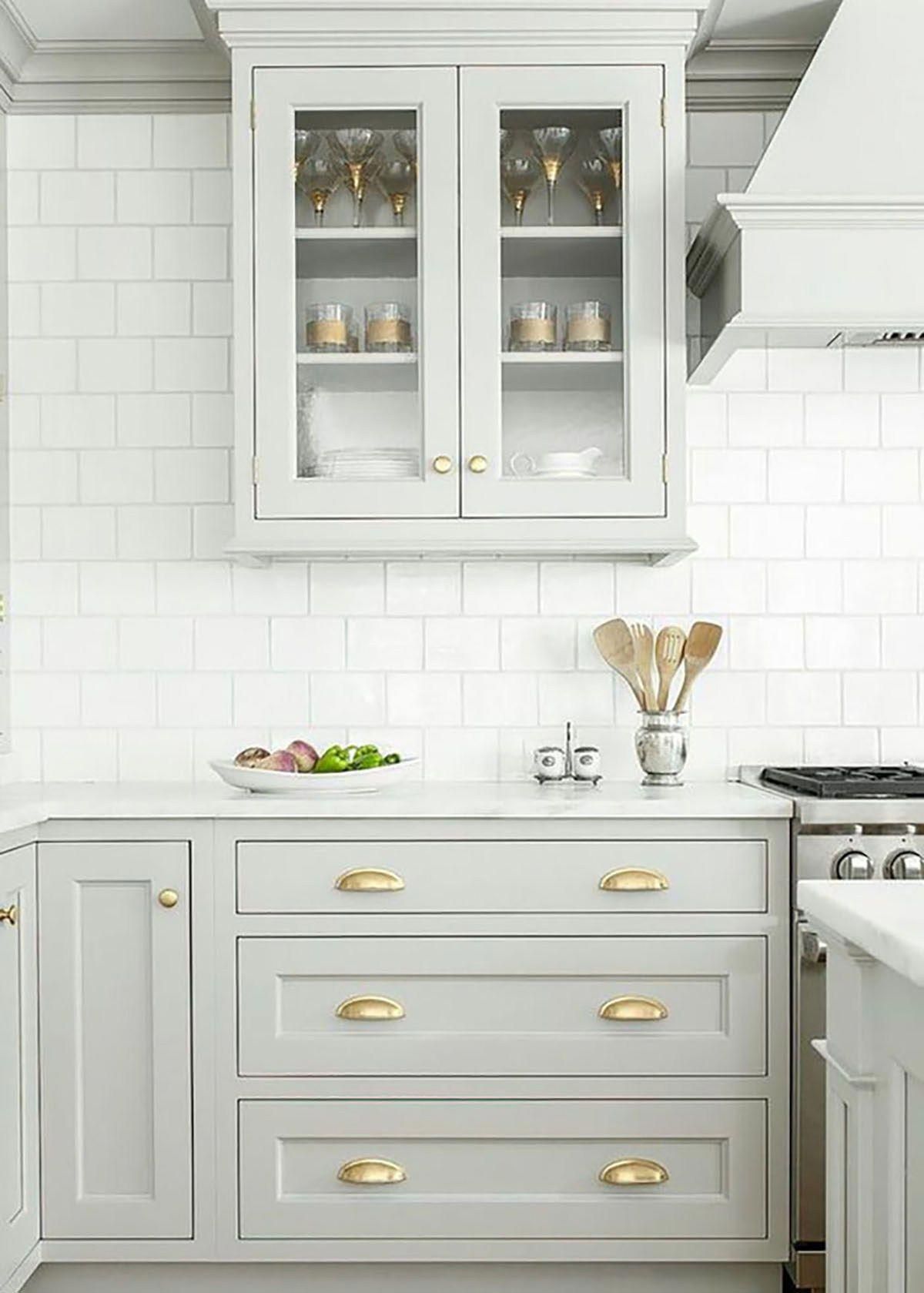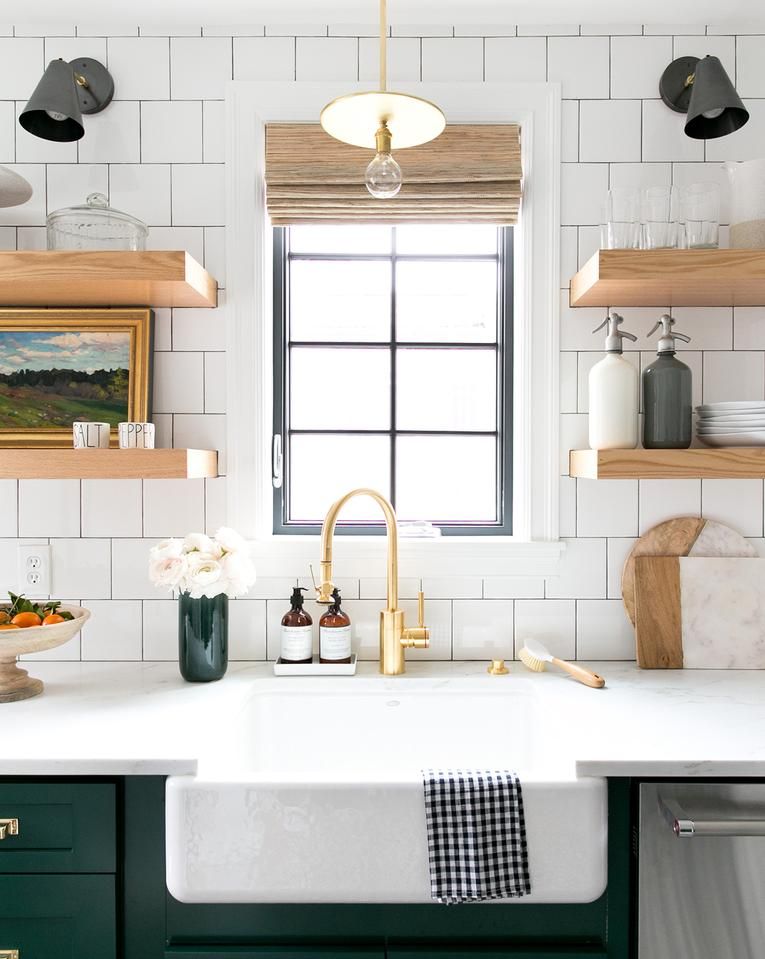 photos sourced from Pinterest