So you've probably seen us post about that crazy new body treatment we tried last month. It's called EMSculpt and it's one of the wildest things we've ever tried. But also one of the best. Don't worry, we are going to break it all down for you in today's blog post since we got sooo many questions.
EMSculpt is the first FDA-approved, non-invasive procedure that uses electromagnetic waves to burn fat (19 percent loss after four treatments) and build muscle. The best results come 6-8 week post-treatment. It actually contracts your abs 20,000 times during one session. Since it's non-invasive, there is no downtime. You just lie back and let the machine do its thing. Even though we do exercise regularly, we are always game to try just about anything — especially something claiming to give us more defined abs. Sign us up, please.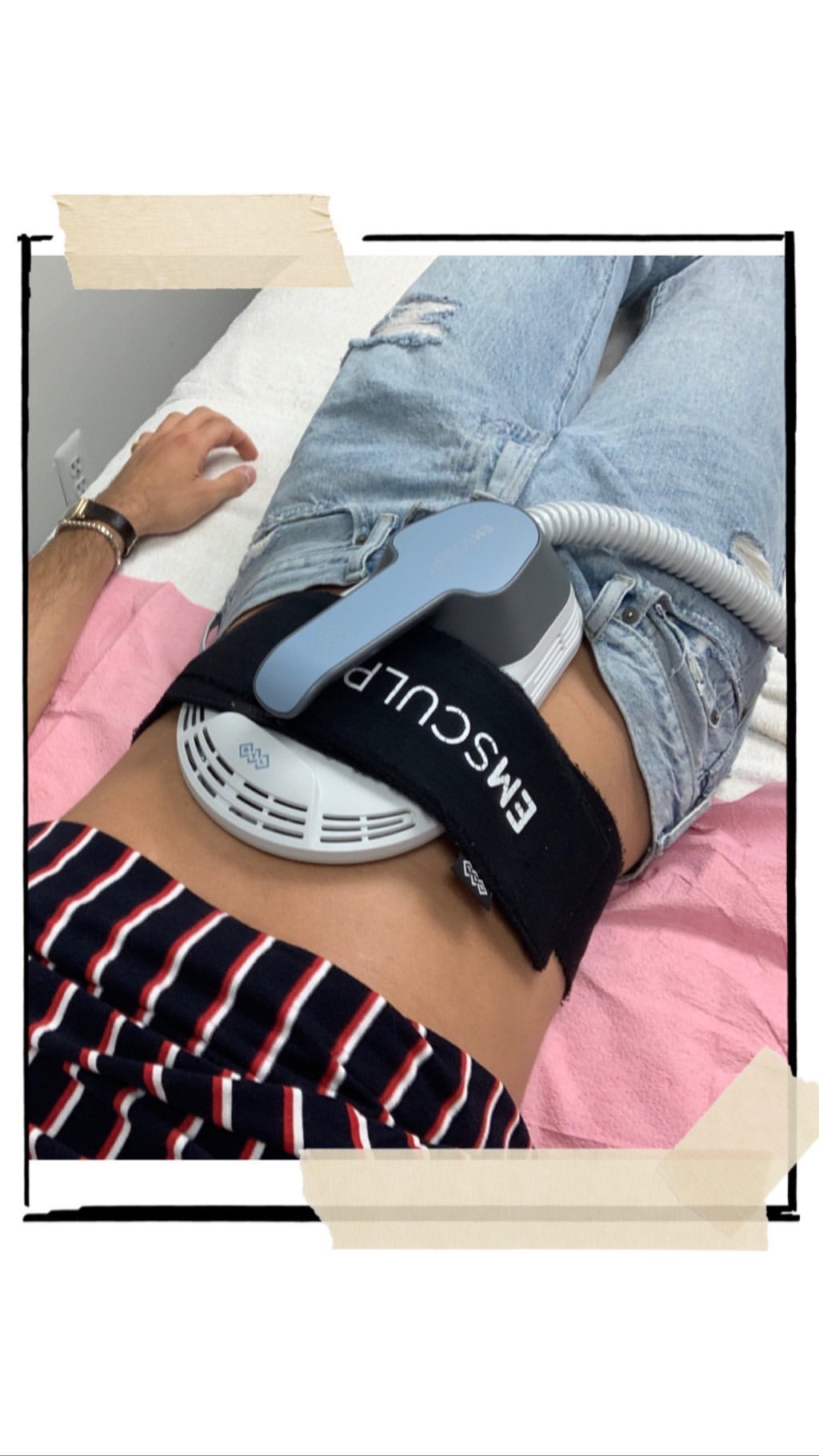 So here's what happened. Lipolaser of South Jersey invited us in to try out four treatments. That's the suggested number of treatments for the best results. Before we talk about results, we have to talk about the feeling. Like we said earlier, it was wild. Not in a bad way but in a strange way. Debbie (the sweetest person ever) had us both lie down and lift up our shirts. She strapped on the paddle and told us to relax. Side note: you can use this on your booty, too! Each treatment lasts for 30 minutes and the intensity is adjusted based on comfort level. The goal is to get to 100% for the majority of the treatment. But since it's something you've probably never experienced before, the first treatment is usually the least intense. Though, we did make it to 100% for the last 10 minutes.
The treatment itself goes like this. You go through a cycle of tense contractions of your muscles. It literally pulls your abs together and then releases. After a few rounds, it stops and starts tapping on your muscles to relax them before the next round. Sounds crazy, right? To be honest, after the first few minutes, we actually liked the feeling. It's like you are doing an INTENSE ab workout for 30 minutes. Major emphasis on the intense. But again, we didn't feel any pain.
After the first treatment, we knew what we were walking into for the next three sessions. We were able to go to 100% within a few minutes and stay there. That was good since we knew we were getting the most out of the 30 minutes. In between each treatment, we definitely felt sore. Just like when you go to the gym. We really felt it working. After the second treatment, we started to notice a visible difference. Our core felt stronger and problems areas started to shrink. We also started to notice we had better posture. It was like our abs were naturally contracted during everyday activities. Even during the simplest movements like bending down to pick something up. We could really feel our core actively engaging. We still feel that way!
The most common question we've been asked is if it's worth it. Here's the thing. This treatment is expensive. Do we think it works? Yes! Do we think it's for everyone? No. If you have the money to spend and need some extra help with your body, go for it! We are honestly really impressed with the results and only have good things to say. But we also understand it isn't cheap.